Vevey, Switzerland
Vevey
, a popular resort on Lake Geneva, Switzerland.
Mary Gibbon
(née Kerr, born 10 Feb 1838) died here in 1900.
She died on 25 Mar 1900 at Hotel d'Angleterre, Vevey.
She was buried in Vevey cemetery.
The Gibbon House Book says: "Paid English Chaplain, Vevey" and "Funeral expenses, Vevey".
There is a memorial there.
The House Book, 7 Dec 1900, says: "Paid for Memorial in Vevey Cemetery".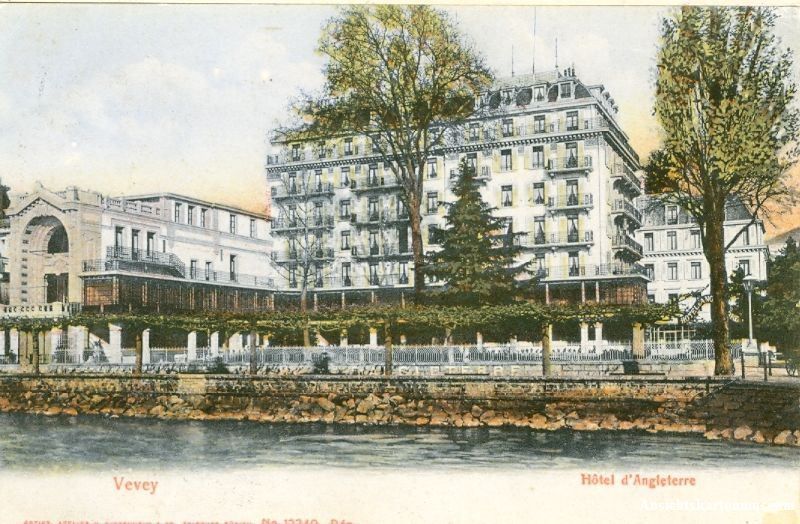 The Hotel d'Angleterre, on the lakefront at Vevey, Switzerland. Where Mary Gibbon died in 1900.
1907 postcard. For sale at
ricardo.ch
.
See
other photo
from
geneanet
. Also Facebook
post
.
See
more photos
.


The Hotel d'Angleterre is now an apartment building.
At Quai Perdonnet and Rue Clara-Haskil.
Click to rotate. From street view.
---
Things to do: Locate Gibbon grave
A memorial to Mary Gibbon at "Vevey Cemetery" existed or exists.
"Vevey Cemetery" must be:

Vevey Saint Martin's Cemetery (Cimetière Saint-Martin).
In the centre of Vevey. See map.
See street view of S entrance and N entrance.
Search for English graves. Older section. 1900. Earlier than the WW1 and WW2 graves.
Cemeteries in Vevey area