Arthur Augustus Gibbon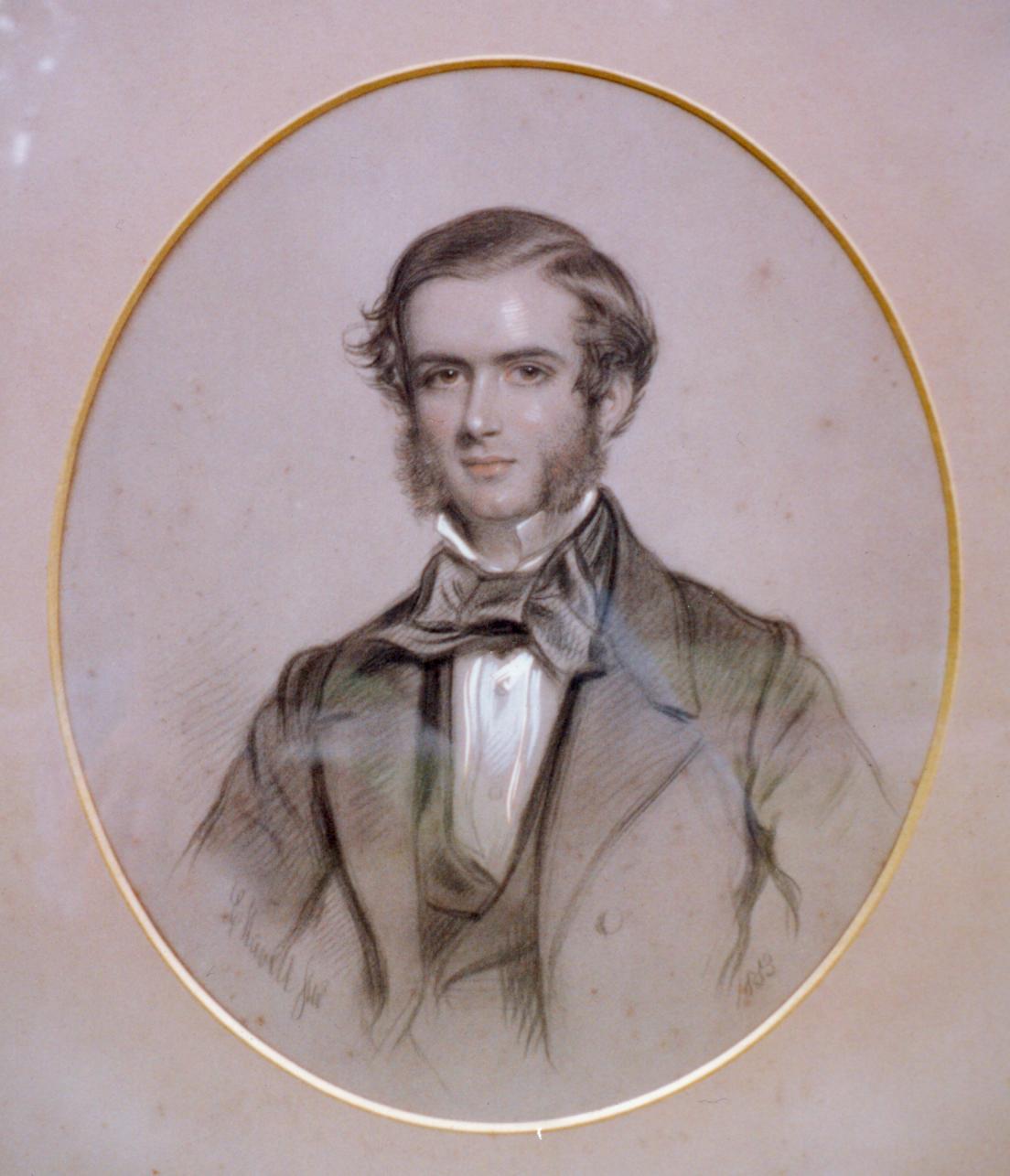 Arthur Augustus Gibbon.
Portrait 1853 (age 24).
The portrait is by "E. Havell [Jr?]".
This must be
Edmund Havell, junior
(born 1819, died 1899), a successful portrait painter.
Will of Arthur Augustus Gibbon
confirms it is painted 1853 by Havell. See
here
.
See
full size
. See
other scan
.
Arthur Augustus Gibbon
,
born 3rd Feb 1829, Aberdeen,
descendant of
Edward III
.
War Office, 1845 to 1879:
He worked in the War Office in London. Started 1845 (age 16).
The War Office was then in the Horse Guards building in Whitehall.
There are letters to "Arthur Gibbon" at War Office from 1845. Must be him, not his father.
His mother's 1st cousin Sidney Herbert, 1st Baron Herbert of Lea was Secretary for War at various times between 1845 and 1860. Presumably this is how he got the job in 1845.
See him making notes in 1847 about the 1681 grant of Gibbon arms to Gibbon of Dorset.
On 6 Apr 1848 he was appointed as a Special Constable by the Police Court. This was a temporary appointment of extra personnel to maintain order during the Chartist protests. Arthur is then at the War Office.
His aunt Ann Gibbon writes a poem to him on 30 Jan 1850 to mark his 21st birthday. She wishes that he: "find much happiness in life; and ten years hence procure a wife!" Pretty good prediction.

[Dora Gibbon letter] says that Arthur "visited Wilton House as a young man". This would be after the death of his granduncle the 11th Earl in 1827 and up to the death of the 11th Earl's widow Catherine Woronzow in 1856.
His aunt Cecilia Montgomery wrote letter of 15 May 1856 to him, after the death in March 1856 of his grandaunt Catherine Woronzow (widow of 11th Earl). Cecilia says "If you had not been as steady as you have [you would] not have made so warm a friend in that most admirable woman. She always took a kind interest in you."
His brother William Henry joined British Foreign Legion 1856.
Letter of June 1856 is sent to his mother c/o the son Arthur at the "War Department".
The War Office moved to Cumberland House, Pall Mall, 1858.
He is listed as living St.George's Hanover Square parish, London, at mar 1861.

He mar Oct 1861 to Mary Kerr [born 10th Feb 1838, descendant of Robert III, King of Scotland and of Henry I].
They lived Kensington 1862 to 1866. His dau Elizabeth born at 22 Scarsdale Villas, Kensington (see map) in 1864.
Lived 75 Gloucester St, Pimlico, London (see map) 1866 to 1872. His mother died there 1870.
Lived Campden Hill Rd, Kensington from 1872 until death 1907.
He is first found at "1C Campden Hill Rd", then later at "11 Campden Hill Rd". But we think this is the same house, with a re-numbering.
Children's births 1872 and 1878 list him at "1 c Campden Hill Rd".
He is listed as "gentleman" at Florence's birth 1872 and bapt 1873.
Listed at "1C Campden Hill Rd" in [Post Office Directory, 1874].
His 2nd cousin the 13th Earl of Pembroke was Under-Secretary for War in 1874-75.
He retired from War Office 1879 (age 50).
He immediately (leaving London on 13th May 1879) embarked on a vast period of travelling, all the time maintaining his house in Kensington (rented it out to others sometimes when he was away from it).
He rented apartments, 6 Garten Strasse, Freiburg, Baden, SW Germany (in Black Forest mountains, near France/Switzerland borders), midsummer 1879 to Apr 1881.
Freiburg was not far from Diersburg, Hohberg (see map), where family of his late sister Georgina might have been.
The family of his other sister Margaret was also on the Continent.
These were the only family he had apart from his brother in South Africa.
His son Arthur apparently went to the University of Freiburg (or maybe this was just school).
Mary is listed at 1 C Campden Hill Rd, Kensington, in [UK census, 4 Apr 1881]. She has children Elizabeth and Florence and Mildred with her, but Arthur and children Arthur and Georgina and Monty are away. They have 2 servants.
He rented Stanley Lodge, Tunbridge Wells, Kent, July-Oct 1881.
[House Book] of 18 July 1881 lists "Drive to Penshurst".
Rented Brook Cottage, Dawlish, near Exmouth, E Devon, Oct 1881 to Apr 1882.
Rented 134 St.Owen St, Hereford, July-Sept 1882.
Rented "Almondbury", Eltham Rd, Lee, London, May 1884 to May 1887.
Rented Elm Cottage, Tiverton, NE Devon, Mar 1886 to Mar 1893.
See envelope of 6 Nov 1888 addressed to him at 1 Royal Crescent, Notting Hill, London.
His initial will dated 15th May 1889, later cancelled.
They are listed in 1891 census at Brynanston Villa, Churchfields, Salisbury, Wiltshire (near Wilton). Florence is the only child with them.
Rented 2 Lunham Rd, Upper Norwood, London, Nov 1891 to May 1892.
Rented "Cawston", Sandown, Isle of Wight, May-Oct 1892.
Rented Craven House, Portland Rd, Southsea, suburb of Portsmouth, 6th-20th Oct 1892.
Rented 4 Portland Terrace, Southsea, Oct 1892 to Apr 1893.
Rented "Ashmore", Hawke Rd, Upper Norwood, Apr 1893 to Mar 1894.
Rented "Lyndenhurst", Auckland Rd, Upper Norwood, Mar 1894 to Mar 1899.
His dau-in-law May Wells described him as "an old autocrat".
Mary dies, 1900:
Arthur and Mary went to Switzerland Oct 1899.
Mary died 25th Mar 1900, age 62 yrs, at Hotel d'Angleterre, Vevey (NOT Vevery), a popular resort on Lake Geneva, Switzerland.
She was bur Vevey cemetery (memorial there).
See death notice in The Times, 29 Mar 1900.
See the period of her death in the House Book, p.1 and p.2 and p.3.
He went back to England after wife's death.
Though he was back in Vevey, Nov 1900 to Apr 1901.
Arthur dies, 1907:
He made a new will dated 1 July 1907.
He died at 11 Campden Hill Rd, Kensington, 5 Oct 1907, NOT 9 Oct, age 78 yrs.
He was bur 9 Oct 1907 with parents and dau in West Norwood.
See probate granted 29 Nov 1907 to his son Arthur. See probate cover of copy of will.
He left £2,249. This is perhaps £1m in today's money. Still well-off, but much less wealthy than his parents' generation. The money from the Earl of Pembroke and from the business had been well spent during the 19th century.
Arthur and Mary had issue:
(son) Gibbon,
stillborn, 10th Sept 1862.

(son) Gibbon,
stillborn, 29th July 1863.
See notes.




Elizabeth Gibbon,
Elizabeth Cecilia Montgomery Gibbon, "Lily", NOT Cecelia,
born 27 July 1864, NOT 1865, 22 Scarsdale Villas, Kensington, London.
She would be after her grandmother Elizabeth Montgomery.
Baby is mentioned in [Letter of 10 Oct 1865].
[House Book] for 8 July 1880 lists "Photographs of Lily in her Confirmation dress",
mar 3 Nov 1886, Tiverton, Devon, to Rev. Richard Germon [her brother Arthur's tutor] and had issue.




Arthur F.V. Gibbon,
Arthur Francis Vincent, "Artie",
born 7th Aug 1866, Belgravia, London.




Georgina Gibbon,
Mary Georgina Margaret Gibbon, "Georgie", born 30th Jan 1868, London.
She died 3rd Sept 1881, age 13 yrs, at the house they were renting, Stanley Lodge, Tunbridge Wells, Kent, having just arrived back from school in "Carlsruhe" (Karlsruhe, some distance from Freiburg, still SW Germany).
She died "of rapid consumption, following whooping cough".
See death notice in The Times, 7 Sept 1881.
She was bur 8th Sept 1881 with grandparents in West Norwood.




Montgomery Gibbon,
Montgomery Kerr Gibbon, "Monty",
born 7 Dec 1869.
He was educ St.Leonard's.
He went to "The Cape", South Africa (where his uncle William Henry was), Nov 1889 (age 19).
He must be the unnamed cousin who was caught with Sidney Gibbon as a stowaway on a ship out of South Africa bound for Australia.
He returned to England July 1894 (after his uncle died).
He went to SW Africa, June 1896.
Living in Cape Town, in Western Cape, as at Oct 1903 and as at Nov 1905.
He died unmarried, 26 Apr 1920 [though family bible says 1910], age 50 yrs.
There was a family story that he was "killed by cannibals".




Florence Gibbon,
Florence Augusta, born 17th Dec 1872, "1 c Campden Hill Rd", Kensington [GRO.UK],
bapt 16th Mar 1873, Kensington par. See baptism.
She was an amateur painter.
Entries in [House Book] record "Florence's painting lessons", lessons at Art school, and subscriptions to Society of Miniature Painters and to Society of Lady Artists.
Florence's paintings include:

Col. Kerr portrait in 1899. Copy of lost portrait.
Augustus Montgomery portrait (probably). It is thought that Florence did the copy of the Wilton House portrait of Augustus Montgomery.
Miniature of her father. This was done before her marriage, since on back she is "Miss" Gibbon, of --- Grange, Lessness Park, Belvedere, E side of London (beside Berkhampstead Road, see 1915 map and modern map).

Florence is listed in 1911 census as staying with her Gibbon cousins at Royal Leamington Spa, Warwickshire.
She mar post-1911 to William Johnson, no issue.
(todo) See mar of Florence A Gibbon to "Johson", [GRO.UK], 1st qr 1938, Kensington, Volume: 1a, Page: 331.
William died pre-c.1937.
She died 23rd Aug 1949, age 76 yrs.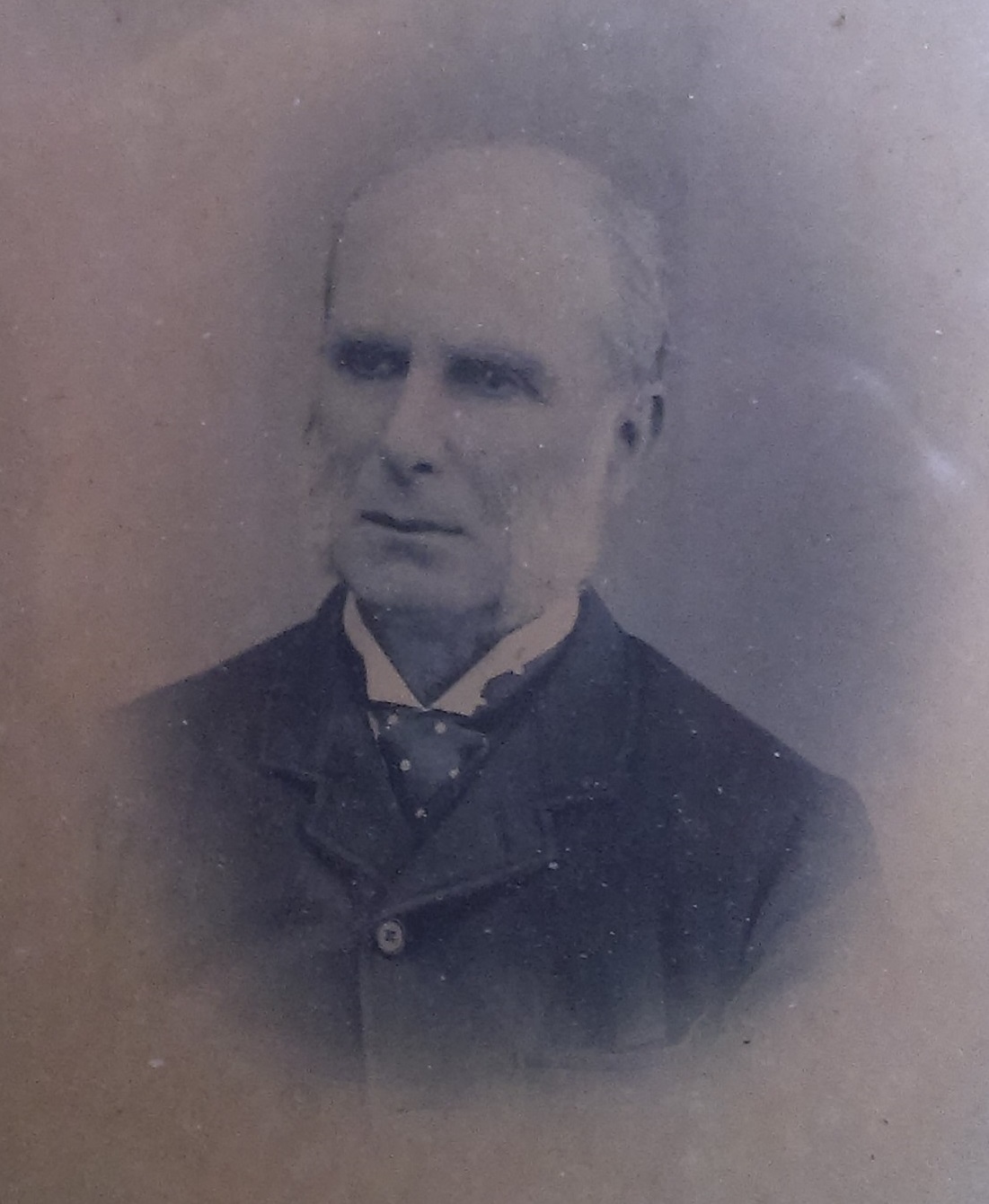 Arthur Augustus Gibbon, 1892.
See
larger
and
full size
.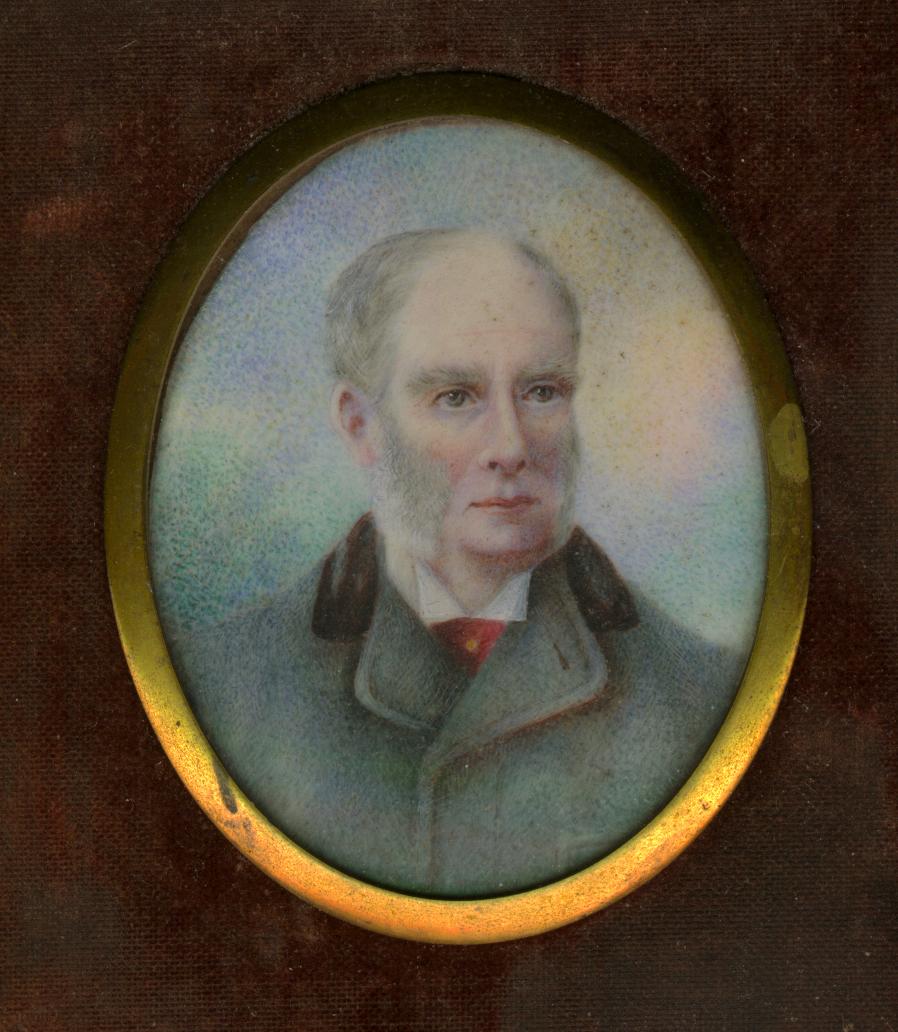 Arthur Augustus Gibbon as an old man.
Miniature painted by his daughter Florence.
See full size.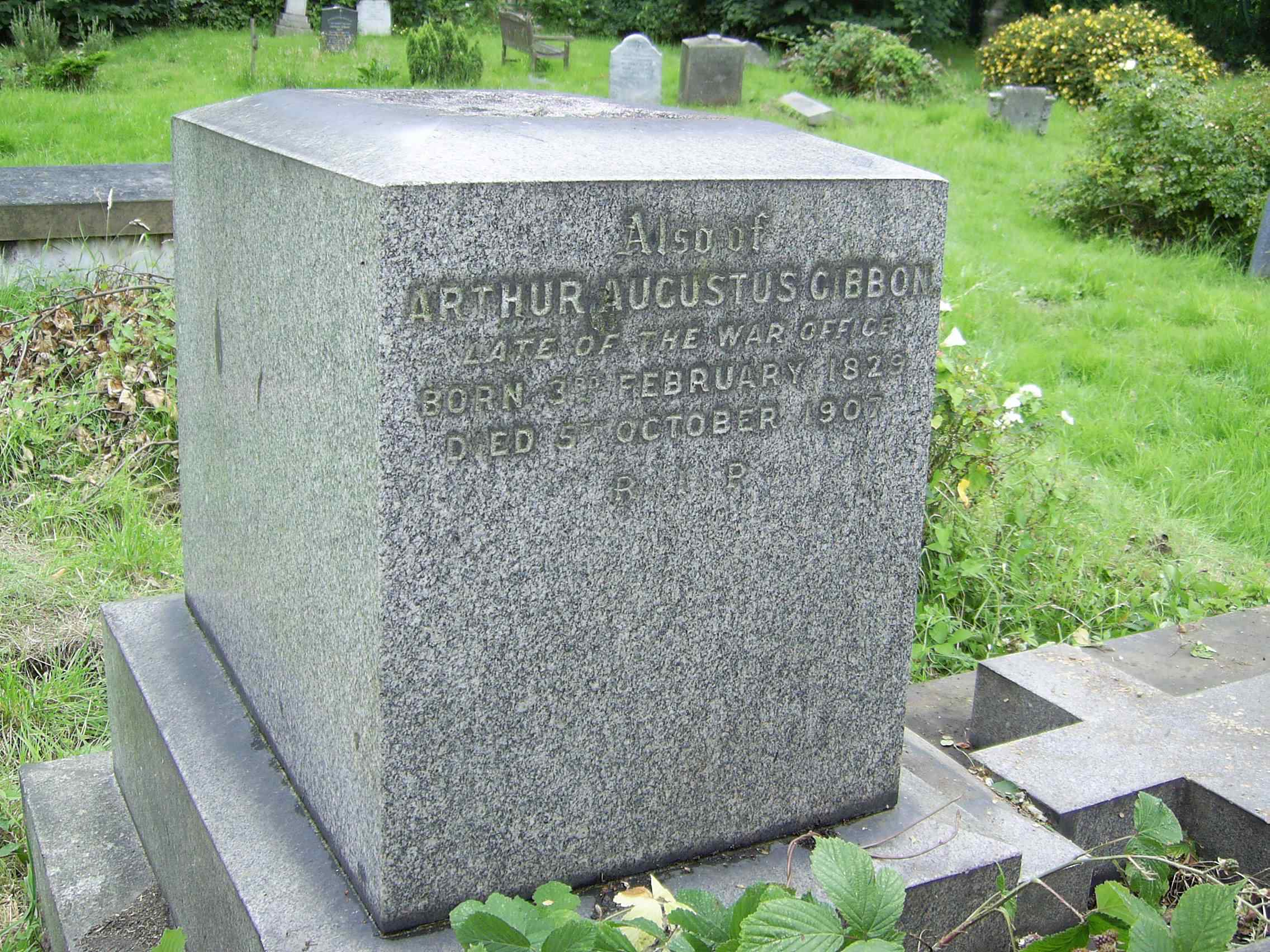 Arthur Augustus Gibbon on his parents' grave in West Norwood.
Photo 2007. See full size.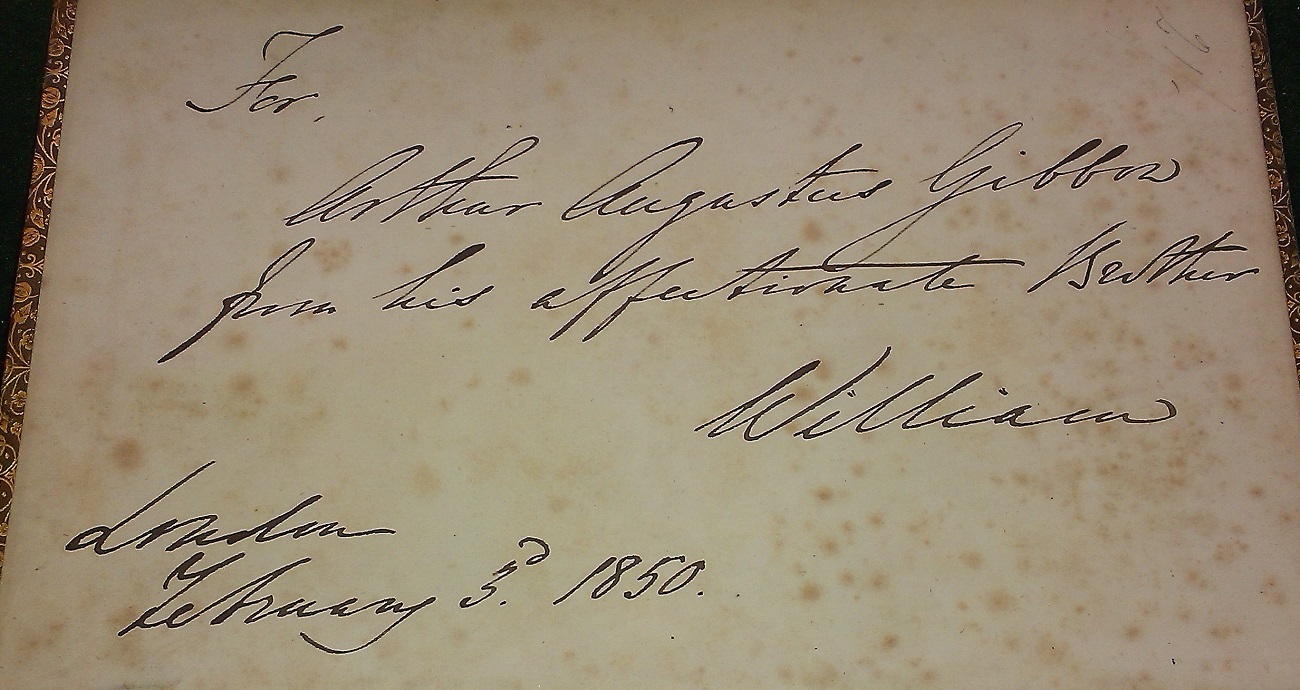 Inscription on a book given to Arthur Augustus Gibbon by his younger brother William.
Inscription reads "London, February 3rd 1850" [Arthur's 21st birthday].
See full size.
The book is an 1847 edition of the works of Byron.
See title page.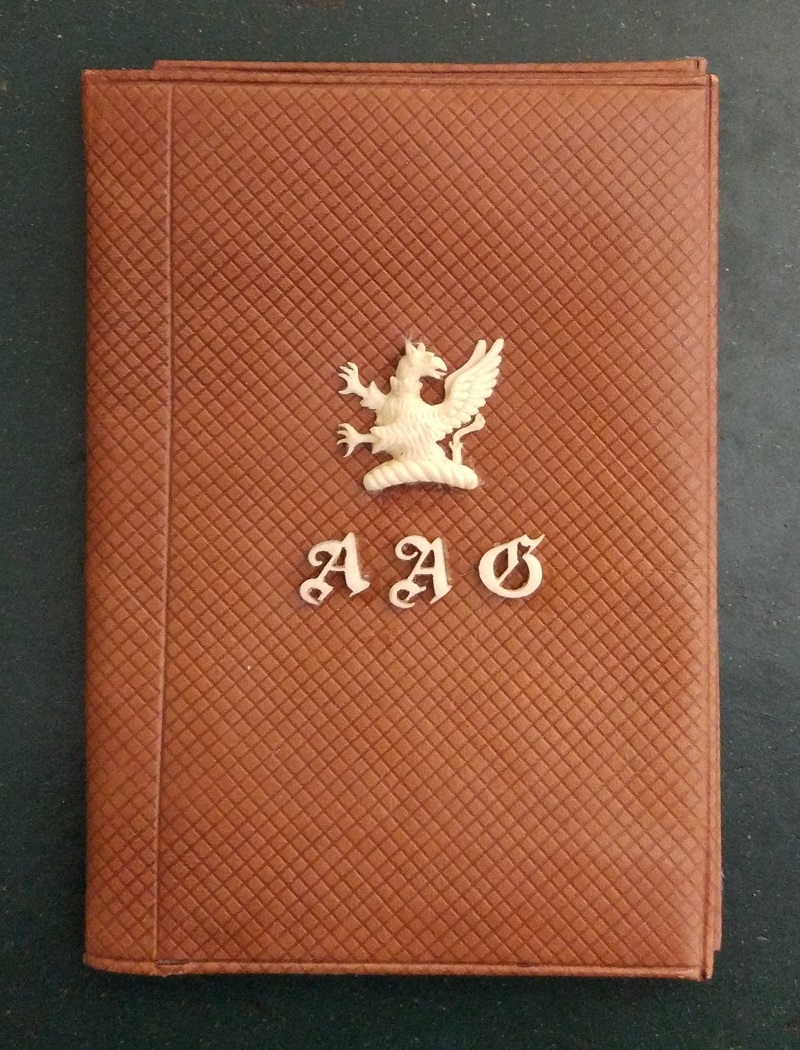 Small wallet belonging to Arthur Augustus Gibbon.
See larger and full size.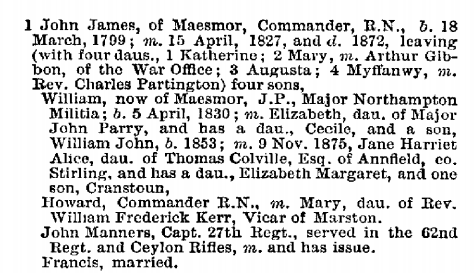 Gibbon listed under KERR of The Haie in [Burkes Landed Gentry, 1886].
---
Campden Hill Rd, Kensington, London (see
map
).
Gibbon home from 1872 until 1907.
Gibbon are listed at "1 c Campden Hill Rd" 1872 to 1881. Then later at "11 Campden Hill Rd".
This seems to be the same house and there was a re-numbering.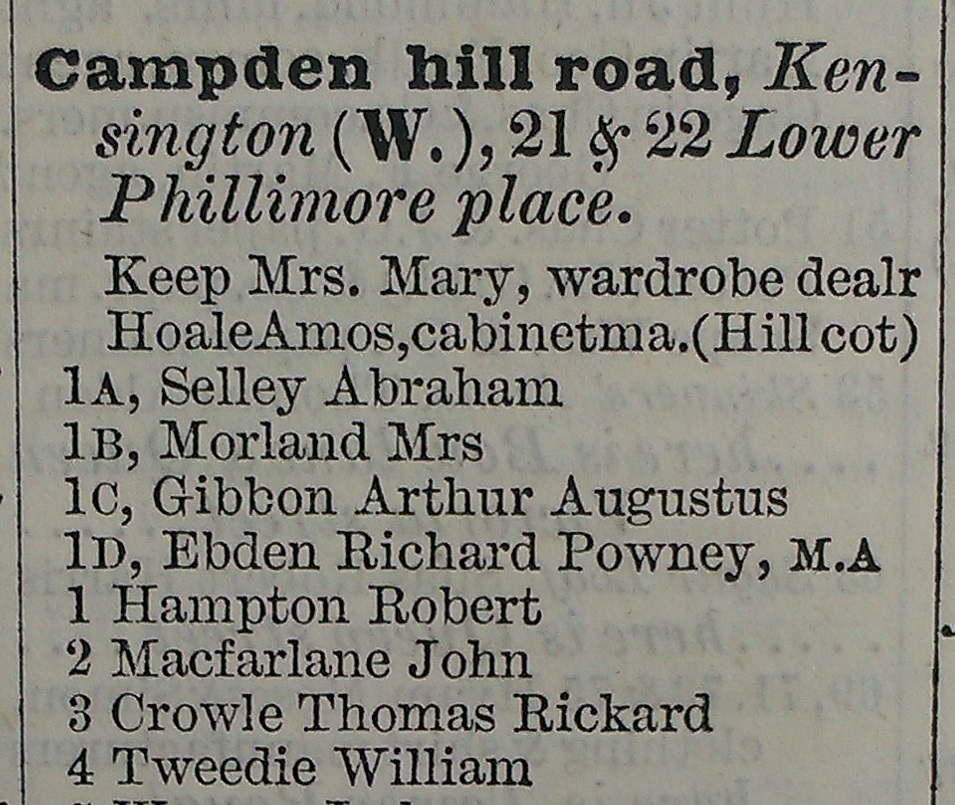 Arthur Augustus Gibbon listed at "1C Campden Hill Rd" in
[Post Office Directory, 1874]
.
See
full size
. See
full page
.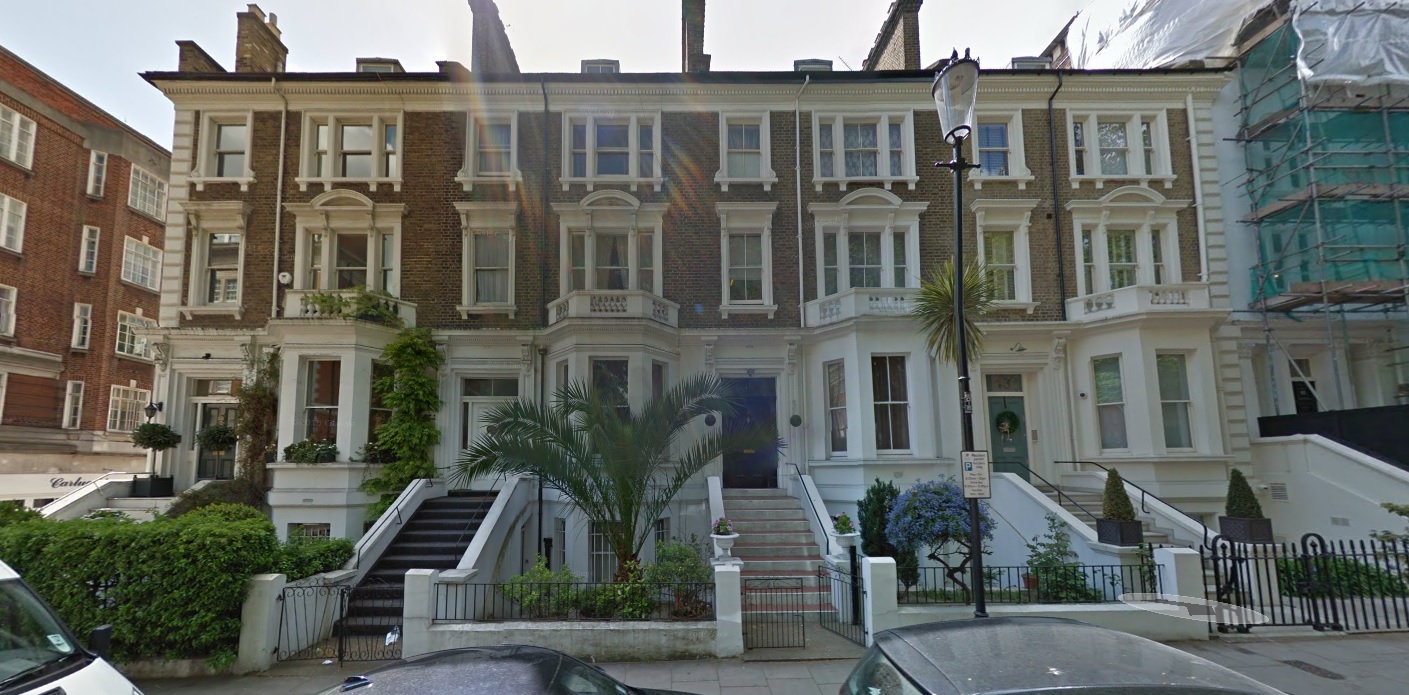 In the modern numbering, 11 Campden Hill Rd is the 3rd house from the corner here. (These are nos. 7, 9, 11 and 13.)
This would seem to match a previous numbering of 1A, 1B, 1C and 1D.
From street view.
---
Georgina Gibbon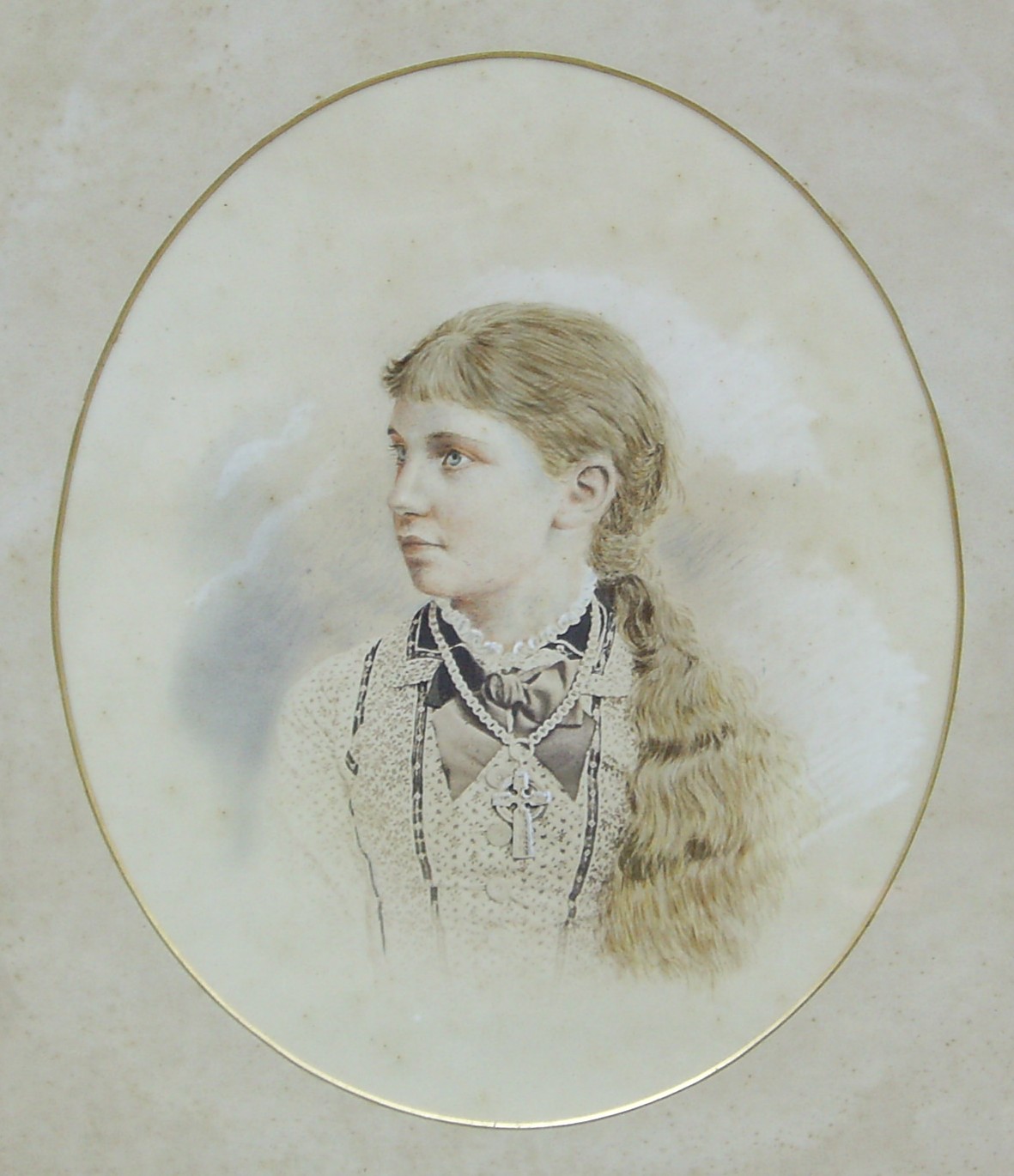 Georgina Gibbon (who died age 13 in 1881).
See
full size
.
See
other shot
.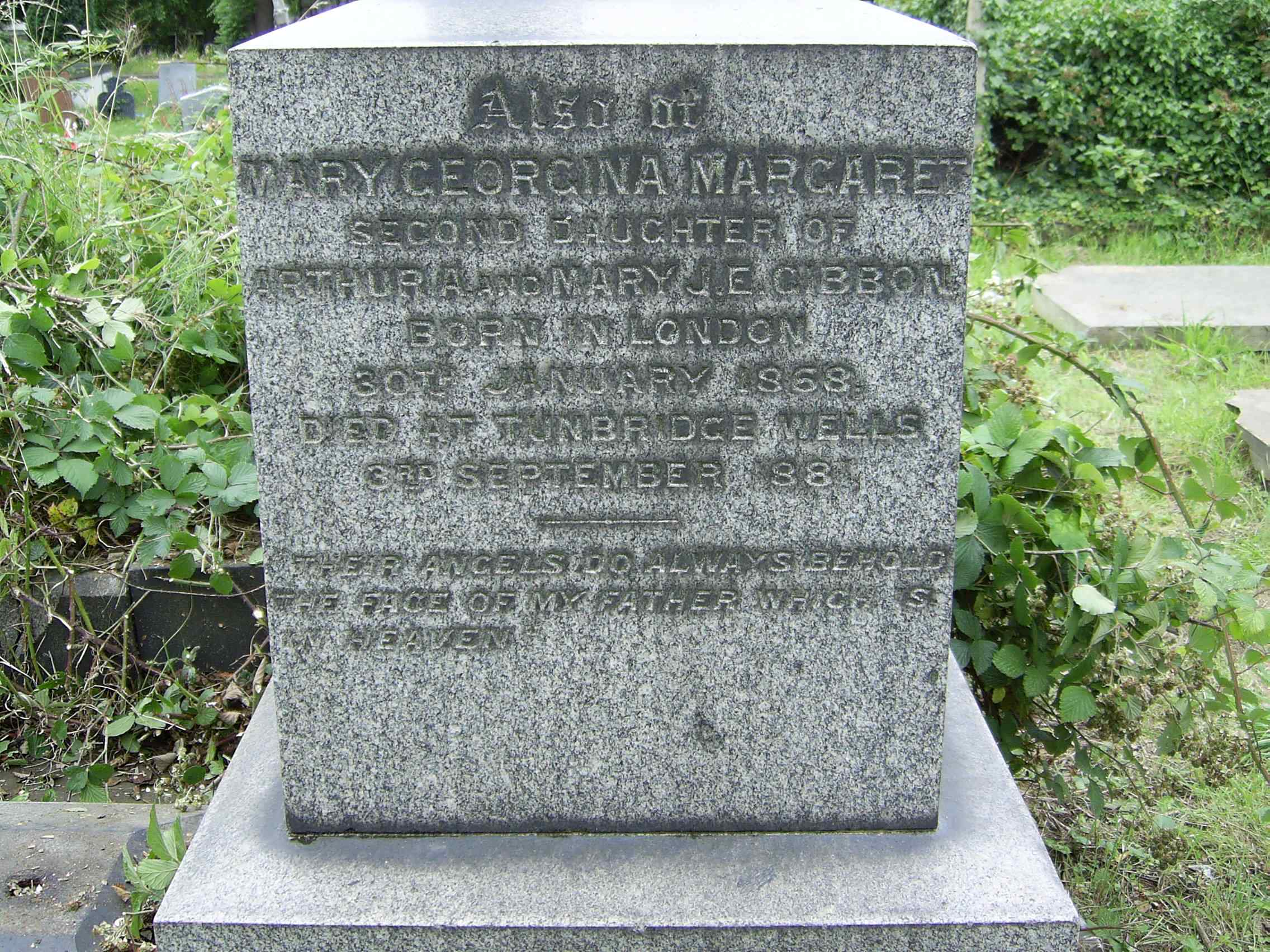 Georgina Gibbon on the Gibbon grave, West Norwood.
The quote is from Matthew 18:10: "Take heed that ye despise not one of these little ones; for I say unto you, That in heaven their angels do always behold the face of my Father which is in heaven.".
Photo 2007. See full size.
---
Mildred Gibbon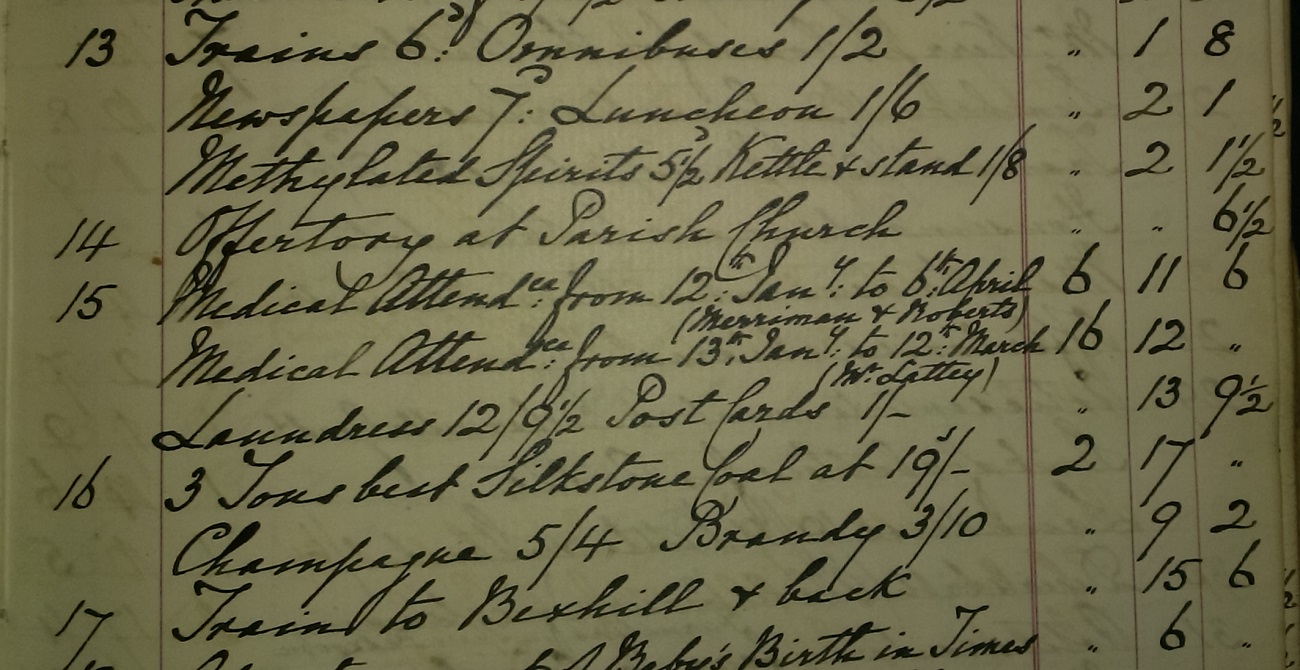 The birth of Mildred in the
[House Book]
for
July 1878
.
In between all the other mundane bills:
13 - Methylated Spirits, Kettle and Stand
14 - Offertory at Parish Church
15 - Medical Attendance
16 - Champagne, Brandy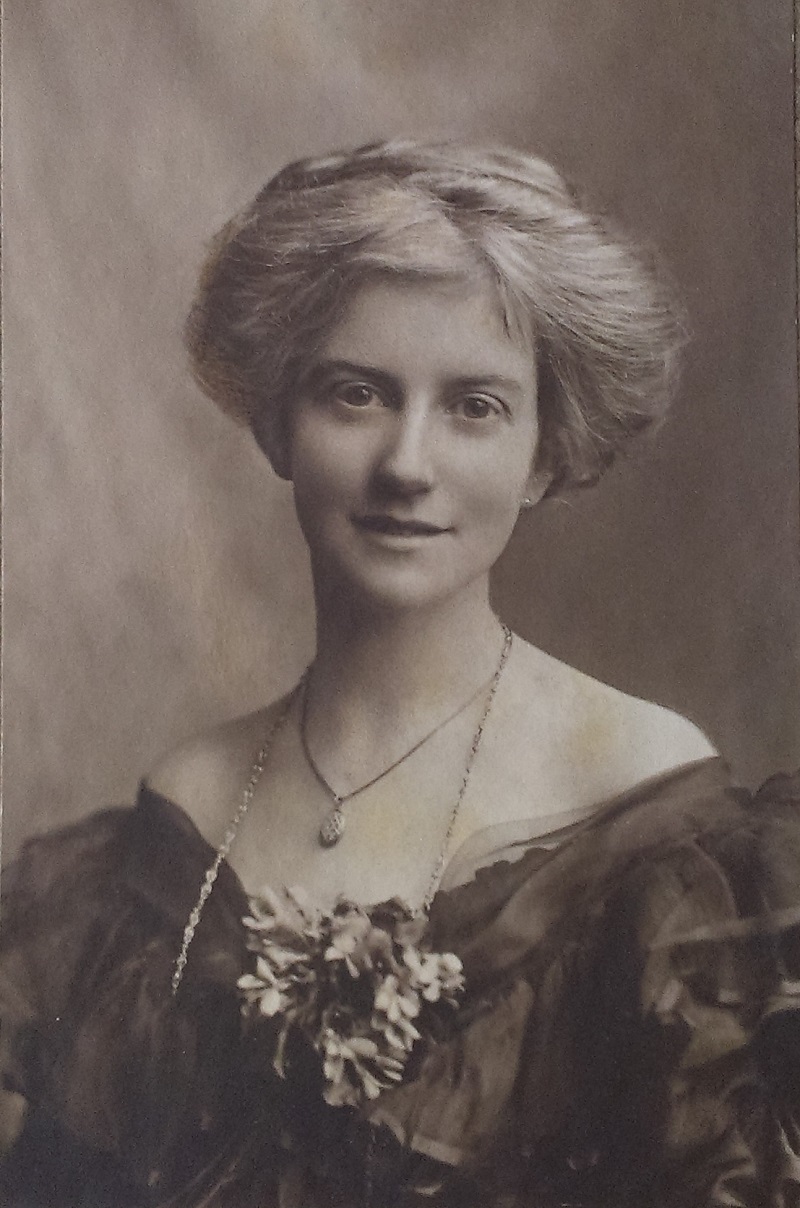 Mildred Gibbon.
See
larger
and
full size
.
See
other version
.
---
References
---
Sources yet to be consulted
Marriage of Gibbon and Kerr. The Aberdeen Journal, Wednesday, October 16, 1861, page 4.
Elizabeth's birth. The Aberdeen Journal, Wednesday, August 3, 1864, page 4.
Memorial at Mary's grave (died 1900), Vevey cemetery, Switzerland.