Tim Humphrys, of Upper Gerald Griffin St, Limerick
Tim Humphrys
,
Timothy, bapt 2 Mar 1890.
Living at home in 1911 census, unmarried.
He was involved in
GAA
and the
Gaelic revival
.
Vice-Chairman of the Limerick County GAA Board
from 1920 to 1939.
"T. Humphreys, Boher" was at funeral of
Matthew McCoy
1922.
He inherited his
father's
pub,
6 Upper Gerald Griffin St
, Limerick, in 1923 [Deed of 30 June 1923].
He mar pre-1925 to Amelia McGrath [born 1897 or 1898, of Boher].
They lived at Humphrys' pub, 6 Upper Gerald Griffin St, Limerick. Children born there. It was a big GAA pub.
Around 1946 he moved Humphrys' pub next door to 5 Upper Gerald Griffin St (the old Punch's pub). They continued living in number 6.
Canon Tim English met a man who was complaining about how Tim ran his pub. The man said he had arrived to find the pub locked but some noise inside. It turned out Tim had locked the doors and got all the patrons to kneel down and say the Rosary.
Tim retired. He sold pub in number 5 (it became Nicholas Bros). Lived in number 6.
Amelia died 1975 or 1976, age 78 yrs.
Tim died 1976 or 1977, age 86 or 87 yrs.
They had issue:
Claire Humphreys.
She wrote up Humphrys family tree.

Margaret Humphreys.

John Humphreys, mar Eileen Touhy and had issue:

Colum Humphreys.
Neil Humphreys, mar Connie ---- and had issue:

Ellen Humphreys.
Donna Humphreys.
Aoife Humphreys.

Eoin Humphreys.

Mary Humphreys, mar Christopher Frawley and had issue:

Gabrielle Frawley, mar Gerard Breen and had issue:

Jennifer Breen.
Nathan Breen.

Tim Frawley, mar Jacqueline ---- and had issue:

Marcus Frawley.
Paul Frawley.

Gerard Frawley.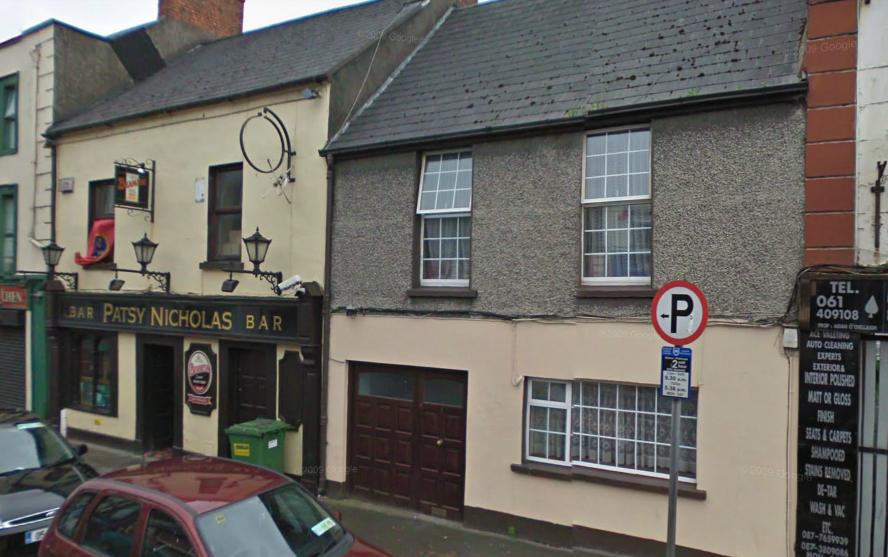 5 Upper Gerald Griffin St (Nicholas' pub) and 6 Upper Gerald Griffin St (brown door).
From Google
street view
.
Humphrys' pub (under two different families) was at no.6 from 1870 to c.1946, then moved to no.5.