Ned Guiney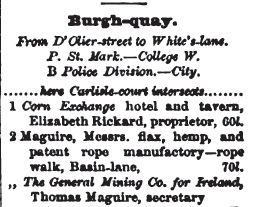 [Thom's, 1850]
shows a pub at 1 Burgh Quay, Dublin.
This was later the Guiney pub, and is still a pub today.
Ned Guiney
,
Edward, born 13 Nov 1883, "Gourbawn", near Shanagolden.
He went to Dublin, got into pub trade.
Apprentice to
William Nolan
at his pub in Dublin. William was from same area SW of Shanagolden, Co.Limerick.
Ned is
listed
in 1901 census as assistant at William's pub at 8 Fownes's St, Temple Bar, Dublin.
He was said to be a cousin of William Nolan, but this may be confusion with the fact that he later married William's relative Aileen Mangan.
Aileen was dau of William's 1st cousin
John Mangan
.
In 1911 census it seems Ned is an assistant at a different pub.
He would be Edward Guiney, age 27, born Co.Limerick, who is listed in 1911 census as "Grocer's Assistant", living in house 49, Martin's Row, Chapelizod.
Ned then bought his own pub, at 1 Burgh Quay (at O'Connell Bridge), Dublin.
"Edward J. Guiney" is listed as running the "Crystal Bar", 1 Burgh Quay, in [Thom's] at least 1919 to 1945.
Listed as "wine merchant", living Dublin, at mar.
He mar 26 Apr 1923 to Aileen Mangan [born 1898].
They mar at St. John's RC cathedral, Limerick [GROI]. Marriage witnessed by James A. Nolan and Catherine Moran.
Aileen sent flowers and mass card at Nell Humphreys' death 1939, and was at her funeral.
"Edward J. Guiney", publican, listed at 1 Burgh Quay in [Thom's, 1961].
Ned died 7 June 1967, age 83 yrs.
Aileen died 21 Aug 1974, age 76 yrs.
They had issue:
Tom Guiney.
Fr. John Guiney.

Dr. Eddie Guiney, mar Sheila McNamara and had issue:

Ed Guiney, mar Aoife O'Riordan.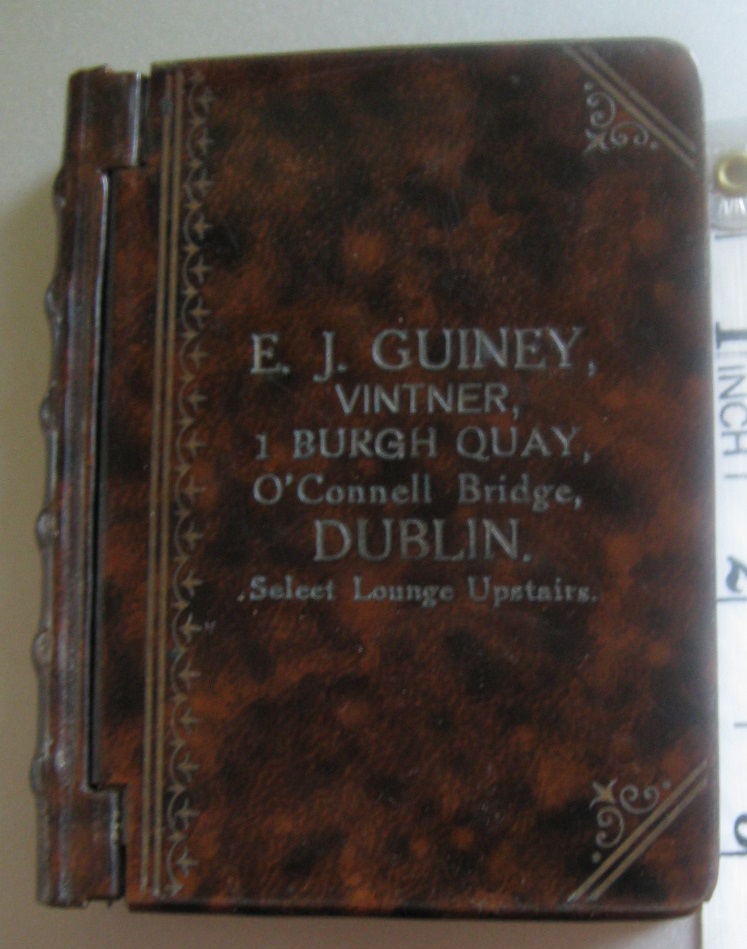 Think this is a Guiney match box.
See
full size
.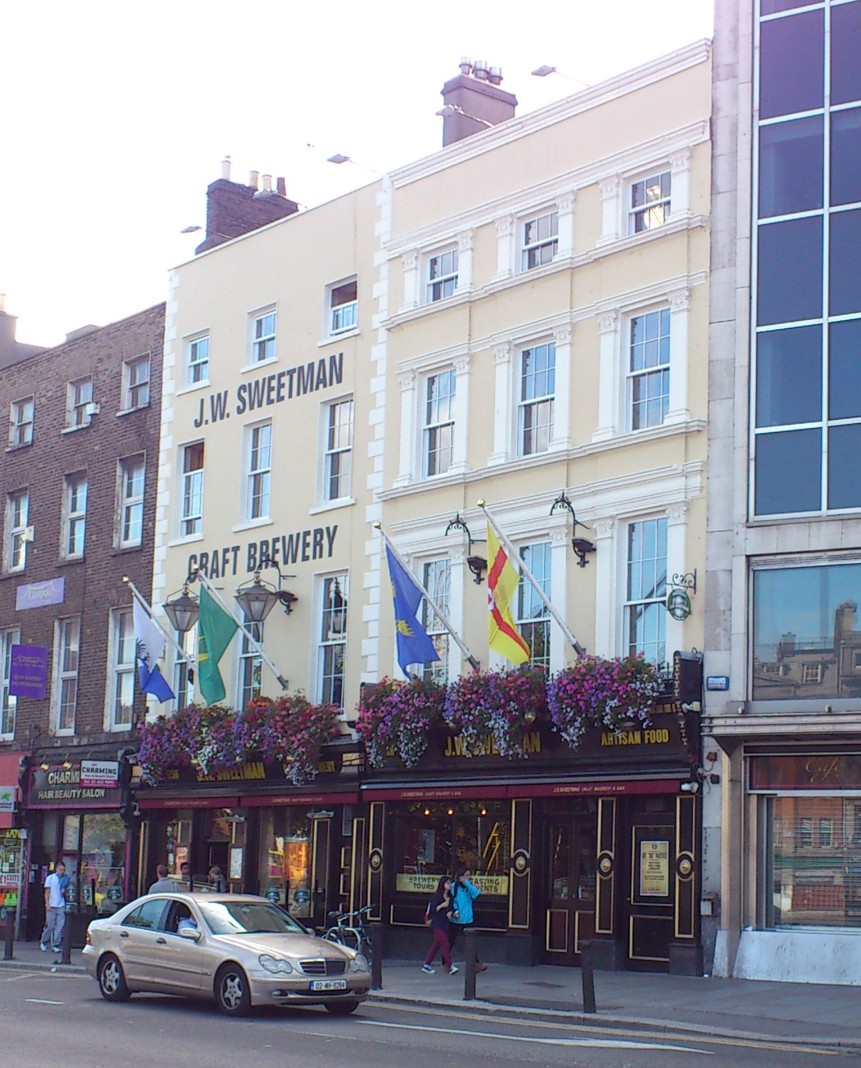 The Guiney pub, 1 Burgh Quay (the RHS of the two yellow buildings here.)
After Guiney, the pub at 1 Burgh Quay became Madigan's pub, "The Galleon".
Then it was Tommy Wright's.
Then it was Messrs Maguire.
It is now J.W. Sweetman craft brewery, which also occupies the building next door (2 Burgh Quay, to the LHS here).
Photo 2013. See full size and other shot.
See Google street view.