Dr. David Humphreys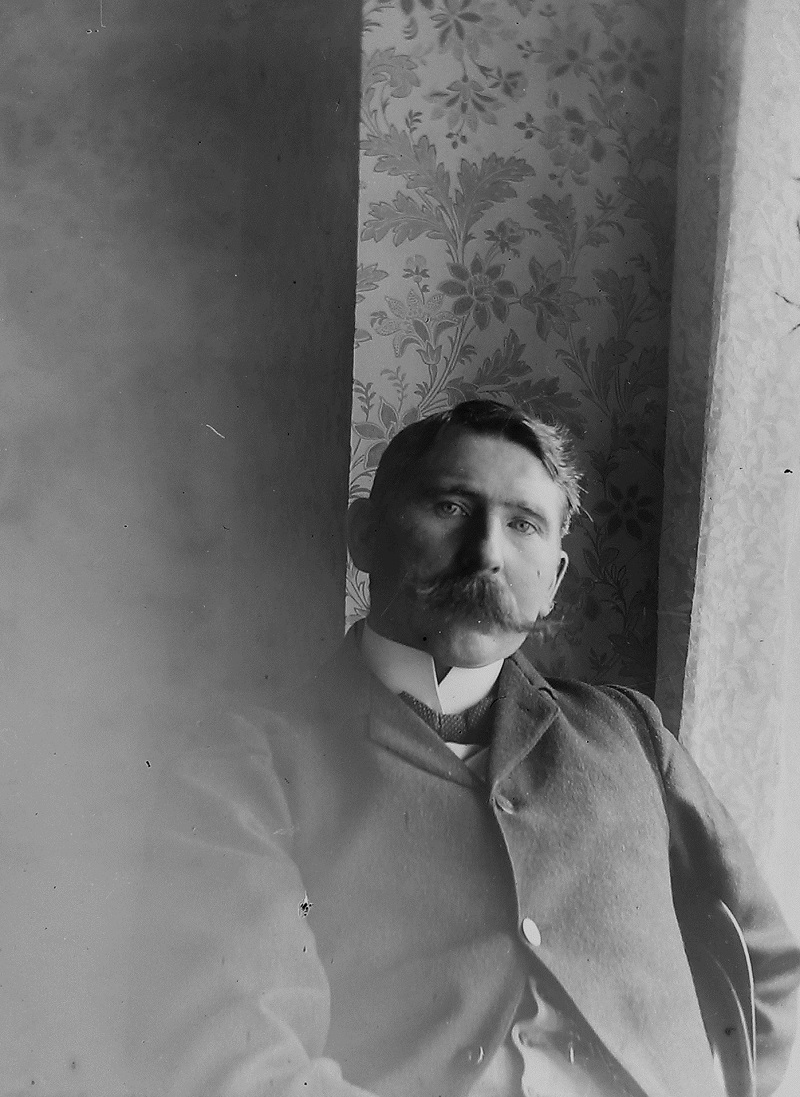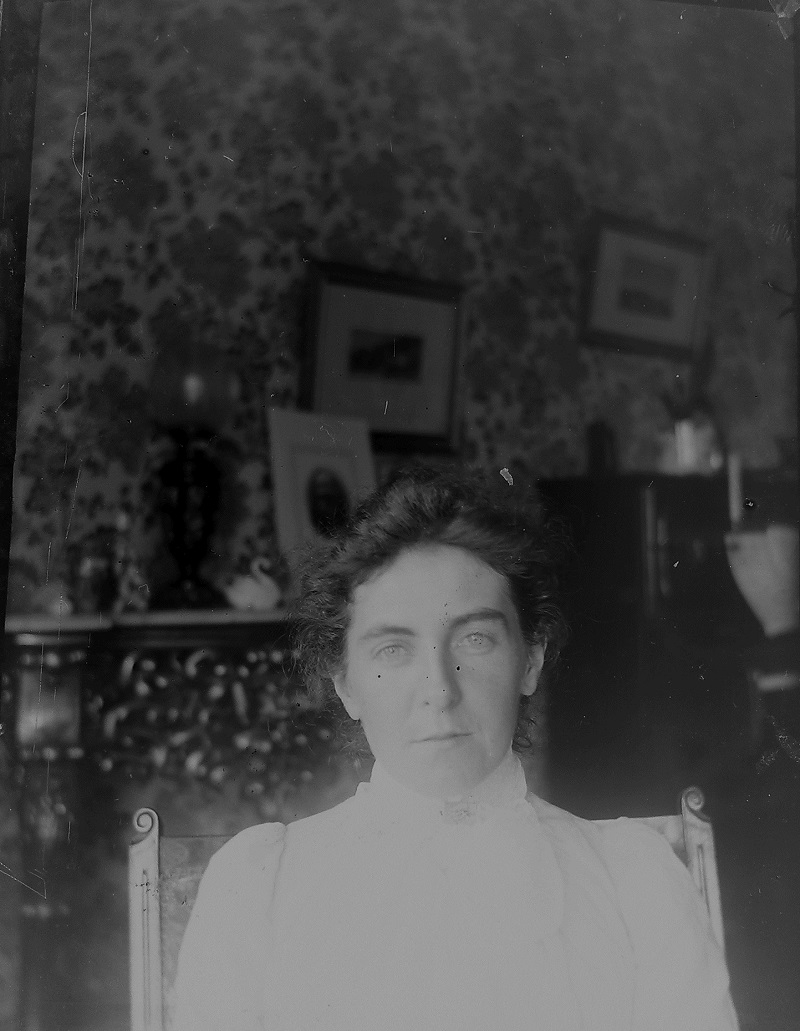 (Left) Dr. David Humphreys, 1901. See
other versions
.
(Right) Nell Rahilly, c.1900. See
other versions
.
Dr. David Humphreys
, formerly Humphrys,
bapt "Humphrys", 30th Mar 1861,
there was a suggestion that he was educ
Crescent College
, Limerick, but think this is confusion with his son
Dick
,
doctor, MD, registered physician and surgeon,
educ
Royal College of Surgeons
, St.Stephen's Green, Dublin,
LRCSI (Licentiate of Royal College of Surgeons in Ireland),
LKQCPI (Licentiate of King's and Queen's College of Physicians of Ireland), this became
Royal College of Physicians of Ireland
and he is listed as LRCPI (Licentiate of the Royal College of Physicians of Ireland),
Licentiate in Midwifery,
listed as of Glenstal (just qualified) in
[Thoms, 1887]
.
Doctor of Limerick workhouse:
David became Visiting Medical Officer of Limerick workhouse. This was a public hospital for the poor (didn't charge). Middle class wouldn't use it.
He is listed as "David Humphrys", doctor, Workhouse, Limerick, in [Thoms] from 1888 on.
He is listed as "Resident Medical Officer", Limerick Poor Law Union, in [Thoms, 1893] and [Guy's, 1893].
He also had private practice at his house, 18 The Crescent, Limerick city, living there by 1894 (see Christmas card below).
He was an ophthalmic surgeon (eye specialist). Obituary says he was a specialist in the treatment of ophthalmia.

He was doctor at Limerick workhouse when David Sheahan was Master of the workhouse.
He knew James O'Mara when both were single in Limerick, early 1890s.
"David Humphreys" wit the mar of James' young uncle Dr. Frank O'Mara in 1894.
Dr. Frank may be how he got to know the O'Maras. They were both from Limerick, same age, studied medicine in Dublin (perhaps together), returned to practice in Limerick. Though separately, the O'Maras were at school with Nell's brother The O'Rahilly.
In 1895, James O'Mara married Agnes Cashel, niece of the Limerick workhouse Master David Sheahan.
Later, after Dr.David's death, his son Dick would marry the dau of James O'Mara and Agnes Cashel in 1929.

He was a nationalist. [Mallon, 1969] says that at one time he was asked to join the (British) Army by a relative, "who put the proposal to him as normal family procedure". (Really? No other Humphrys joined the British military.) He answered "When Ireland has an army, I'll join it".
As a young doctor in Limerick, at medical dinner, there was a toast to Queen Victoria. He stopped it.
He became close friends with his wife Nell's brother, The O'Rahilly, whose nationalism is first seen c.1899. (Wonder was David an influence.)
He adopted the spelling "Humphreys", sporadically at first, consistently by time of his death. It is not known why. He was the first from Glenstal to do so.
First clear appearance of the spelling is "Dr. Humphreys" in a Christmas card from him, 1894-95, from The Crescent, Limerick [P106/343].
David mar 20 Feb 1895 to Nell Rahilly [Mary Ellen, Ellen, born 27 Apr 1871].
He spelt his name "Humphrys" on marriage cert [GROI].
There is a gift, a clock "Presented to Dr.Humphreys by his friends in Limerick on the occasion of his marriage February 1895".
[Thoms, 1895] lists "David Humphrys", Workhouse, Limerick.
Spelt "Humphrys" in [Slater's street directory, 1895, 1896].
He sent a telegram 1898 from Limerick to Ballylongford to The O'Rahilly, who had won a horse race, "Congratulation from all, am proud of mare and trainer. Humphreys" [P102/39(5)]. See image. See shot from Cé a Chónaigh i mo Theachsa?
Nell's widowed mother and sister Anno moved to nearby Quinsborough House, Co.Clare 1898.
[Dermot Humphreys] said David and Anno used go out hunting from Quinsborough.
"Dr. Humphries" is at funeral of James O'Mara Apr 1899.
His will is dated 16 Dec 1899.
[Thom's, 1901] lists "David Humphreys" as Visiting Medical Officer, Limerick Union.
Illness:
David's health deteriorated. Obituary says his bad health was blamed on "a chill after a bicycle ride while staying at Kilkee" around winter 1900-01, but must be earlier because he was in Egypt that winter. Maybe it was winter 1899-1900. Death cert says he had "abscess of lung (several years)".
See undated newspaper item about him returning to work at Limerick Union after illness.
His bad health eventually forced him to abandon his practice in The Crescent, and resign (probably 1900) as Visiting Medical Officer at Limerick Union.
He and Nell and children went to live with her mother and Anno at Quinsborough, apparently 1900. (Though Nell and David left their children there and went travelling.)
[P106/365] shows Nell making arrangements in Oct 1900 to clear out their house in The Crescent.
See Childhood of Dick, Sighle and Emmet in Quinsborough.

Trip to Egypt, 1900-01:
David and Nell went travelling to hot climates to escape the Irish climate and try to improve his health. Stayed in England also. See [P106].
[P106] shows they went to Cairo, Egypt in Nov 1900, stayed there until at least Mar 1901. [P106/369] shows the children (Dick and Sighle) were left in Ireland (in Quinsborough).
There is no census return for 18 The Crescent in [Census, 31 Mar 1901]. The Enumerator's abstract says the house is "uninhabited".
Dick and Sighle are at Quinsborough in Mar 1901 census. Their parents are in Egypt.
David and Nell were in Canary Islands in early 1902.
[P106/357] seems to show David at Quinsborough in May 1902.
He is meant to have subscribed to the building of the new parish church in Murroe (collection began in 1902). (todo) See list of subscribers.
David and Nell are living Quinsborough as at [Deed, Sept 1902], listed as "Humphrys".

Trip to Egypt, 1902-03:
Living Quinsborough as at Emmet's birth 3 Oct 1902.
David and Nell immediately went travelling again. [P106/375] shows them in Gibraltar on 25 Oct 1902.
They were in Cairo, Egypt again in Dec 1902, without Dick and Sighle. Unclear if brought the baby or not. See postcards from Egypt to Dick and Sighle at Quinsborough, [P106] 376-377. Not sure if they ever saw their father again. (todo) See also [P106/35].

David dies, 1903:
David died on way home from Cairo, morning of Wed 13th May 1903, at The Home Hospital, 16 Fitzroy Square, London, age 42 yrs. He died of "abscess of lung (several years)" and "septicaemia (some weeks)" [GRO.UK].
See obituary in Limerick Chronicle, Thur 14th May 1903.
See obituaries in [P106/382].
Name spelt "Humphreys" in newspaper reports of illness, death, funeral notice, and admin of estate.
Body transported to Ireland. Funeral Fri 15 May 1903 from Boher railway station, bur Abington, Co.Limerick.
See short funeral list in unknown newspaper.
See long funeral list in Limerick Leader, May 1903, part 1 and part 2.
Mass card in [P106/363].
In admin of his estate he is described as of The Crescent, but Nell is described as of Quinsborough.
Estate of about £4000 (about £1m in today's money) [NAI], or £5588 [other admin papers] granted 4 July 1903 to "Nell Humphreys of Quinsborough". (todo) See papers in [P106/203].
Nell and children carried on living Quinsborough with mother and Anno.
Her mother died Dec 1903. She and children and Anno lived there.
David's mother (the last grandparent) died 6 Feb 1909.
Nell left Quinsborough, moved to Dublin with children and Anno. Dick's diary [Mac Eoin, 1980] says they came to Dublin on 8 Mar 1909.
Stayed in Russell Hotel, Dublin, for very short time in 1909.
Then lived Pembroke Rd, Ballsbridge, for very short time in 1909.
Nell and Anno settled 54 Northumberland Rd, Ballsbridge. Listed there in St.Enda's accounts 1909.
Listed at 54 Northumberland Rd in [Thoms] 1910 to 1917.
Nell and Anno's brother The O'Rahilly returned to Ireland, and came to Dublin independently of his siblings, in May 1909.
Nell and family only settled a few weeks, May 1909, when the maid said "Mr.Brown to see you". Nell said "Who?" Sighle curious. It was The O'Rahilly, who had arrived from Philadelphia a day or two before [O'Rahilly, 1991]. [Sighle] recalled that she and the other children were delighted - they knew no one in Dublin, now had three American cousins to play with.
The O'Rahilly moved to 40 Herbert Park, Ballsbridge, 1910, close to Nell and Anno on Northumberland Rd. Nell's children grew up with O'Rahilly relations, not Humphrys.
Nell becomes a revolutionary:
Nell's brother The O'Rahilly soon became a prominent revolutionary in Dublin, and his sisters Nell and Anno followed.
Nell's family reverted to the old spelling "O'Rahilly" from c.1909 onwards.
Nell and her children became very republican. They fell out with the Limerick Humphrys, who were more Free State/Fine Gael. Sighle in radio interview recalls how out of step they were with the politics of their neighbours in wealthy, unionist South Dublin.
Nell sent her son Dick to the radical St. Enda's school, run by Patrick Pearse. Dick entered Sept 1909.
See entry in 1911 census at 54 Northumberland Rd. Nell and Anno and children live with 2 servants, Dick away at St.Enda's, whole family speaks Irish, they filled out the census form in Irish, fine house with 12 rooms.
The O'Rahilly was an organiser of the Howth gun running in 1914. Northumberland Rd was used as an address for purchase of arms.

The 1916 Rising:
Nell's brother The O'Rahilly was a leader of the 1916 Rising. Her son Dick fought with his uncle in the Rising.
Nell sent medals of Our Lady of Perpetual Succour to Pearse to give to the men in the GPO.
The family was still living 54 Northumberland Rd at the time.
From their house they witnessed The Battle of Mount Street Bridge, Wed 26th Apr 1916. Nell in [P106/384] said: "Here in our own road two men held a house and there were over 90 soldiers killed or wounded. Anna and Sighle saw nearly all who fell". In fact, there were 28 British killed and over 200 wounded. Sighle describes it in [P106/976] and here in "Ireland: A Television History". This was the rebels' most successful engagement of the Rising.
Nell's brother The O'Rahilly died in action. Rebels surrendered Sat 29 Apr. Nell's son Dick was captured, imprisoned.
Nell identified her brother's body on Tue 2 May 1916.
Shortly after, soldiers raided the Humphreys house on Northumberland Road, house searched, Nell arrested.

In prison: Nell was imprisoned for a short time, but moved around a lot. See [Mac Eoin, 1980]. At first she was under day-arrest in grounds of RDS, returning home each night. Then she was transferred to Richmond Barracks, then to Kilmainham Gaol. She was moved from Kilmainham to Mountjoy prison on 9 May 1916. Her offence is listed in [Mountjoy prison register] as "Rebellion". She was prisoner number 1015.
Mountjoy prison register says she was released 16 May 1916. Letter of 18 May says she has been released. [1916 Roll of Honour] is wrong to say released 22 May.
She wrote letter to her sister-in-law after her release in May 1916, telling the story. "We have been shunned by almost all our society acquaintances" but she doesn't care: "it is great to be alive now ... You will say I am heroic and absurd, but it is what I feel."
She wrote on 26 May 1916 to Dick in prison in England [P102/492].

Both Nell and her sister Anno became active revolutionaries in 1916-23 period.
[Ernie O'Malley letters, 1991] says of his group of volunteers: "One night in 1917 .. our Captain stopped the drill and said 'There is a lady, a sister of The O'Rahilly, about to inspect the parade and if I see a smile on any of your faces, God help you when she leaves' .. Mrs. Ellen Humphreys came into the room and gave each of us a medal of Our Lady of Perpetual Succour .. It was hard to keep from laughing as our Company was a 'tough' one".
Nell and her family moved to 14 Herbert Park (near her brother's widow at 40 Herbert Park). Sighle in [Mac Eoin, 1980] says they moved there 1918, but maybe 1917 since they are listed there in [Thoms, 1918].
Nell is listed at 14 Herbert Park in [Thoms] 1918 to 1921.

War of Independence 1919-21:
Councillor: Nell was elected a Republican member of Pembroke Urban District Council in the borough and urban local elections of 15 Jan 1920.
(todo) See letter of 20 Jan 1920 in [P106/181] congratulating Nell "on her success at the polls".
See undated letter to Nell from Constance Markiewicz, written from Kathleen Lynn's house, 9 Belgrave Rd, Rathmines.
There was a raid of 14 Herbert Park by British on Easter Saturday, 3 Apr 1920. Dick arrested.
Nell built house at 36 Ailesbury Rd 1920. She is listed there in [Thoms] from 1922 edn on.
House on Ailesbury Rd was safe house in War of Independence 1920-21.
Ailesbury Rd was raided by British Easter Sunday 1921 (27 Mar 1921), Dick and Emmet arrested.
"Mrs. Mary E. Humphreys" is listed among Urban Councillors for Pembroke Urban District in [Thom's, 1923]. Chairman of Pembroke council is Bartholomew O'Connor (who must be Batt O'Connor).

Civil War 1922-23:
Nell and family took the Republican side in Civil War (June 1922 - May 1923). Her house on Ailesbury Rd was a HQ for the Republican side.
Ailesbury Rd was raided by the Free State in the Civil War, 4 Nov 1922. Anno was shot by accident. Whole family arrested.

In prison, 1922-23:
Nell was jailed Nov 1922 to July 1923 - until after the Civil War ended. She was at various times in jail with Sighle and Anno.
Mountjoy: She was at first in Mountjoy prison in 1922 with Sighle. Nancy O'Rahilly was briefly jailed with them. All three went on hunger strike, Nov 1922, for a few days. Nancy was freed on 11 Nov 1922. See letters of Nov 1922. Nell and Sighle and other Republican prisoners caused trouble for the authorities, including barricading their cell. Sighle was taken away to solitary confinement.
Kilmainham: Nell was moved to Kilmainham Gaol in Feb 1923 [Prison letters]. See also [P106/639]. [McCoole, 1997 and 2003] says Nell was in Kilmainham as at Apr 1923, and says she was one of the older Cumann na mBan leaders organising the women prisoners. [McCoole, 2003] says she was known as "O/C Prayers" and "O/C God" because of always getting them to pray.
NDU: Nell was moved in Apr-June 1923 (probably in end Apr) to North Dublin Union (NDU). Civil War ended May 1923.
Kilmainham: Nell was moved from North Dublin Union back to Kilmainham on 14 June 1923 [P106/397]. She was released 18 July 1923. Sighle and Anno stayed in prison until Nov 1923 [McCoole, 1997, 2003].
Nell and Anno had a summer house at Muiríoch, Co.Kerry (in the Gaeltacht).
Like her brother The O'Rahilly, she made Irish the spoken language of her home.
Her will is dated 23 Jan 1939. Typed copy in [P106/459].
Nell dies, 1939:
She died Thur morning, 8 June 1939, 36 Ailesbury Rd, age 68 yrs.
See death notice in Irish Times, June 9, 1939.
See long obituary in Irish Press, Fri 9 June 1939.
See long obituary in Cork Examiner, Fri 9 June 1939.
(todo) See obituary in [P106/710].
See long report of removal in Irish Press, 10 June 1939. The Taoiseach Eamon de Valera and the Minister for Agriculture attended.
Funeral Sat 10 June 1939, bur Abington, Co.Limerick.
See large funeral list in Irish Press, Mon 12 June 1939. The Taoiseach Eamon de Valera, the Minister for Defence, the Minister for Finance, the Minister for Agriculture and the President of the High Court attended, along with many other political figures and republican veterans. Message of sympathy sent from Count Plunkett and his wife.
(todo) See funeral report in Limerick Chronicle, 13 June 1939.
Probate granted at Dublin, 20 Nov 1939, estate of £4159 in Ireland.
Will proven London, 7 Dec 1939, effects in England of £2619 [National Probate Calendar, England].
Dr. David and Nell had issue:
Dick Humphreys,
Richard, born 23 Apr 1896, family home, 18 The Crescent, Limerick.
See birth cert in [GROI]. From here.
Birth cert says born 19 Apr, but this is error. Dr. David was very careless with dates. He registered both Dick's and Sighle's dates wrong. Anno registered Emmet's birth and hence it is correct.
The correct date (23 Apr) is on Dick's passport.
He was bapt 29 Apr 1896 [St.Michael's RC church, Limerick].
Named after his grandfather Richard Rahilly, who had just died, and who was named after his grandfather Richard McEllistrem. So Richard as family name goes back to 18th century and probably 17th century.
Listed as "R.P." Humphreys in George Duggan's funeral list and Anno's funeral list.
Listed as "R.H. Humphreys" after Leinster 100 in 1923, and "Richard H. Humphreys" in [Motor Reg.].
Surname at birth registered using the old spelling "Humphrys".




Sighle Humphreys,
lifelong Irish republican revolutionary.
"Sighle" is the Irish spelling of "Sheila", pronounced the same.
She was often called "Sheila" by others, but she herself used "Sighle". Think she also used the alternate Irish form "Síle".
She was born 26 Feb 1899 at the family home, 18 The Crescent, Limerick. [GROI] gives location, but date is wrong (see below).
See birth cert in [GROI]. From here.
[P106/673(2)] is a letter from Dick in 1916 about her birthday. It says Nell thinks it is 27 Feb, but Anno thinks it is 26 Feb. The baptism entry says born 26 Feb and that is contemporary, so seems most reliable.
She was bapt "Margaret", 28 Feb 1899, St.Michael's RC church, Limerick, sp Timothy Humphreys and "Ellen Rahilly" (must be grandmother). See transcript in [P106/981].
The baptism proves that the birth date of 12 Mar 1899 on her birth cert is completely wrong.
Also she was clearly NOT born on "29 Feb 1900". She sometimes claimed to be a leap year baby. 1900 was not a leap year anyway.
At time of birth her mother was at Limerick workhouse, where Dr.David was working. They said "Sighle was nearly born in the workhouse".
Registered as "Margaret" at birth, and still listed as such at marriage [GROI].
Apparently named "Margaret Mary" after her grandmother Ryan, or else after the 17th century saint, St. Margaret Mary Alacoque.
Birth registered using the new spelling "Humphreys".
Letter of 14 Mar 1901 in [P106/369] says that her first words were: "No indeed".




Emmet Humphreys,
Emmet David, born 3 Oct 1902, Quinsborough (where his father was now living) [GROI], NOT born 1903.
See birth cert in [GROI]. From here.
He was named after Robert Emmet, whose centenary was due the next year in 1903. His father was very sick at the time, said "call him Emmet". Shows how nationalist family was even in Dr.David's time.
Dr. David ran up green flag on flagpole at Quinsborough when Emmet born.
He couldn't be baptised Emmet (not accepted by church as valid name). He was baptised Claude, apparently after the 17th century Jesuit, Claude de la Colombiere, who was imprisoned in England (and was later made a saint).
Emmet never knew his father. He kept his father's death anniversary faithfully all his life.
Surname at birth registered as "Humphreys".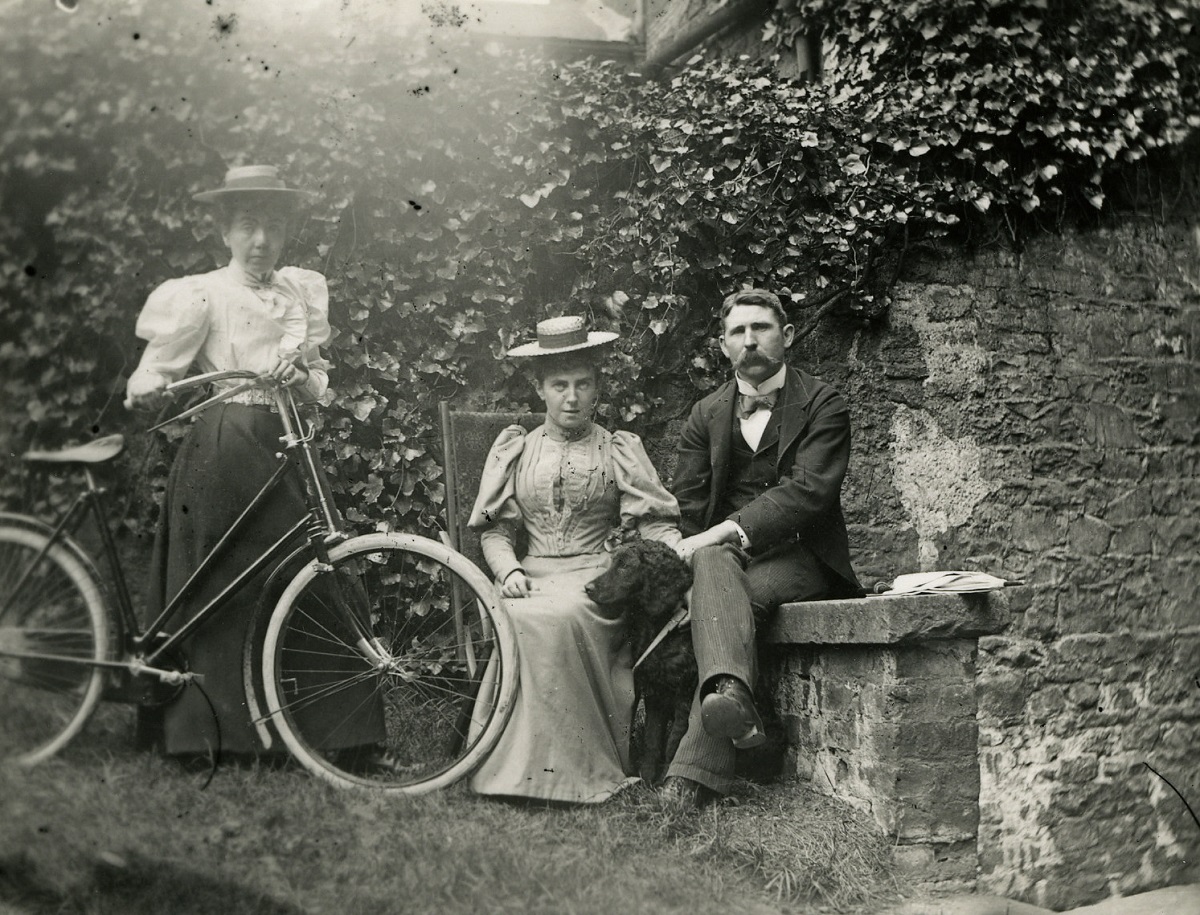 (Left to Right):
Anna
, Nell, David, c.1898.
This is
[P106/469]
.
See
larger
and
full size
.
This might be the back of
18 The Crescent
, Limerick.
It is the same place as
here
.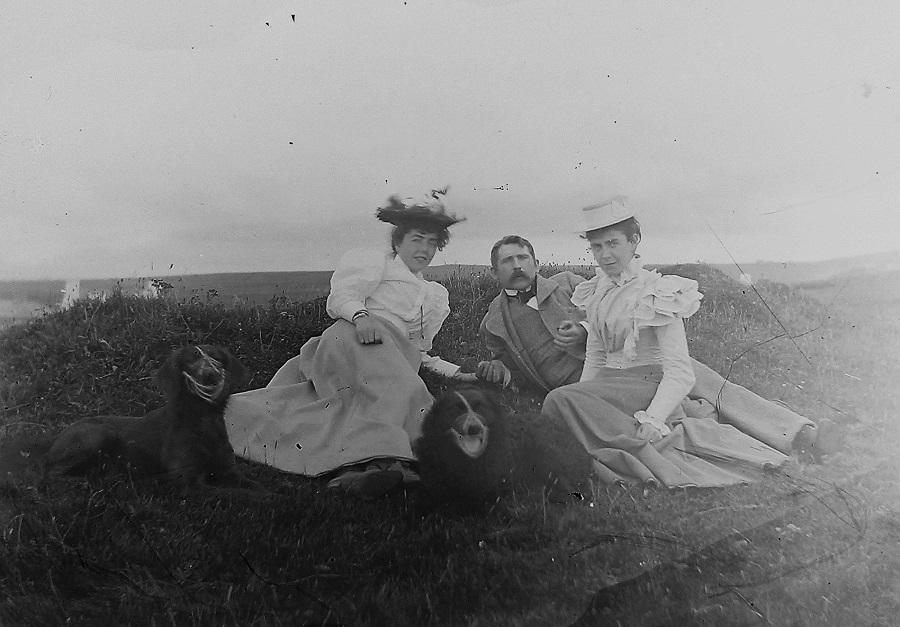 (Left to Right): Anna, David, Nell, c.1900.
See larger and full size. Image 5912 in Humphrys glass negatives. Light-adjusted. See original.
See copy in [P106/476].
See other scan and other scan.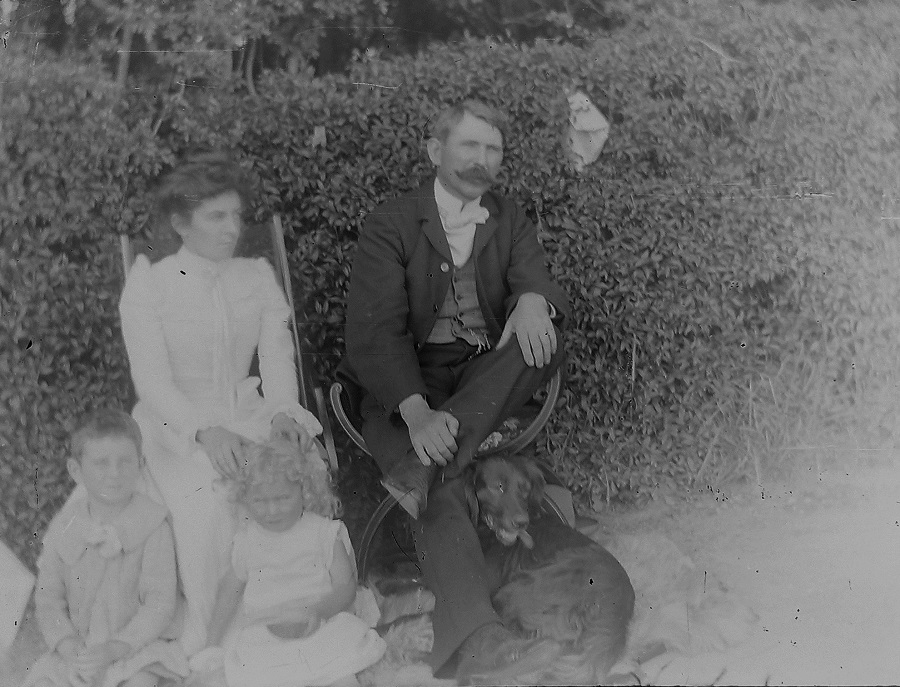 Nell, Dr.David, Dick, Sighle, c.1902.
See larger and full size. Image 5870 in Humphrys glass negatives. Light-adjusted. See original.
See copy in [P106/467(3)].
See other scan.
See other scan.
See similar shot. Image 6694 in Humphrys glass negatives. Light-adjusted. See original.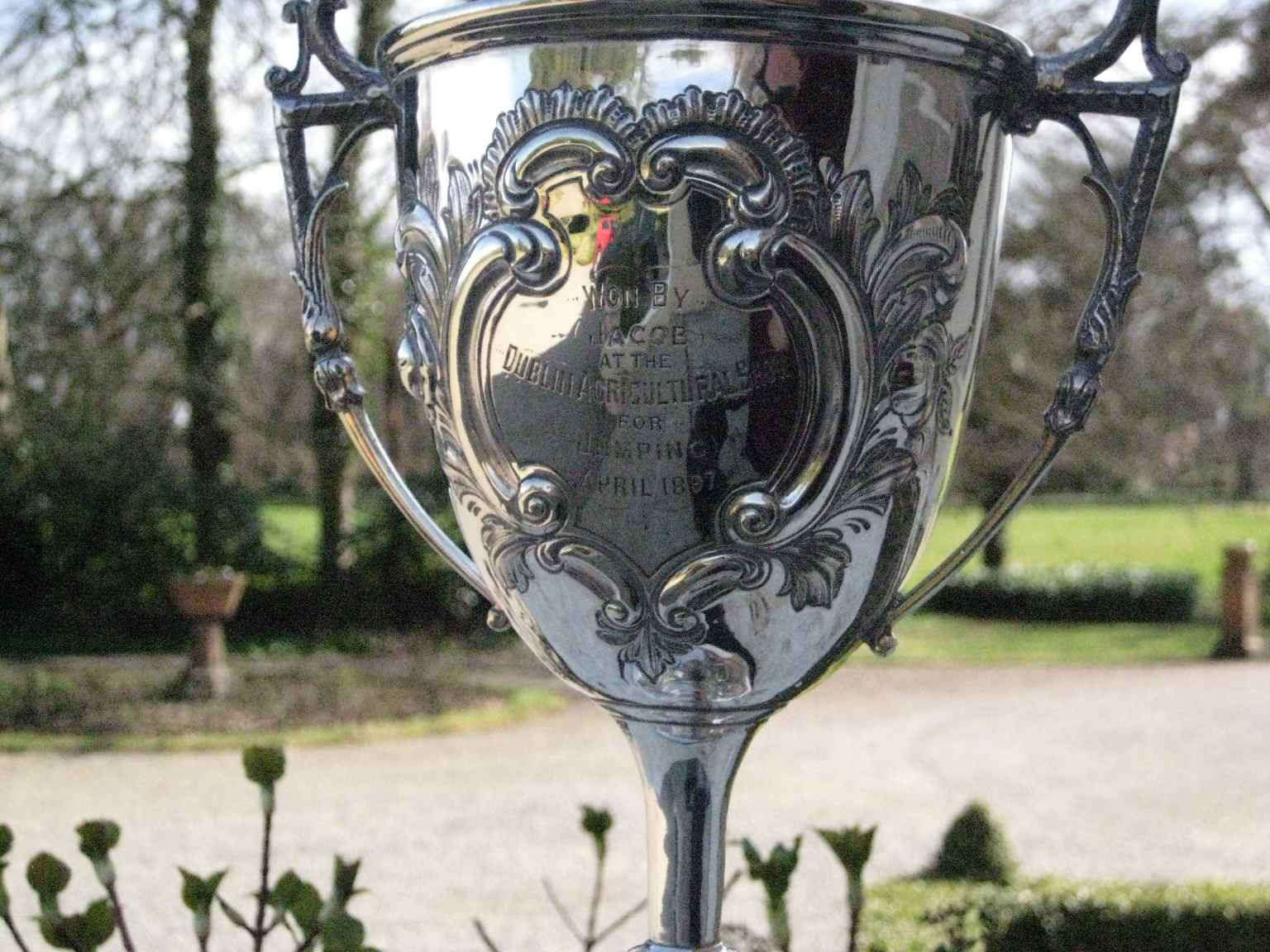 A cup won by Dr. David Humphreys with his horse "Jacob" at the Dublin Agricultural Show (Spring Show), RDS, Dublin, Apr 1897.
The show was held 20-23 Apr 1897.
[Irish Times, 23 Apr 1897] shows Dr. David and "Jacob" in a jumping competition on 22 Apr for cobs under 15 hands.
Irish Times does not however indicate that he won (or was placed). Yet this cup exists.
"M. Humphreys" of Dublin is found coming 2nd in another competition on same day, with the horse "Navan". This might be his brother Mick.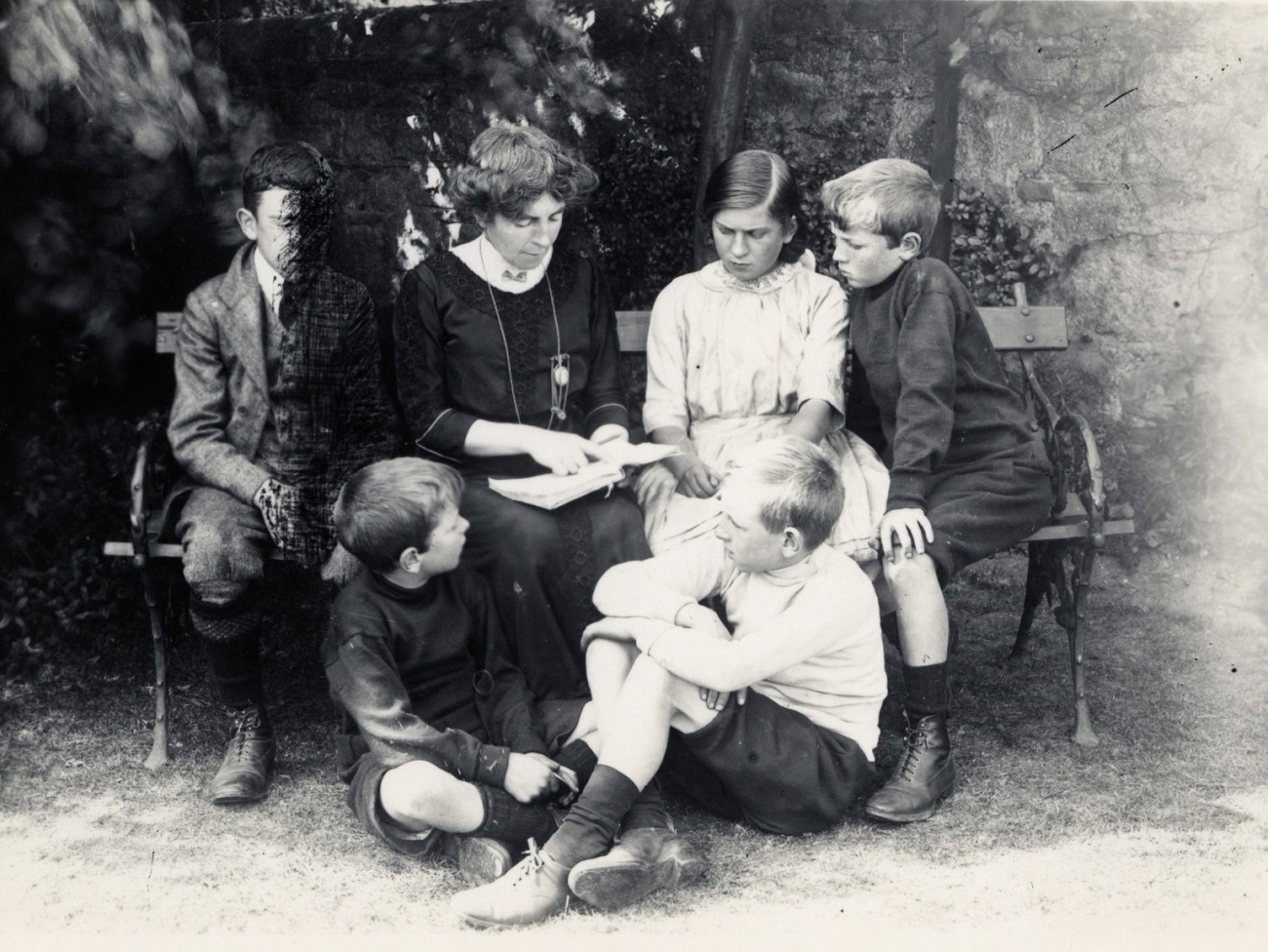 Nell with her children and some of The O'Rahilly's children.
Caption is "Dick, Nell, Sighle, Emmet, Niall, Aodogan."
The Humphreys house, 54 Northumberland Rd.
Caption says c.1915 but looks more like c.1912.
This is [P106/110(1)].
See larger and full size.
See copy in [P106/110(2)].
---
AI animations
AI animations of old photos.
Made using
Deep Nostalgia
at MyHeritage.
AI animation of
photo of Dr. David
, c.1898.

AI animation of photo of Nell, c.1887.

AI animation of photo of Nell, c.1895.

AI animation of photo of Nell, probably 1901.
---
References
---
Sources yet to be consulted
---
---
---
"One of my most bitter thoughts was - Would David be ashamed of me, making such a muddle of my life that I was in one prison and Dick in another?"
- Nell writing in May 1916 after 1916 Rising.
"To be honest I never had such an enjoyable time; not since I was at school, there were so many of us here together."
- Nell writing in Jan 1923 about Christmas 1922 in Mountjoy prison with all the other Republican women prisoners.
---