Peter Murray
Peter Murray
, born 18 June 1834, Alford.
At home in 1841 census at Mid Mill, near Alford, Aberdeenshire.
At home in 1851 census.
He mar 30 May 1861, Alford, to
Margaret Robbie
[born 1838].
She died 21 Jan 1868, Alford, age 30 yrs.
She is bur Alford, near
his father's grave
.
After Margaret's death her sister Mary Robbie (born 1840) helped Peter run the house and raise the children. She stayed with him as housekeeper for 47 years (1868-1915).
Census of 1881 has him at Upperhaugh (Upper Haugh, N side of Alford, see map).
Census lists him as "carpenter".
Grave lists him as "carpenter, Alford village".
He made an oak carved jewel box dated 1881.
He later became a land-steward.
Lived "Murrayfield", Montgarrie Road, Alford (see map).
His "faithful friend and housekeeper" Mary Robbie died "Murrayfield", Alford, 21 Apr 1915, age 75 yrs.
He erected her gravestone at Alford, next to his wife.
His son Charles returned home to Scotland 1924.
He died 11 Nov 1926, Alford, age 92 yrs.
He was bur Alford.
Peter and Margaret had issue:
Sarah Murray, born 30 Oct 1862, Alford,
1881 census lists her as "art student", living "25 Broomhill, Aberdeenshire" (unidentified, a number of possibilities),
painted portrait of her brother Charles in 1887.




Charles Murray, the Scottish poet,
born Alford, 28th Sept 1864 (or 29th or 27th).




Peter Murray, born 5 May 1866, Alford,
died 18 Mar 1867, Alford, age 10 months,
bur Alford.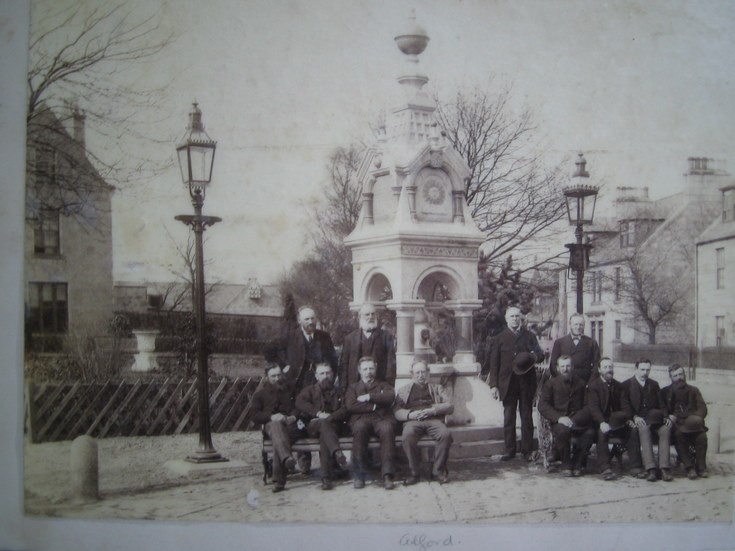 Civic Dignitaries at the Alford Fountain (The Farquharson Fountain) when it was erected in 1891.
Seated on extreme RHS is
Peter Murray
.
From
Alford Heritage Centre and Museum
, which has complete list of people.
See modern
street view
.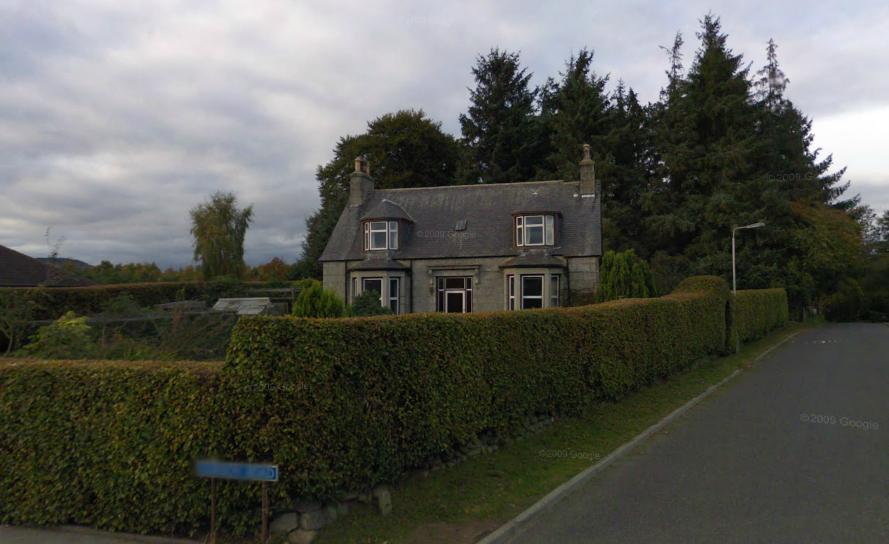 Think this is "Murrayfield", Montgarrie Road, Alford, today.
From street view.
---
Oak carved jewel box, made by Peter Murray.
The
side view
has date 1881.
The
label
says it won a prize "at the Glasgow Exhibition in 1881".
This may be an error for the great
International Exhibition
in Glasgow in 1888.
Oak carved jewel box, made by Peter Murray, dated 1881.
For sale on
eBay
from
this user
as at 2009.
See
side view
and
label
.