Charles Murray, the poet
Sources yet to be consulted: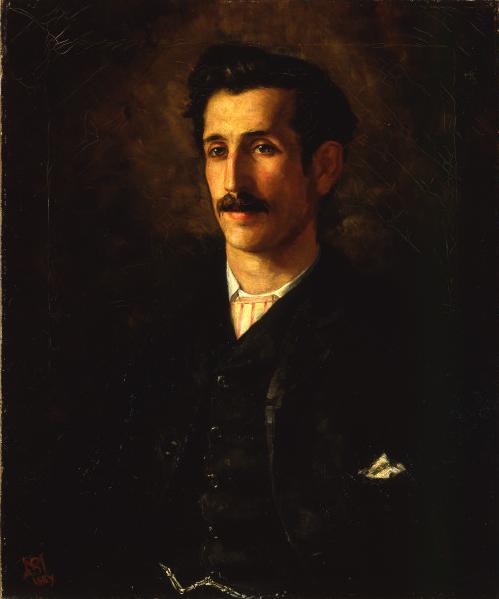 Charles Murray, portrait by
his sister Sarah
1887 (him age 23).
From
Aberdeen Art Gallery & Museums collections
. Used with permission.
Charles Murray
, the Scottish poet (see
here
and
search
),
born Alford, Aberdeenshire, Sept 1864.
His
mother
died 1868.
In census 1881 he is found with sister at "25 Broomhill, Aberdeenshire".
He became a land surveyor in Aberdeen.
Emigrated to
South Africa
1888. Lived there for decades.
He wrote poetry in
"Doric"
dialect (NE Scotland dialect) while in "exile" in South Africa.
He wrote poetry in his spare time while pursuing a successful career in South Africa, as a prospector, mine surveyor, civil engineer and mine manager. Finally was a senior colonial civil servant.
He mar 1895 to Edith Rogers [Edith Emma Rogers, born 1871, Cape Town, dau of William H. Rogers].
He served in Second Boer War (1899-1902). He was Lieutenant in Railway Pioneer Regiment, Transvaal, 1900-01.
The government took him out of uniform and into civil service. He was made Deputy Inspector of Mines.
His volume of poetry Hamewith ("Homeward"), pub 1900, became popular. 2nd edn 1909.
He became senior civil servant.
He was Secretary for Public Works, South Africa, 1910-24.
Served in WWI (1914-18).
His volume of poetry A Sough o War, pub 1917.
His volume of poetry In the Country Places, pub 1920.
He was the most popular Scots poet of the early 20th century.
LLD (honoris causa) from Aberdeen University 1920.
CMG 1922.
He retired to Scotland 1924.
Settled in Banchory, Aberdeenshire, SW of Aberdeen.
He died Banchory, 12 Apr 1941, age 76 yrs.
Ashes interred in Kirkyard of Alford.
Edith died Banchory, 1946, age 75 yrs [grave, Alford].
Charles and Edith had issue:
(son) Murray, born 1897.
Apparently he is William Murray [William D.], living 1963 at Faglee, Hawksworth Lane, Guiseley, Yorkshire (see label of this box).

Sheila Murray.
(dau) Murray.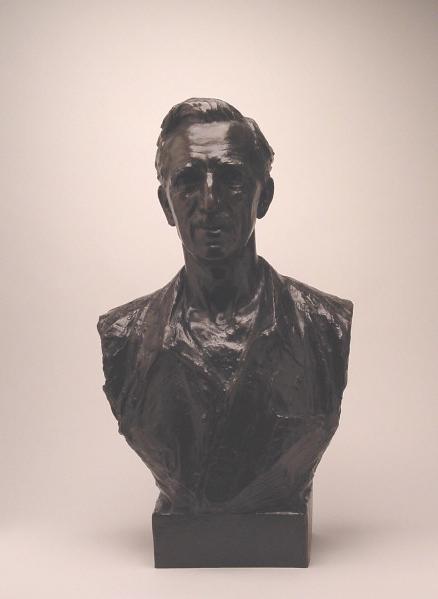 Bust of Charles Murray, 1925.
From
Aberdeen Art Gallery & Museums collections
. Used with permission.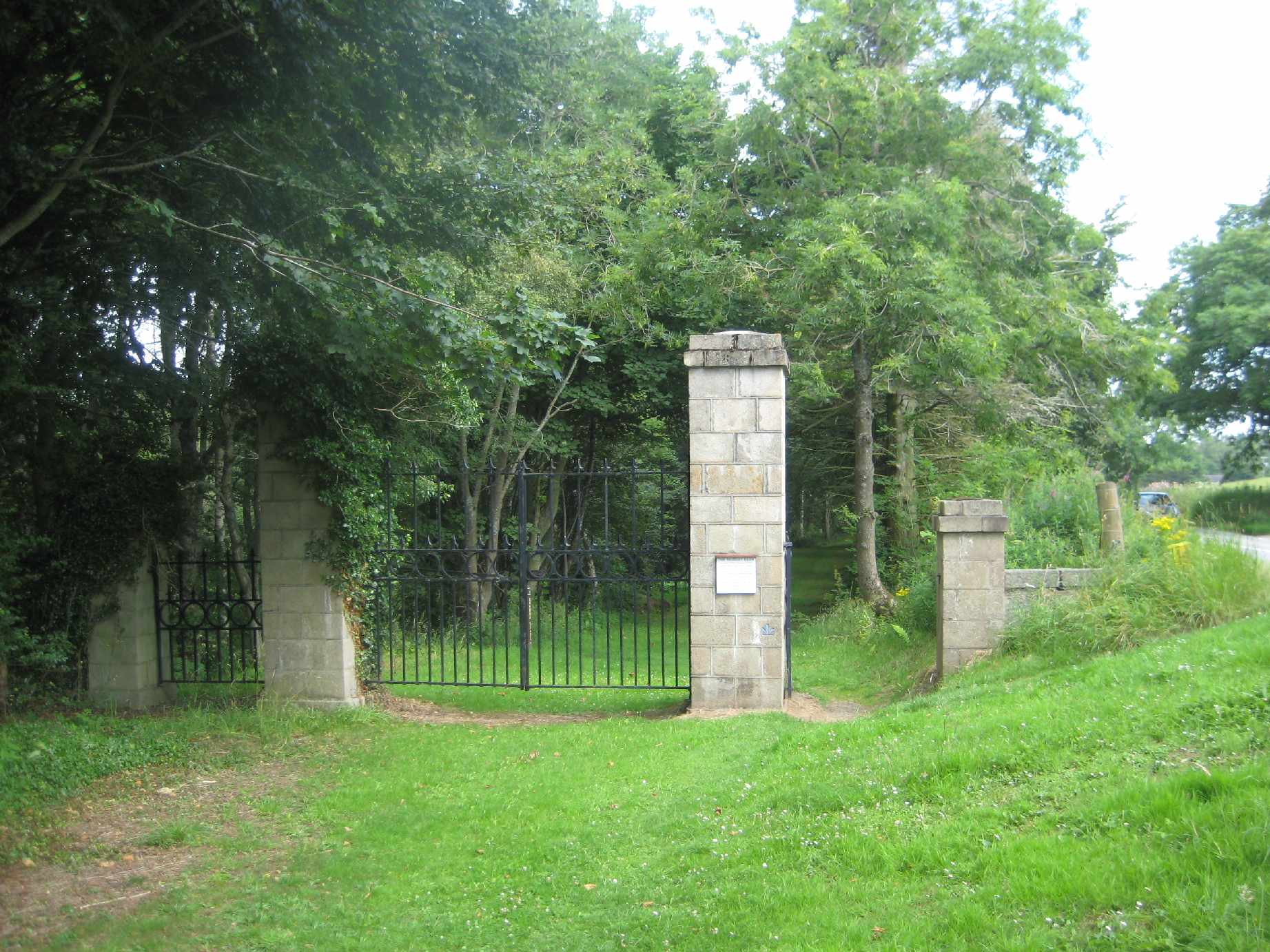 Memorial gates to Charles Murray, entrance to Murray Park, Alford.
Photo 2008. See larger and full size.
See similar shot.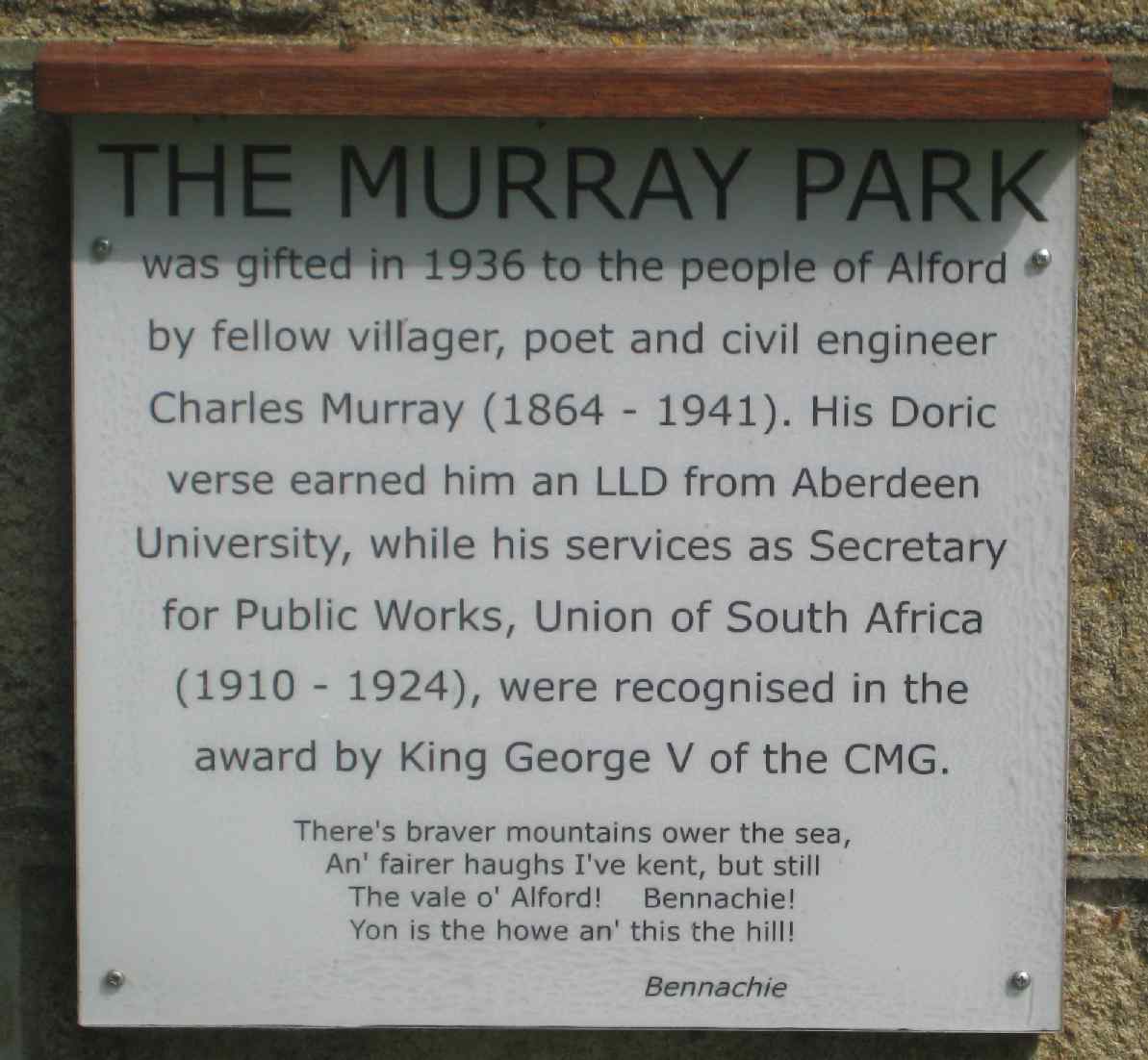 The plaque on the gates above.
Photo 2008. See larger and full size.
---
Grave of Charles Murray the poet.
In the
old Kirkyard of Alford
, Aberdeenshire.
Grave no. 236 in
[Alford grave inscriptions]
.
Location of grave: Go in gate. Grave is on RHS of building, near grave of his grandfather
Peter Murray
.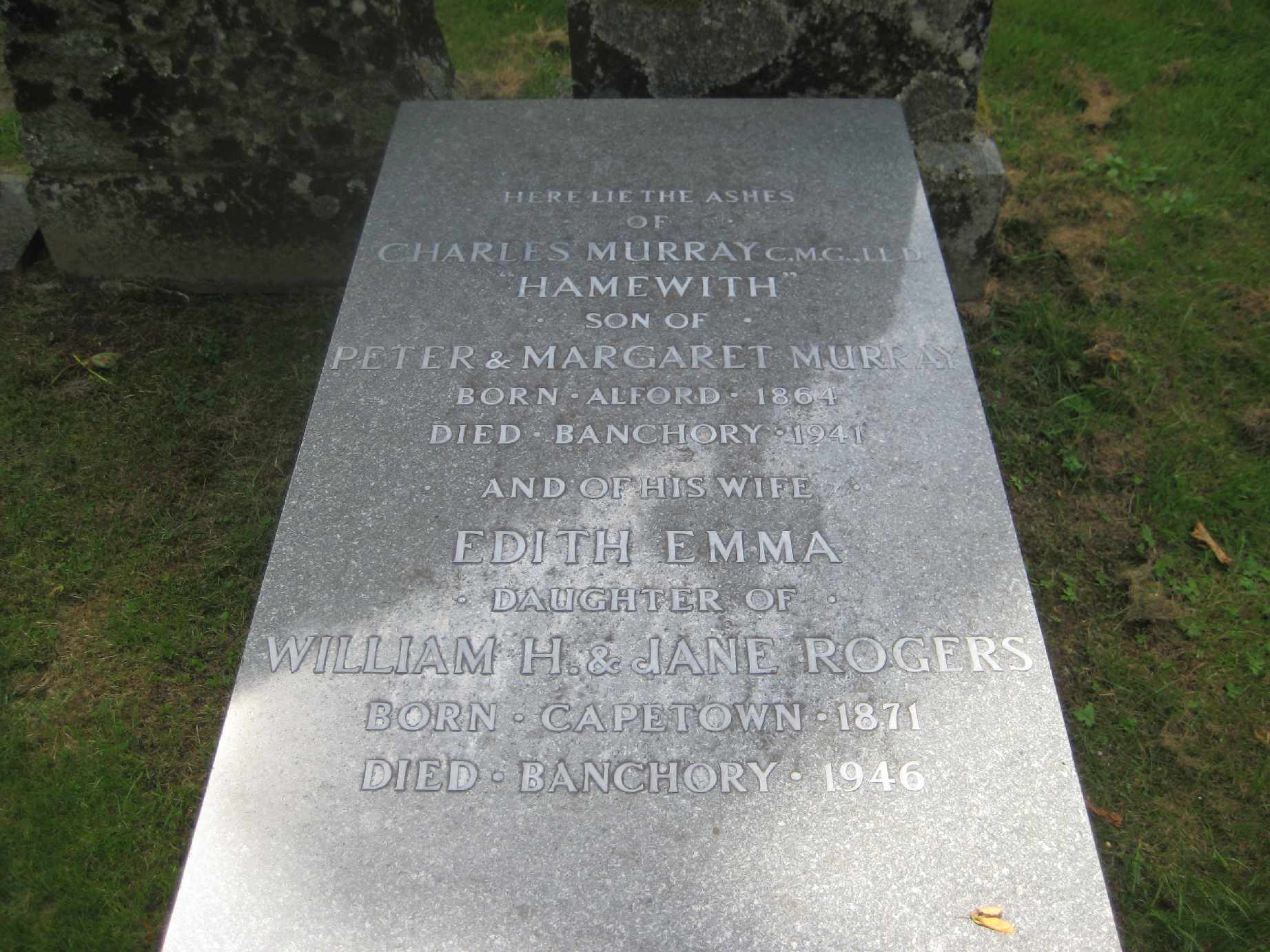 Grave of Charles Murray, Alford.
Photo 2008. See
larger
and
full size
.
---
Charles Murray site, The Elphinstone Institute, University of Aberdeen

The Charles Murray Memorial Trust, founded in 1942, arranged complete publication of all his poems after his death.
Murray Park (named after Charles Murray) is a large country park on the NW side of Alford, W of Haugton Country Park. It was gifted in 1936 by Charles Murray to the people of Alford. Officially opened 1956.
There is a section on Charles Murray at Alford Heritage Centre.