Edward Neville, 7th Baron Abergavenny
Edward Neville, 7th Baron Abergavenny
.
See
wikipedia
and
thepeerage
.
He mar 1stly to Katharine Brome [daughter of Sir John Brome and Margaret Rowse].
He mar 2ndly to Grisold Hughes [daughter of Thomas Hughes and Elizabeth Dwnn].
He died 10 February 1589 [new style year, at the time regarded as the end of 1588].
He had issue apparently by 1st wife:

Edward Neville, 8th Baron Abergavenny.
He mar Rachael Lennard [daughter of John Lennard and Elizabeth Harman].
He died 1 December 1622 at his house, Great St. Bartholomew's, London.
He was bur at Birling, Kent.
They had issue:

Henry Neville, 9th Baron Abergavenny.
He mar 2ndly to Catherine Vaux [born est temp 1590, descendant of Edward III].
He died 1641.
He was bur 24 December 1641 at Birling, Kent.
He had issue by 2nd wife:
George Neville, 11th Baron Abergavenny,
born est c.1620.
He mar Mary Gifford [descendant of Louis IV, King of France and of Charlemagne and of Edward the Elder].
He died 2 June 1666, age est c.46 yrs.
He was bur at Birling, Kent.
Mary re-married to Sir Charles Shelley, 2nd Baronet.
11th Baron and Mary had issue:




Winifred Neville,
or Bridget,
born est c.1660.
She was NOT bapt 1687. (Rather, she was bur 1687.)
She mar her step-brother (no blood relation) Sir John Shelley, 3rd Baronet and had issue.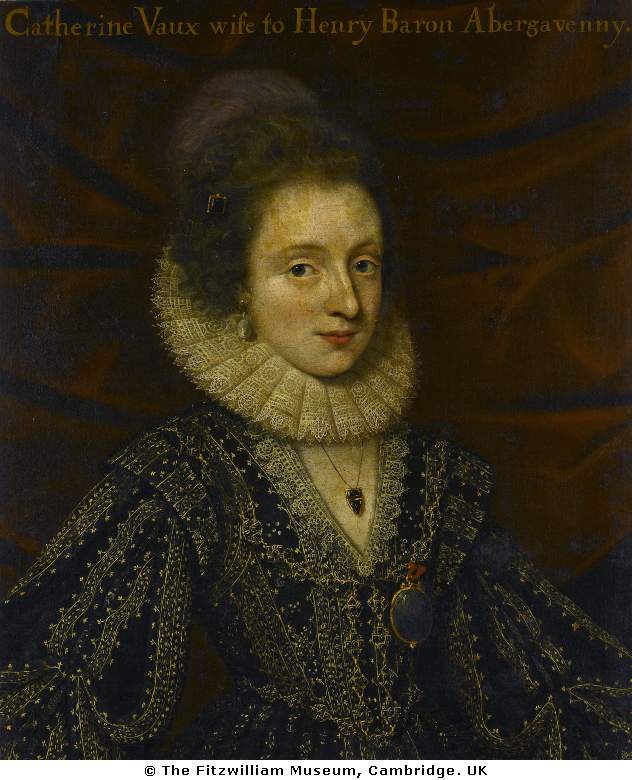 Catherine Vaux, c.1617.
By Paulus I van Somer.
Used with the kind permission of the
Fitzwilliam Museum, Cambridge
.