Sir John Shelley, 1st Baronet, of Michelgrove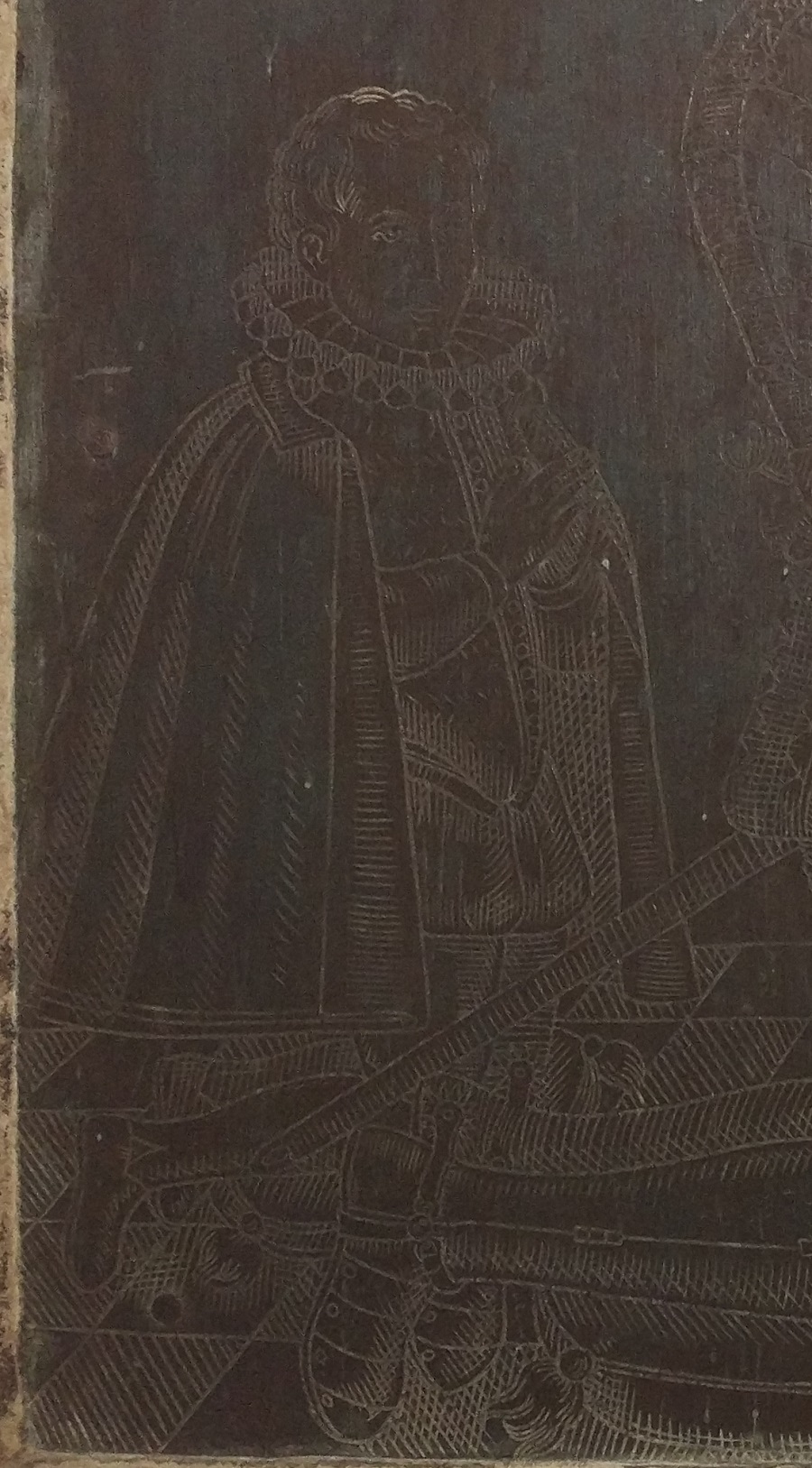 Sir John Shelley, 1st Baronet, on
memorial brass of his parents
.
Clapham church
, Sussex.
Photo 2019. See
full size
.
See
shot without flash
.
Sir John Shelley, 1st Baronet
.
His father died 1580.
He mar
Jane Reresby
[dau of Sir Thomas Reresby, of
Thrybergh
, Yorkshire, by his wife Mary Monson, dau of Sir John Monson, of
South Carlton
, Lincolnshire].
In 1604 he recovered the family seat of
Michelgrove
, Sussex. (It had been
confiscated
from his uncle in 1585.)
He was cr Baronet 1611.
Sir John and Jane both died in or before 1644.
His admin 14 Nov 1644.
Her admin as a widow 15 Nov 1644.
They had issue:

Sir William Shelley, Knt.,
of Michelgrove,
mar Christiana Maria Vantelet [dau of Sir James Vantelet],
died 1635, in his father's lifetime,
admin 22 Nov 1639,
had issue:
Sir Charles Shelley, 2nd Baronet,
of Michelgrove, Sussex,
succ his grandfather probably 1644,
mar 1stly, 2 Mar 1652 [at the time regarded as the end of 1651] at St Dionis Backchurch, London,
to Elizabeth Weston [descendant of Edward III],
she died after 1662,
he mar 2ndly, post-1666, to Mary Gifford, no issue,
he died 1681, bur at Rouen, France,
Mary bur 14 Nov 1699, from St Giles in the Fields, London,
had issue by 1st wife:




Sir John Shelley, 3rd Baronet,
born after 1662.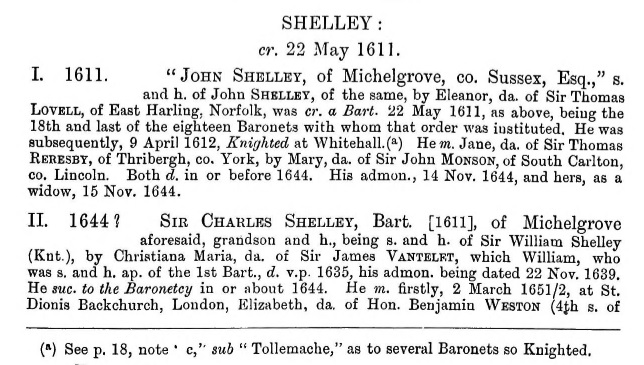 From
SHELLEY
in
[Complete Baronetage]
.
---