Marcus O'Sullivan
Sources yet to be consulted:

After Marcus died 1954, Emily wrote a privately-printed book about their life in Canada, which was apparently very hard.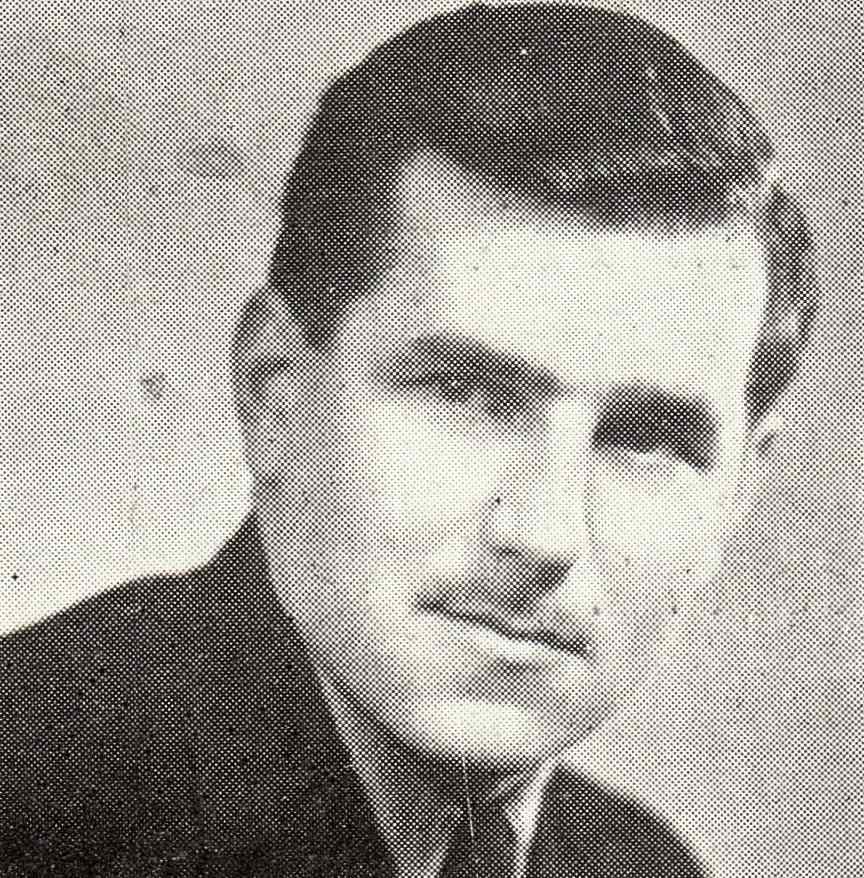 Marcus O'Sullivan.
Photo of the Directors of O'Mara's at
O'Mara centenary dinner, 1939
.
See
larger
and
full size
.
Marcus O'Sullivan
,
born 17th Mar 1909.
He was educ
Clongowes
.
Manager at the
O'Mara's bacon factory in Limerick
c. late 1930s.
He mar 1 June 1937, Adare, Co.Limerick, to Emily Cosgreave [Emily Josephine Cosgreave, NOT Cosgrove, born 8 Apr 1914, Bank House, Rathkeale, Co.Limerick, dau of William Cosgreave and Marguerita Geoghegan].

Children all born in Ireland.
He was in Limerick temp 1938-40.
He was a Director of O'Mara's bacon company at time of O'Mara's centenary, 1939.
He then ran the bacon factory in Claremorris, Co.Mayo. There as at 1942.
Later had a farm and business at Rockville, Co.Roscommon, towards end of and just after WW2. There as at 1948.
Around 1948 he bought bacon factory, Dundalk.
Emigrated to Canada 1952.
They went to Red Deer, Alberta, Canada.
Marcus dies accidentally, 1954:
He drowned on Cold Lake, a large lake on the Alberta/Saskatchewan border, Canada, afternoon/evening of 5 Aug 1954 (morning of 6 Aug in Ireland), age 45 yrs.
He was fishing with a friend in a canoe. His friend couldn't swim. It seems like friend fell in, and Marcus drowned trying to save him. It is a still lake, but the cold probably killed them. Their bodies were never found.
After her husband's death, Emily studied to become a lawyer.
She mar 2ndly to Des Muldoon [Desmond, Irish, born 1920, of Clifden, Co.Galway].
Des was at Clongowes in early 1930s with two O'Mara brothers. This is probably Stephen and Jim.
They met in Canada.
Marcus and Emily had issue:
John O'Sullivan,
researched family tree,
mar Marguerita Tansey and had issue:

Shane O'Sullivan, mar Maria Woywitka and had issue:

Matthew O'Sullivan.
Kalenna O'Sullivan.

Owen O'Sullivan.
Michael O'Sullivan.




Oona O'Sullivan,
mar Dale McKinstry and had issue.




Moira O'Sullivan,
mar Roy Sandberg and had issue:

Paul Sandberg,
mar 1stly to Melanie Jones,
mar 2ndly to Shannon --- and had issue:

Paul Sandberg.

Cheryl Sandberg, mar Malcolm Fernandes and had issue:

Cassidy Fernandes.
Samantha Fernandes.
Joshua Fernandes.

Drina Sandberg, mar Michael Lazar.




Ivel O'Sullivan, mar Neil Jaud and had issue:

Tiegh O'Sullivan-Jaud.

Marcus O'Sullivan, mar Karen Walker and had issue:

Marcus O'Sullivan.
Conor O'Sullivan.