Cornelius Moynihan
References:

Sources yet to be consulted:

H. A. Kellow, Queensland Poets (London, 1930).
J. H. Hornibrook, Bibliography of Queensland Verse (Brisbane, 1953).
Cornelius Moynihan
,
Con, born 11 June 1859, near Killarney, Co.Kerry,
descendant of the poet
Aodhagán Ó Rathaille
,
emigrated to
Brisbane
, Australia with parents in 1869,
lived Brisbane,
he was a published poet, with pen name "Vivian",
from 1883 to his death 1915 he was Assistant Librarian at the
Parliamentary Library
, Brisbane,
think he lived in the old family home Oakvale, Ascot, Brisbane all his life,
reported father's death 1896, Cornelius was then living "Near Racecourse, Eagle Junction" in Brisbane,
think this is a reference to Oakvale, even though Eagle Junction (see map) is a bit to the NW,
he was definitely living in Oakvale around 1900 [ADB], this says that he was living with Penton (as their landlord) "for five years about 1900", and classified ad of 1902 shows this was at "Oakvale",
living in "Oakvale" at least 1911 to death 1915 [newspaper items],
died unmarried, 14 Nov 1915, age 56 yrs,
died of pulmonary haemorrhage from tuberculosis, while swimming in the sea at Sandgate, Brisbane,
bur 15 Nov 1915, Nudgee cemetery, Brisbane, (todo) see entry in burial register, book 16, p.299,
tributes were paid to him in Queensland parliament on 16 Nov 1915.
His works:
Miscellaneous Poems by "Vivian" (Brisbane, 1880).

The Feast of the Bunya: An Aboriginal Ballad (Brisbane, 1901, reprinted 1985).
The poem deals with the harsh treatment of the Aboriginal tribes by the white settlers.
It was presented to the Duke of York (later George V) on his visit to Brisbane in May 1901.
See review in The Queenslander, 25 May 1901, which says: "Mr. Moynihan is a champion of the blacks".
See inside cover of 1985 reprint.

Eureka (manuscript, 1904, Queensland Parliamentary Library).
The Bunyip of Wendouree and Other Poems (typescript, 1910, University of Queensland Library).
The German Armageddon: Ballads of the Kaiser's War (Brisbane, 1915).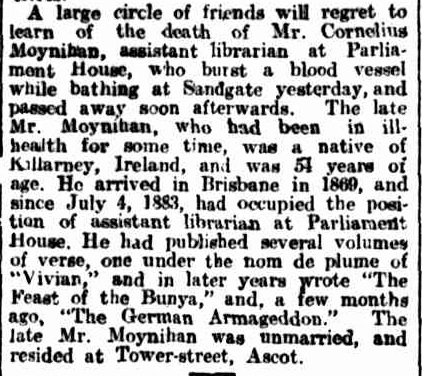 Obituary of Cornelius Moynihan,
p.11
of The Brisbane Courier, 15 Nov 1915.
See identical item on
p.16
of The Queenslander, 20 November 1915.
See
different item
on
p.28
of The Freeman's Journal (Sydney), 18 November 1915.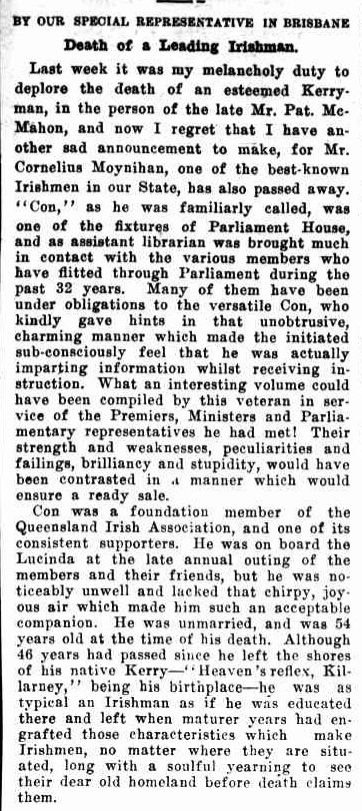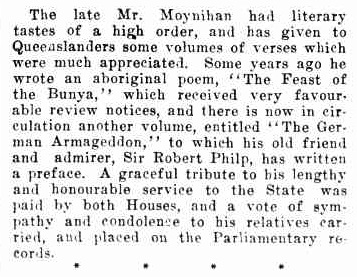 Obituary of Cornelius Moynihan, p.28 of The Catholic Press (Sydney), 25 November 1915.
---
Possible natural son
Cornelius Moynihan did not marry, but was said to have had a son.
[Gary Woodforth] says Cornelius had a relationship with Catherine Mary McCormack (born 1876) and was father of Stephen Leslie McCormack (born 1899). For McCormack's descendants see Gary Woodforth's family tree.

[ADB] says Cornelius was reputed to have had an affair with Sarah Bennett, wife of Reginald Penton, and to be father of the journalist, novelist and polemicist, Brian Con Penton (born 1904 at Ascot, note middle name). The Pentons lived at Oakvale, Ascot, Brisbane for some years with their landlord Cornelius. He left half his estate to Sarah Bennett.

Notice about Cornelius Moynihan's will after his death.
Asks for both
Stephen Leslie McCormack
and
Mrs. Reginald Penton
to get in touch.
From
p.5
of The Brisbane Courier, 8 December 1915.
---
No tradition of a descent from the Gaelic poet:

The Australian Moynihans were said back in Ireland to descend from the Gaelic poet Aodhagán Ó Rathaille.
The descent of these Moynihans from the poet was claimed in [King] in Ireland in 1910.
Interestingly, though, over in Australia there was no tradition in the family of a connection to the Gaelic poet. Even though Cornelius Moynihan was himself a poet.