Dever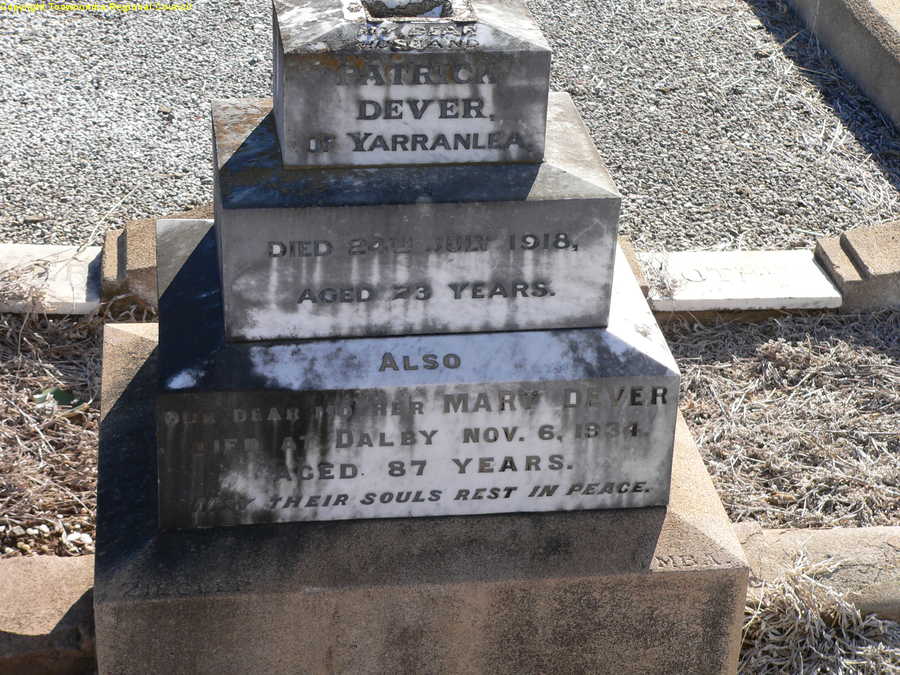 Grave of Patrick Dever, Pittsworth cemetery.
From
here
.
Interment numbers SEC2-004-0138 and SEC2-004-0140.
See
location of grave
(red spot). And
close-up
.
John Dever,
of Co.Donegal,
had issue:

Patrick Dever,
born 1846 or 1845, "Ballina Killa", Co.Donegal (unidentified),
in Co.Donegal there is a "Ballina", a "Ballynakillew Mountain", and two "Ballynakilly"s,
emigrated to Australia,
he was a Tin Miner, Grazier,
mar 31 Jan 1874, St.Stephen's RC church, Brisbane, Queensland, Australia, to Mary Ann Moynihan [bapt 6 June 1847],
mar wit by Daniel Moynihan and Honorah Moynihan,
see marriage notice on p.4 of The Queenslander, 7 February 1874,
children born 1876 to 1889 in New South Wales,
they later lived Yarranlea, Queensland (W of Pittsworth, Queensland, see map),
Patrick died at Yarranlea, 24 July 1918, age 73 yrs [grave], or 72 yrs,
bur 25 July 1918, Pittsworth cemetery (see map),
Mary Ann died 6 Nov 1934, Dalby, Queensland, age 87 yrs,
bur 7 Nov 1934, Pittsworth cemetery,
had issue:
9 children, Dever.
For details of their many descendants, see Moynihan family tree by Gary Woodforth.
---