Dillon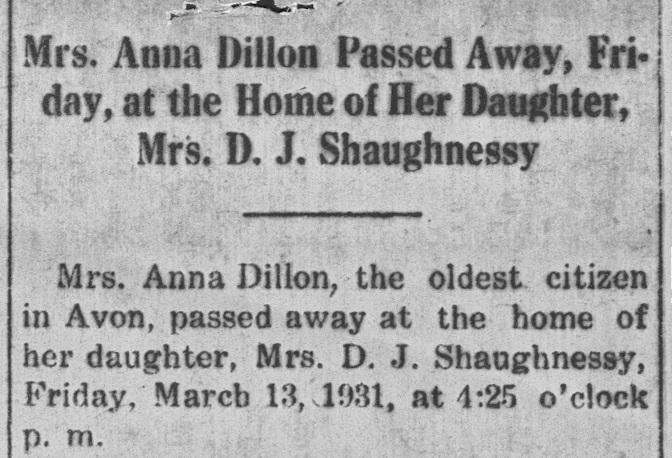 Death of Anna Patt, 1931.
See
full size
.
Patrick M. Dillon,
born 1836, Ireland,
emigrated to US.
He mar 29 Sept 1856, Chicago, to
Anna Patt
[born summer, 1832-34].
They settled
Avon
, Fulton County, WC Illinois.
Her obituary says they settled in Avon
"when the railroad was being built through this part of the country, and suffered all the hardships of the pioneer life"
.
The
Northern Cross Railroad
, from
Quincy
to
Galesburg
, was built through Avon. It opened
Jan 1856
. It later became part of the
Chicago, Burlington and Quincy Railroad
.
Patrick dies, 1881:
He died 3 July 1881 [grave], age 45 yrs, or possibly 5 May 1881.
He was bur St.Augustine Catholic cemetery, S of St.Augustine, Illinois (N of Avon). See grave.
Anna lived for 50 years without him.
Her mother wrote to her in 30 Aug 1881 letter from Ireland. Anna then living Avon.
She owned a saloon on the NW side of Avon next to the railroad (see map).
Lived to see great-great-grandchildren: Her obituary said she had 25 great-grandchildren and 3 great-great-grandchildren living at time of death 1931. She was oldest citizen in Avon at time of death.
Anna dies, 1931:
She died 4.25 pm, Fri 13 Mar 1931, age 96-98 yrs, at the home of her dau Elizabeth in Avon.
Funeral Mon 16 Mar, bur St.Augustine cemetery, Illinois.
See obituary in unidentified Avon newspaper, Aug 1931.
Patrick and Anna had issue:
Mary Dillon,
Mary Ellen Dillon,
born 25 July 1857, Illinois, or 29 July [grave],
mar Jeremiah O'Donnell and had issue.




Elizabeth Dillon,
must be after grandmother,
mar D.J. Shaughnessy,
lived Avon,
"Elizabeth Shaughnessy" was at Margaret's funeral 1937.




Margaret Dillon, born May 12, 1861,
mar Daniel Durie [born Apr 22, 1852] and had issue.




Matthew David Dillon,
lived Galesburg, owned a large amount of land, which is now where the prison and old Admiral factory are on the SW side of town (see map),
was at Margaret's funeral 1937,
had issue:

--- Dillon, had issue:

Betty Lou ---, mar --- Spillman.




Anna Dillon,
her grandmother wrote to her in 1886 letter from Ireland, her living Avon,
mar post-1886 to --- Park,
lived Gooding, Idaho, NW USA,
had issue:

Gladys Park, living Long Beach, CA, 1931.

Ollie Park [Olive, dau], mar --- Bradfield,
living Long Beach, CA, 1931,
she died, had issue:

Robert Bradfield.
(dau) Bradfield.

Shaughnessy Park (named after uncle?), living Long Beach, CA, 1931.
Mauvais B. Park [son], living Long Beach, CA, 1931.




Kathryn Dillon,
or poss. Kathrine, born Sept 5, 1868,
mar June 2, 1898, to John A. Peterson,
they lived Galesburg,
she raised her niece Anna Secker after her mother died 1908,
she died Mar 30, 1939, age 70 yrs, no children were listed in the obituary,
had issue:

Lillian Peterson,
living Glenns Ferry, Idaho, as at 1931,
though not listed in mother's obituary 1939.

Julia Dillon, born 1871,
mar --- Secker,
she died 4th Apr 1908, age 37 yrs,
had issue:

Anna Secker [or Ann],
raised by her aunt Kathryn after mother died,
mar --- Fahner,
living CA, 1953,
in 1969 she was living 3643 Grim Ave, San Diego, CA 92104,
she died San Diego, 1991.

Thomas P. Dillon, must be after grandfather,
lived Denver, Colorado.

Nettie Dillon, died age 2 yrs.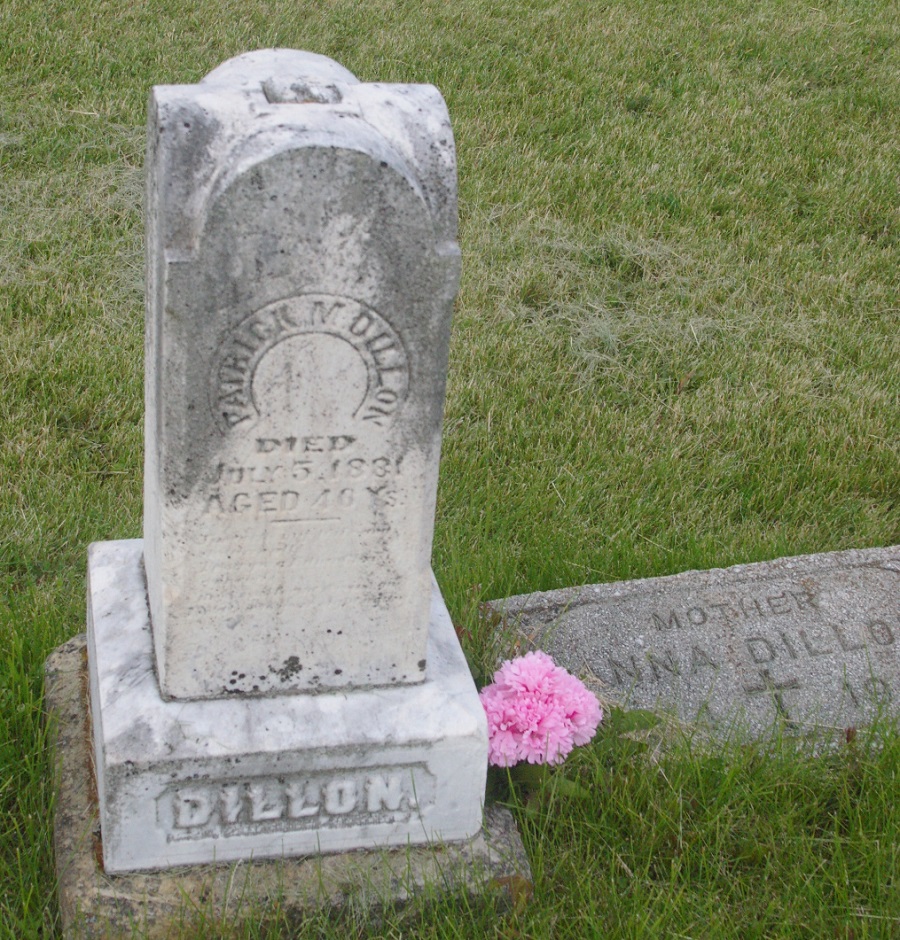 Grave of Patrick M. Dillon and Anna Patt.
St.Augustine cemetery, Illinois.
See
full size
.
From
findagrave.com
.