John Moynihan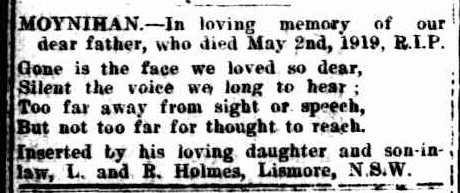 In memory of John Moynihan, 2 years after his death.
Front page of Northern Star,
2 May 1921
.
John Moynihan
,
bapt 15 June 1851, Killarney, Co.Kerry,
emigrated to Australia before 1869,
mar 6 Feb 1873 (her age 17),
Stanthorpe
, Queensland, to
Jane Williams
[born 1856],
[Gary Woodforth]
says she was born 29 Nov 1856,
Warwick
, Queensland; bapt 14 Dec 1856,
Ipswich
, Queensland,
her obituary is wrong to say she was from Co.Tipperary and came to Queensland as a young girl (it was her mother Jane Ryan who came from Co.Tipperary as a young girl),
Jane's obituary says she practiced as a "midwifery nurse" from when she was 19 (1875) until "a few months ago" (1935-36),
her obituary says she was the first station mistress at "Colton Junction, now Baddow", Maryborough, Queensland (see map),
children born in many places, they moved about,
they later lived Bundaberg, Queensland,
he died 2 May 1919, Bundaberg, age 67 yrs,
Jane is described as of South Bundaberg at death,
obituary says she lived to see one great-great-grandchild (might be child of her great-grandchild Lionel James Whitby who married 1933),
she died 2 May 1936, Bundaberg, age 80 yrs [obituary],
bur 5 May 1936, Bundaberg,
see obituary on p.6 of The Courier-Mail, 19 May 1936,
had issue:
Margaret Moynihan,
Margaret Jane Moynihan, born 13 May 1874, Armidale, New South Wales,
mar 10 Mar 1894, Maryborough, Queensland, to Joseph Humphries and had issue.




12 other children, Moynihan.
For details of his many other descendants, see Moynihan family tree by Gary Woodforth.
---