Michael Hickie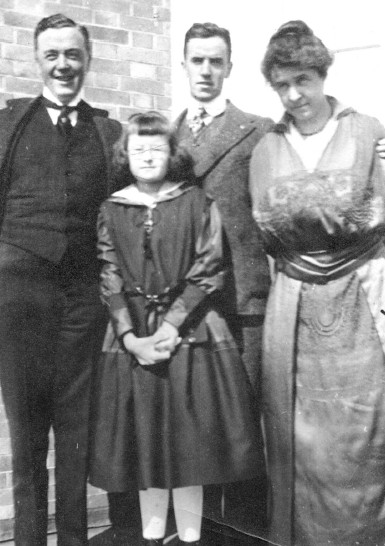 (Left to Right): Michael Hickie,
Ursula Wren
(born 1904, died 1920),
William Hickie
,
Josephine Hickie
.
Photo c.1915.
Michael Hickie
,
born 10 March 1878, Co.Kerry,
he wit
his sister Josephine's mar
in Listowel 1898,
emig to US 1899,
went to live as boarder with same Hickey family in Brooklyn, NYC, that
his sister Josephine had boarded with
,
he stayed in touch with these Hickeys for years, and years later he would marry one of this Hickey family,
he went into the clothing business, at one point worked for his brother-in-law
Edward Wren
(who died 1917),
mar 3 Nov 1920 in New York City, USA, to
Anne Margaret Hickey
[Nan, Nancy, poss. Anna, born 15 Jan 1889 in Philadelphia, dau of William Hickey],
she was from same Hickey family as the boarding house, these Hickeys are possibly cousins of the Hickies,
he opened his own interior decorating business in 1920s,
he went bankrupt in
Depression
(1930s), very hard times, he had to take a job digging ditches,
Nan got a job teaching,
they lived Yonkers, NY state,
they were in touch with their cousins the
Dowlings
,
he died 10 Sep 1948, age 70 yrs,
she died 5 Sep 1962, age 73 yrs,
had issue:
Moira Hickie, born 24 June 1922,
mar Al Formato [Alfred],
she did some work on family tree in 1950s,
he died 1959,
she died 1989 in Los Altos, California, age 67 yrs,
had issue:

Joanne Formato, mar Brian Schnuckel and had issue:

Gregory Brian Schnuckel.
Lauren Anne Schnuckel.
Michael Andrew Schnuckel.

Joan Hickie, born 28 June 1923,
mar Al Freitas,
had issue:

Joan Freitas, mar Brian Heikenen.
Michael Freitas, mar Natalie Sibert.

David Hickie,
David Michael, born 16 July 1924,
USAF pilot in WW2, flew Douglas DC-3s,
"wound up surviving a crash in the mountains of India somewhere, being rescued by natives" [David Hickie],
never married,
died c.1993, age c.69 yrs.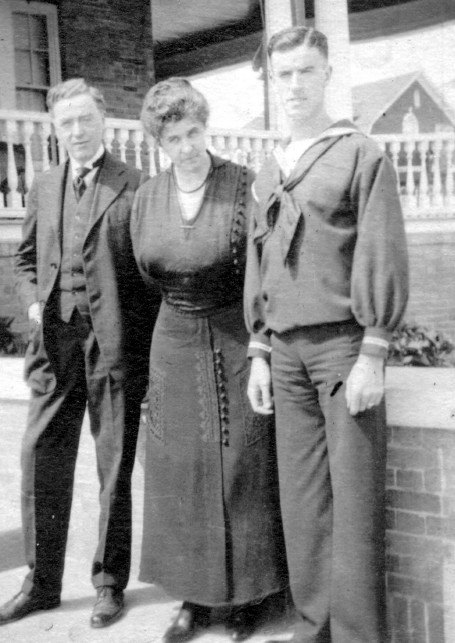 (Left to Right): Michael Hickie,
Josephine Hickie
,
William Hickie
(in US Coast Guard uniform).
Photo c.1916.
Probably at
Josephine's house in Rockaway, New York
.