Patrick Goulding
Patrick Goulding
.
He is listed as of
Tarbert
, NE Co.Kerry, at mar.
He mar 30 January 1875 to
Ellen Hickie
.
They lived Tarbert.
He is shopkeeper, Tarbert, at birth of children 1875-1879.
He died from typhoid.
He would be Patrick Goulding, grocer, married, who died of "typhus fever" in the Workhouse at Glin, 1 Mar 1880, age 34 (born 1846). See death cert from here.
Ellen went to live with her brother Michael Hickie, who was Master of the Workhouse in Listowel.
But he would only let the girls stay with her. Her son was sent to an orphanage.
Patrick and Ellen had issue: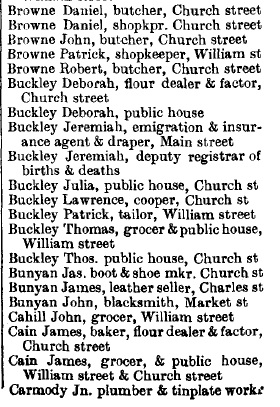 "Lawrence Buckley", cooper, listed in Listowel in
[Slater's Directory, 1894]
.