David Skene, of Zamosc, Poland

Entry for David Skene on
p.125
of
[Skene, 1887]
.
David Skene
.
Scottish merchant in Poland.
His father
David Skene the elder
was a merchant of near Aberdeen who had gone to Poland.
David the younger was a burgess of
Zamosc
, the beautiful planned
Renaissance town
in SE Poland (sometimes written Zamosky or Zamoski).
He mar
Margaret Chalmers
[dau of Robert Chalmers, merchant in
Danzig
].
He died pre-1668.
David and Margaret had issue:
George Skene,
born Zamosc, Poland, 17 Sept 1644.

Alexander Skene.




Katharine Skene,
born Zamosc, Poland, 3 Oct 1646.
She went back to Scotland before 1671.
She mar 1671 in Aberdeen to David Ædie and had issue.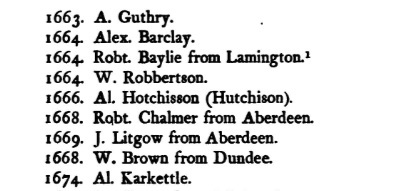 "Robert Chalmer" of Aberdeen became a burgess of Danzig in 1668.
More likely a brother or nephew of Margaret than her father.
From
pp.193-197
of
[Fischer, 1903]
.


The source for the above list.
This is Royal State Archives in Gdansk.
"Burgerbucher" are citizenship books.


Marriage of David Ædie and Katharine Skene, 24 Apr 1671.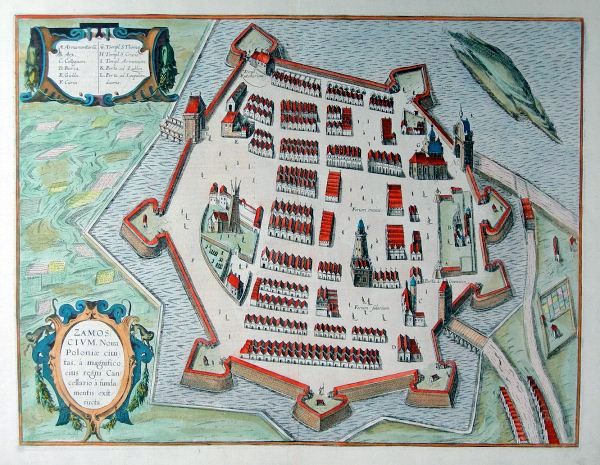 1617 map of Zamosc, Poland.
From here.
See Maps of Zamosc.


Zamosc, Poland.
Birthplace of Katharine Skene.
See History of Zamosc.
The Nazis planned to demolish the old town but luckily their plans were not carried out.
See modern street view in centre.