Robert Skene, of Belhelvie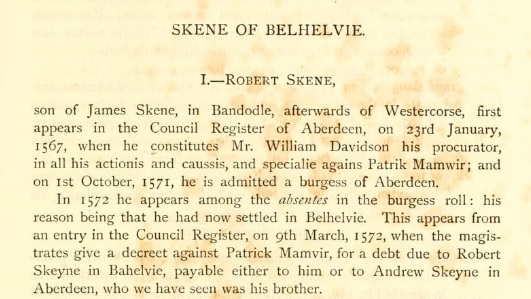 The start of Skene of Belhelvie, on
pp.123-130
of
[Skene, 1887]
.
Robert Skene
,
born est c.1535,
of
Belhelvie
, N of Aberdeen (see
map
, an estate which included
Potterton
).
He mar 1stly to
--- Ædie
[unnamed dau of David Ædie].
He was
burgess
of Aberdeen in 1571.
His wife died pre-1574.
He mar 2ndly, 6 July 1574, at
Forbes
, to
Margrett Forbes
.
Robert had issue by 1st wife:
Robert Skene.
Like his brother, he went to Poland.
He became a burgess in Posen, Poland (now Poznan) in 1593. Listed as "Robertus Skin".




David Skene, of the Mill of Potterton,
born est c.1560.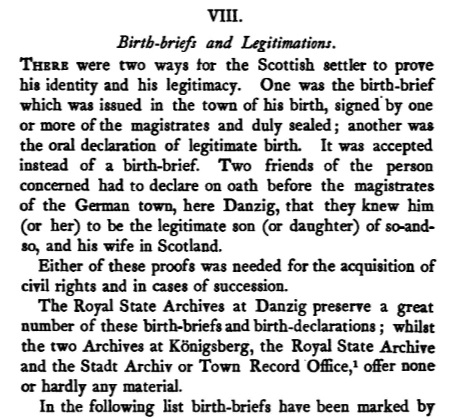 There is a "birth brief" for David Skene of Belhelvie in Poland in 1586.
This must be our David Skene. He became a burgess in Poland in 1586. And he was from Belhelvie.
However it would imply he has a different mother to what was thought.
From p.174 of [Fischer, 1903].
---
References
---
Sources yet to be consulted