William Smith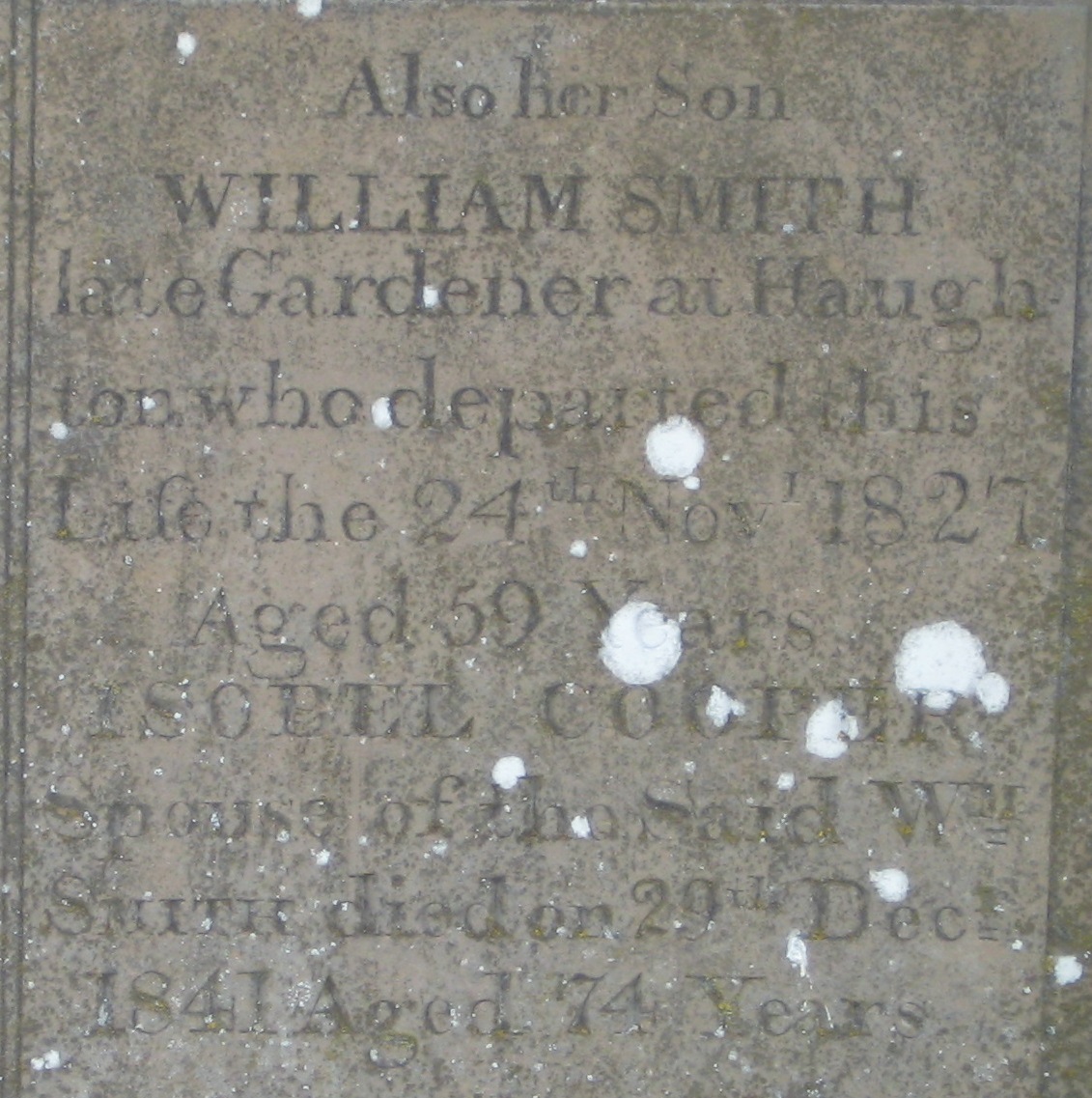 William Smith and Isabel Cooper on their grave,
Banchory
, Aberdeenshire.
Photo 2008. See
full size
.
William Smith
,
born 1768.
Both he and his wife were in service to the family of
Farquharson of Haughton
.
From 1793 he was gardener at
Haughton House
, near
Alford
, Aberdeenshire (seat of Farquharson, built 1791).
He mar 14 Apr 1799, Alford, to
Isabel Cooper
[born 1765 or 1767, she was pregnant at mar]. See
transcript
.
She is "Isabel" at children's baptisms.
She is "Isobel" at marriage and on grave. Her son-in-law Henry Noltie spells her Isobel, but elsewhere he is casual with spelling.
Isabel was also in service to Farquharson of Haughton.
Henry Noltie said that when he married their dau in 1823, her father William had been gardener at Haughton for 30 years.
William died at Haughton, 24 Nov 1827, age 59 yrs.
He was bur
Banchory
, Aberdeenshire.
Isabel died 29 Dec 1841, age 74 yrs [grave] or 76 yrs [Henry Noltie].
Page 8 of Noltie genealogy says she died in Dr. Warrick's (?) Cottage, Woodside, Aberdeen.
She was bur 6 Jan 1842, Banchory.
William and Isabel had issue:
William Smith,
bapt 17 Aug 1799.




Janet Smith,
would be after grandmother,
bapt 22 Feb 1802, Alford. See transcript.
Looks like "Jane A. Smith" on son John's mar cert.
She knew her future husband Henry Noltie all her life.
Janet and Henry and her parents and his father were all servants of Farquharson of Haughton. Henry was John Farquharson's servant since childhood. Janet became nurse to the Farquharson children.
She mar 17 May 1823 to Henry Noltie and had issue.
Noltie genealogy says they were married "in the house of John Farquharson" at Haughton near Alford.
They were married by the minister from Alford.
Cannot find mar in online records.




Farquharson Smith [son],
bapt 9 Sept 1804, Alford. See transcript.
He would be named after his father's master.
He died 8 Apr 1823, age 18 yrs.
He was bur Banchory, Aberdeenshire.




Ann Smith,
bapt 21 Mar 1807, Alford. See transcript.

John Smith,
bapt 13 Dec 1810, Alford. See transcript.

Mary Smith,
bapt 8 Feb 1816 [mother age 49 if this is correct].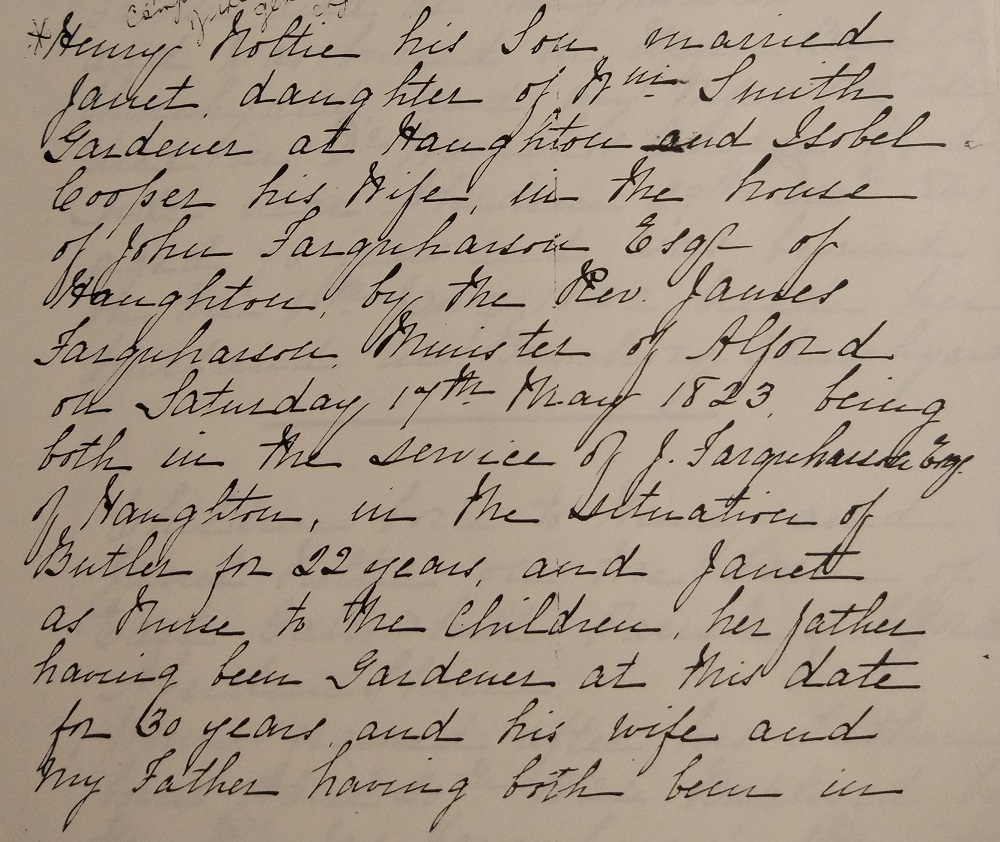 From p.7 and p.8 of Noltie genealogy by Henry Noltie describing his wife and her parents.