Henry Noltie, of Alford

Baptism of Henry Noltie, 16 May 1824, Alford, Aberdeenshire.
See
full size
.
Henry Noltie
,
born Nov 1788 or 1789,
Frederick St, Edinburgh
.
In c.1792-93 he was taken by his mother to
her parents
in Durham.
He was educ in Durham.
Returned to Scotland c.1795-96.
He
"was boarded at a farm called Ballgrave"
near Edinburgh, where he went to school. This place is unidentified.
Becomes servant to Farquharson:
In 1800 (age 11 or 12) he became a servant to John Farquharson of Haughton (born 1779), brother of his father's master Francis Farquharson.
John Farquharson was then age 21 and an officer in the naval service of the East India Company.
Henry was sent to join Farquharson in London, arrived Jan 1801 [Noltie family memoir].
He was to join him as a servant at sea.
"It was most unfortunate for me that my father would send me to sea with Mr. F., as a little before he [Mr. F.] came home I was to have been put into Heriot's Hospital, Edinburgh, through the influence of the Earl of Erroll, and his [my father's] master Mr. Francis Farquharson, where I was to be educated for a Copperplate Engraver, which was the trade I chose."
The 1st voyage to China, 1802-03:
Henry and Farquharson departed on a journey to India and China 1802, in the new, heavily-armed, 1271 ton ship Perseverance. Farquharson was 2nd officer, under Capt. James Tweedale. Henry was Farquharson's servant.
The Perseverance was launched 1801, 166 ft long, 3 decks. It seems to have been on a test voyage 1801-02 to Calcutta and back.
[EIC ships] shows 1st voyage of Perseverance. They left Portsmouth 25 Feb 1802 (Henry only age 12 or 13).
[Noltie family memoir] describes the hellish sea journey across. Typhus broke out on the ship, and many of the 500 men on board had died by the time they stopped at Madras in India on 15 June 1802.
Henry was sick but eventually recovered. He says "a black rascal" was caught stealing his bed cloths, and he was brought to watch "the black" being flogged, which horrified him. "I begged the Capt. to forgive him. But no, an example must be made to deter others from stealing. I was so weak and shocked at the bloody spectacle that I nearly fainted".
They eventually sailed for China through the Strait of Malacca (between Malaysia and Indonesia). They reached Penang, Malaysia on 1 Aug 1802. Reached Malacca on 24 Aug 1802.
The ship ran aground at the mouth of Canton River (Pearl River), China (this is now the Pearl River Delta, between Hong Kong and Macau), where an officer's thumb was cut off in an accident.
They arrived Whampoa (Huangpu), in Canton (Guangzhou), China, on 16 Sept 1802.
They took on board cargo and sailed back to England. They left from Second Bar, Pearl River, China, 22 Nov 1802.
They passed the Cape of Good Hope, South Africa, where "we got a tremendous gale of wind".

They arrived at Saint Helena in the Atlantic on 25 Feb 1803.
[Henry's memoir] says that when they got to Saint Helena "we learned that war had again broke out". But his memory seems to be wrong: war between England and France did not break out until 18 May 1803, by which time they were back in England.
However there was escalating tension in the months leading up to that, and maybe this is what they were informed of at Saint Helena.
They returned home in convoy. They pursued an Algerian pirate ship but it got away.
They arrived back in England to Gravesend, Kent.
Arrived at the Downs area of sea off Kent, 19 Apr 1803. Moored at Kent 27 Apr 1803.
Henry had further adventures travelling by another ship back to Scotland.
Off Yarmouth Roads (the area of sea between Yarmouth and the sandbanks offshore, Isle of Wight) they were chased by a French privateer. "And her cannon balls flew over us, but by good fortune none hit us". And then the privateer pursued another ship nearby, and they escaped.
Henry arrived at Leith in Edinburgh, "and rejoiced to find my old father in health".
In 1803 he first saw the infant Janet Smith, daughter of some other Farquharson servants. 20 years later he would marry her.
After about 9 months back in Britain (early 1804), he and Farquharson were again ordered to join the Perseverance.
They went to London, where Farquharson lodged at 32 Surrey St, Strand (this street has been heavily re-developed, no.32 may be gone, see map).
Farquharson fell dangerously ill with pleurisy.
As Farquharson got worse under treatment by the ship's doctor, Henry went and got another doctor, who bled him. Farquharson recovered, and [Henry's memoir] of course credits the bloodletting of the second doctor. (Modern medicine would suggest this was not the reason.)
Henry and Farquharson joined the Perseverance as it was about to sail from Gravesend to China.
The 2nd voyage to China (and around the world), 1804-05:
Henry and Farquharson sailed to China 1804, "my master as second officer, and I as his servant", again under Capt. James Tweedale.
[EIC ships] shows 2nd voyage of Perseverance. They left Portsmouth 9 June 1804.
They went West instead of East this time. They reached Rio de Janeiro, Brazil on 17 Aug 1804.
A fire broke out on board ship, and at night too.
[Henry's memoir] says the fire broke out as they came "near either Van demas, or else Amsterdam Island, I forget which". It cannot be Amsterdam Island in the Indian Ocean since they were coming from the Pacific. It must be Van Diemen's Land.
The fire was caused by drunk sailors dropping a candle in some straw. They struggled to put it out. It came close to destroying the ship. The fire nearly reached the gunpowder. "Poor Capt. Tweedale was in a deplorable state of mind".
After 3 hours of hard struggle they got the fire out. "Then there was such rejoicing, black as my master was, and he was black as a sweeper of chimneys, the Captain, although he had on his fine regimentals, took and hugged him in his arms, as if he had been his wife, or sweetheart. It was a narrow escape".
They stopped at the Ladrones Islands (Mariana Islands) in the N Pacific, where they were "afraid that there was a fleet of French Men of War on the lookout for our fleet". They proceeded cautiously to the Canton River, China.
They reached Whampoa, China on 12 Jan 1805. "We took in a cargo of tea at Canton".
They departed Second Bar, China on 14 Feb 1805. They went through Malacca on 21 Mar 1805.
[Henry's memoir] incorrectly recalls them going through Rio on the way home rather than the way out.
They reached St. Helena on 30 June 1805.
They reached the Downs on 10 Sept 1805, moorings 12 Sept 1805.
[Henry's memoir] says they moored off Northfleet, Kent.
He and Farquharson sailed back to Leith in Edinburgh. Henry was age 15 or 16 at the end of his 2nd voyage.
Farquharson parted company with the Perseverance.
[EIC ships] shows 3rd voyage of Perseverance, left Britain on 4 Mar 1806, but without Farquharson. Also 4th voyage.
Henry met his father at Edinburgh and they travelled with the Farquharsons to the Farquharson country seat at Haughton, near Alford, Aberdeenshire (NW of Aberdeen).
"About the month of August" [year not specified] "my master, his brother and me came to Haughton; my father and me on horse back, and the gentlemen in a carriage."
Henry was left at Haughton at school, until his master got a new ship.
"then about December" [year not specified] he was told to come to Edinburgh as Farquharson needed him.
He sailed for Edinburgh from Aberdeen in a smack "on old Christmas day".
But off Inverbervie they were "driven back to Aberdeen by a violent gale of wind, and [I] was nearly lost in getting into a boat to be brought ashore."
He finally got to Edinburgh by mail coach.
In Feb 1808 his master John Farquharson was in London planning another voyage to Penang, Malaysia, when his brother Francis Farquharson died and he unexpectedly inherited. "if his brother had lived another month, he would have been on his voyage then".
Instead "my master gave up his situation" and after arranging his affairs, returned to Edinburgh in autumn 1808. The Farquharson house in Edinburgh was sold.
John Farquharson took a house nearby in Queen St, Edinburgh (see map), for a year "till Miss Ann died" [unidentified].
John Farquharson is listed at 58 Queen St, Edinburgh, in [Edinburgh directory, 1808-09].
Then "Miss F." [must be John's sister Mary] "and my master and my father" came to Haughton.
After a few months they left Henry's father living at Haughton, and he and Farquharson travelled round England with "Miss F." They visited London, Chudleigh, Bath, Cheltenham and other places. Periodically returned to Haughton.
They spent winter 1810 in Edinburgh. Came back to Haughton summer 1811.
Henry (unmarried) had a relationship (must be 1811-12) with Isabella Riddell [of Upper Banchory, Aberdeenshire].
Henry's own notes spell her "Isobel Riddle" and "Isoble Riddle" but elsewhere he is casual with spelling.
Not sure why he did not marry her.
[Henry's memoir] says in 1812 he and Farquharson went to Monymusk, Aberdeenshire.
Farquharson married Mary-Anne Grant of Monymusk on 17 Sept 1812 (days after Henry's illegitimate child was born).
Henry and Isabella had issue:
Mary Noltie, illegitimate,
born Sun 6 Sept 1812, Chapel St, Aberdeen,
bapt Sun 13 Sept 1812, Skene Square, Aberdeen,
can't find bapt online,
named after Henry's mother Mary Hopper,
Henry acknowledged her and included her in the family history he wrote,
she didn't marry,
census 1851 shows her at 29 St.Andrew Square (new town), Edinburgh,
census 1881 shows her at 17 Carlyle Square (off the King's Rd), Chelsea, what is now London SW3 (see map),
died 7th Mar 1908, Royal Asylum Gate Lodge, Aberdeen, age 95 yrs, of "senile decay", described as "Lady's Companion" [GRO.Scot].

Settles at East Gallowhill:
In 1822-23, Henry left Farquharson's service, married, and settled at a farm at East Gallowhill, near Alford, Aberdeenshire, near to the Farquharson seat at Haughton (see map).
The Noltie account book for East Gallowhill starts in 1822. East Gallowhill was on the Farquharson estate and Noltie got a long-term lease from Farquharson. The lease ended 1898, so it seems it was a 75 year lease 1823-98.
At his marriage 1823 he describes himself as butler to John Farquharson for 22 years.
His wife Janet Smith and her parents were also servants of Farquharson of Haughton.
He mar 17th May 1823, Haughton, to Janet Smith [bapt 22nd Feb 1802].
He farmed at East Gallowhill from 1822 to his death.
He wrote Noltie family memoir c.1839.
He gives advice to his children: "I .. sincerely recommend to you all to cultivate brotherly love .. and to assist one another in every possible way ... either by precept example or worldly goods. Should any of you be more prosperous in the world than another, I think it is the bounden duty of the prosperous brother or sister to assist their poor brothers and sisters ... Now if you really believe (and I hope and trust there is none of you, my dear children, has a heart of even doubt, far less of unbelief) that there is a great and merciful God".
And some writing of its time: "having living examples of His judgements in His formerly highly favoured people the Jews, who are exiles and wanderers to this day to teach us to beware of disobedience".
He also made out a Noltie and Hopper genealogy.
They are listed in 1841 census at "East Gallowhill". He is "farmer".
Census of 1851 has them at "Gallowhill".
He is described as "farmer, Gallowhill" on grave.
Henry dies, 1852:
Henry died 28 May 1852, East Gallowhill, age 62 or 63 yrs. Noltie genealogy also says 26 May.
He was bur in the old Kirkyard of Alford, at the spot where his father was buried, in the NW corner of the graveyard.
Census of 1861 has Janet at "Gallowhill".
Janet dies, 1867:
Janet died 26th Sept 1867, East Gallowhill, age 65 yrs, of "disease of the brain, bronchitis" [GRO.Scot].
She was bur with husband at Alford.
Henry and Janet had issue: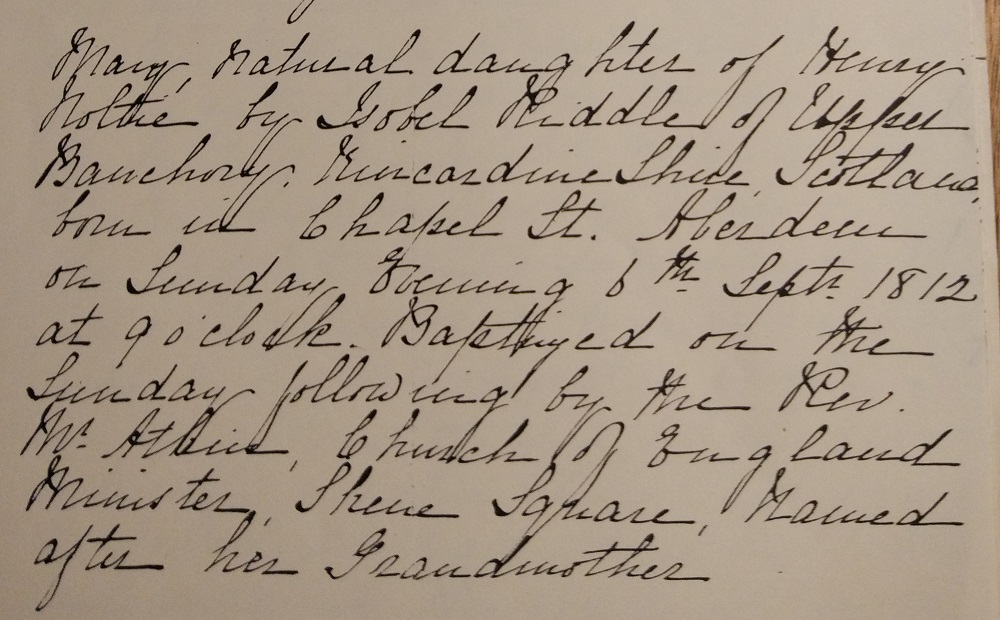 From
p.10
of
Noltie genealogy
.
Henry Noltie acknowledges his own natural child.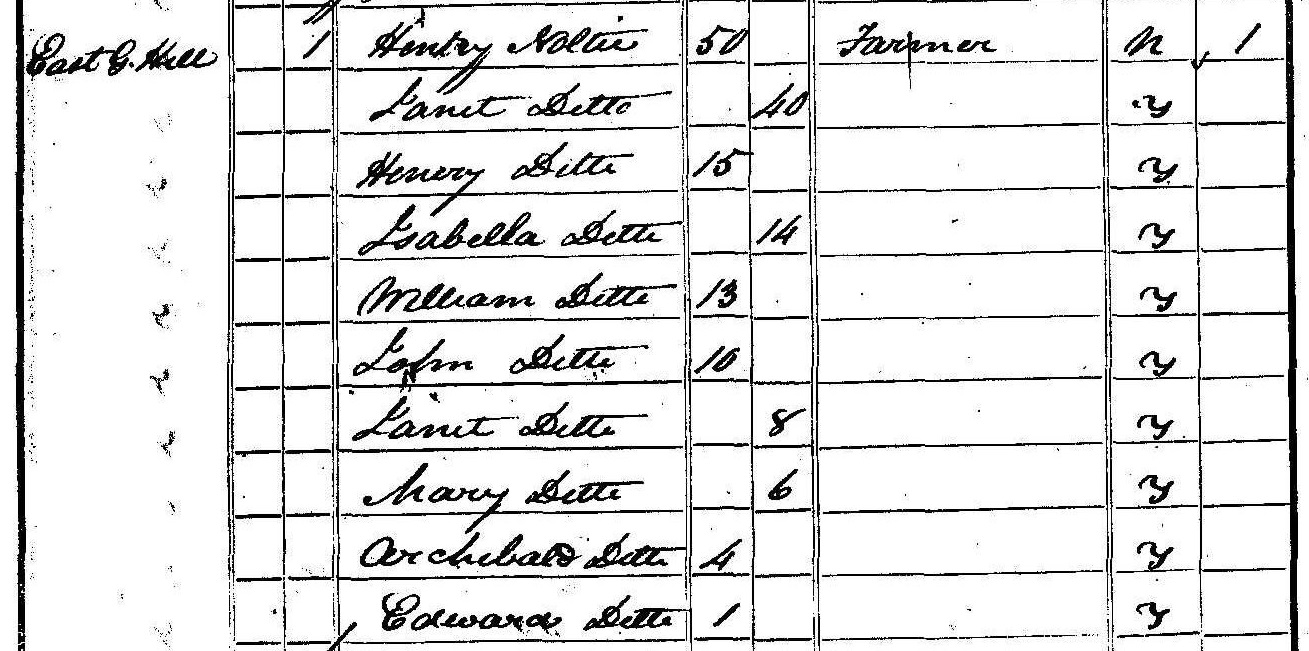 Henry Noltie and family listed in 1841 census at East Gallowhill.
It notes that he was not born in Aberdeenshire.
See full size.
---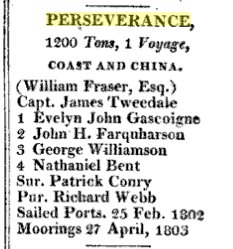 1st voyage of
Perseverance
to China, 1802-03.
From
[EIC ships]
.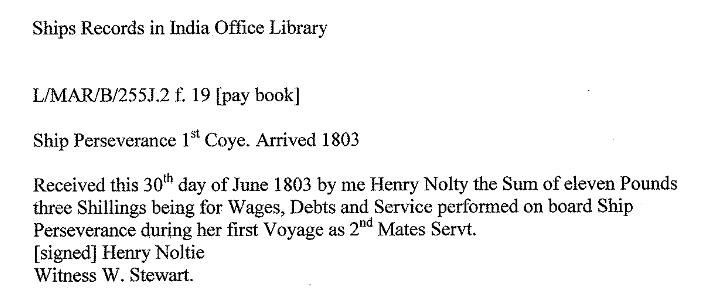 Payment on 30 June 1803 to Henry Noltie for voyage of 1802-03.
From [Perseverance Pay Book].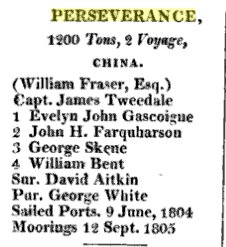 2nd voyage of Perseverance to China (and around the world), 1804-05.
From [EIC ships].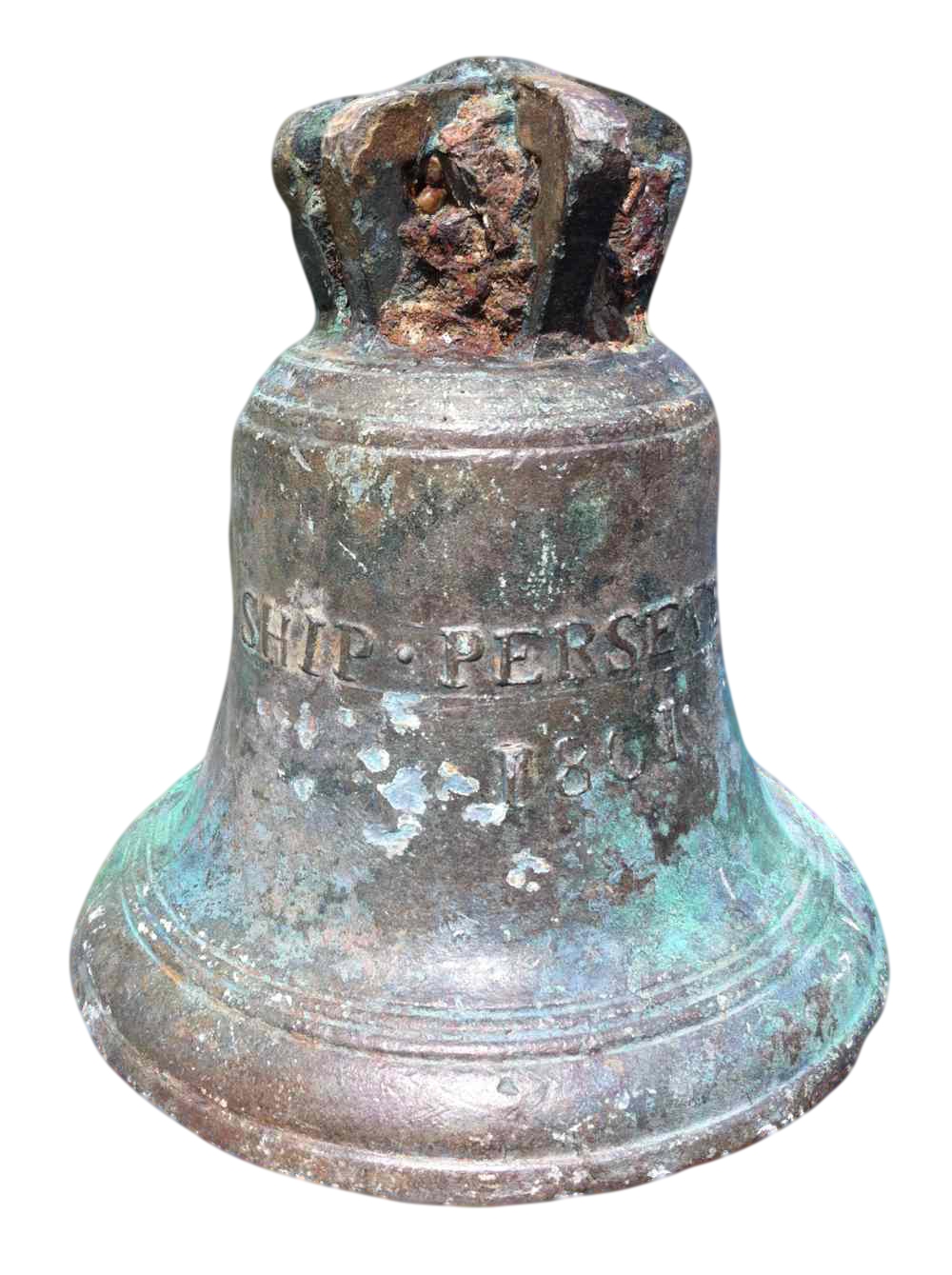 The bell of the Perseverance (launched 1801).
Recovered by divers at Whale Rock, South Africa.
Photo 2012 from Andy Walker, who sold the bell in 2012.
See full size.
This is a modified photo, with a busy background removed using clippingmagic.com. See original.
See also photos of left and centre and right, showing the bell spells it "PERSEVERENCE".
Though [EIC ships, 1811] spells it "PERSEVERANCE".


The game East India Company.
Video from Nitro Games.
---
Grave of
Henry Noltie
(died 1852).
In the
old Kirkyard of Alford
, Aberdeenshire.
This is the spot where his father
Henry Noltie of Germany
is buried too (though without mention on a gravestone).
It is also the grave of his son
Henry Noltie
(died 1892).
Grave no. 46 in
[Alford grave inscriptions]
.
Location of grave: Go in gate. Far LHS corner.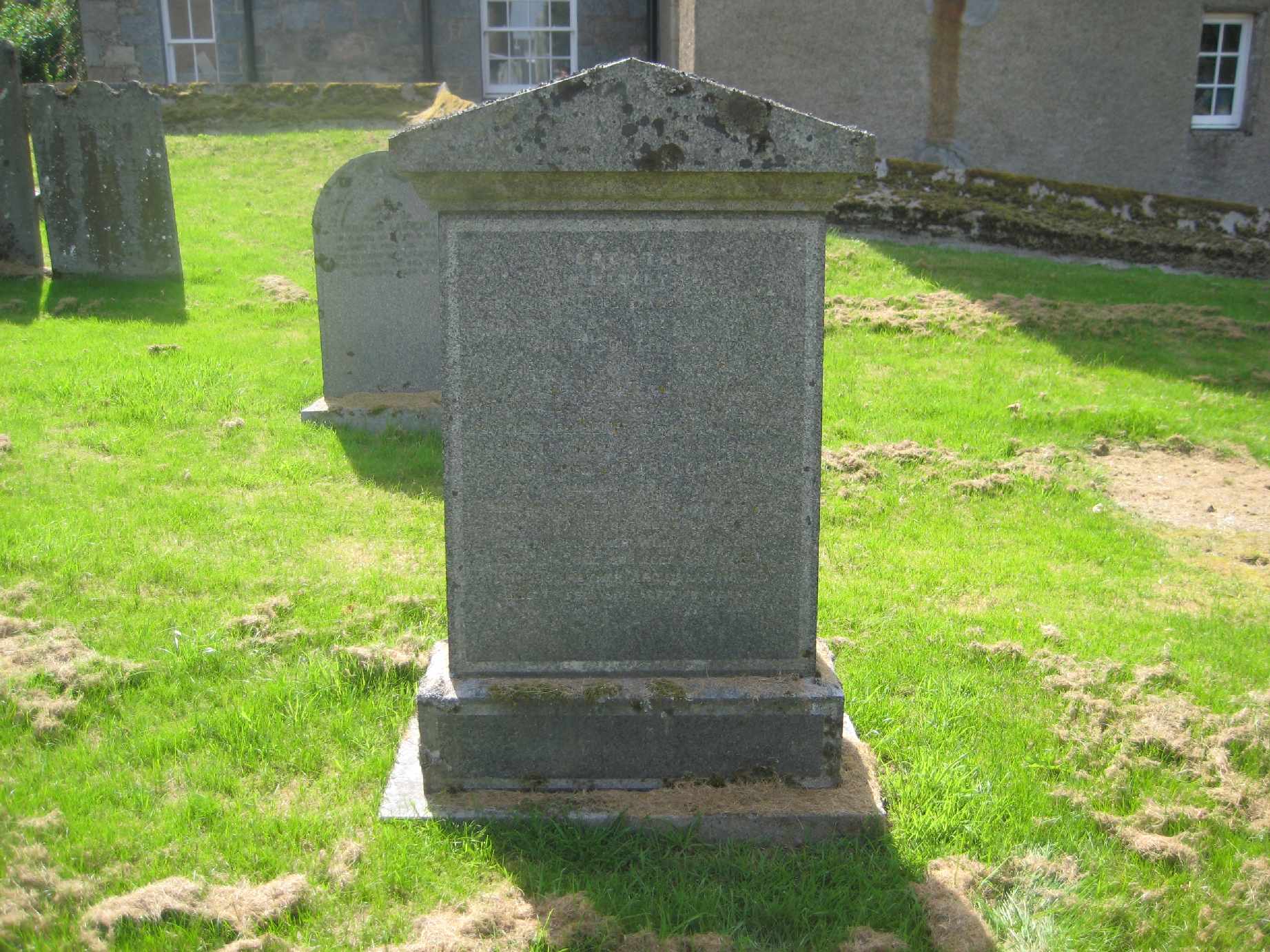 Grave of Henry Noltie (died 1852) and his son
Henry Noltie
(died 1892).
Photo 2008. See
larger
and
full size
.
See
other shot
and
other shot
.
See
other shot
from
findagrave.com
. Added 2019.
See
other shot
from
findagrave.com
. Added 2019.
---
References
---
Sources yet to be consulted
---
"As there is nothing so certain as death, and none knows how soon he may leave this world, we should frequently meditate on that event and accustom our minds frequently to think on that which is certain will happen to himself in a very few years at farthest"
- Henry Noltie.
---
Charles Rankin,
Mary Noltie [born 1812]'s "nephew by marriage",
reported her death 1908 [GRO.Scot].