Christopher St.Lawrence, 4th Baron Howth
Christopher St.Lawrence, 4th Baron Howth
(see
here
).
Also called the 17th Baron Howth.
He mar pre-1509 to
Anne Bermingham
.
Before 1526 he served as Sheriff of Co.Dublin, residing at his wife's family seat
Baldungan
, Co.Dublin.
His father
was at
Howth Castle
.
He succ when his father died 1526.
He died at Howth, 20 Apr 1542, bur Howth.
Anne fl 1542.
4th Baron and Anne had issue:
Edward St.Lawrence, 5th Baron Howth,
born 1508 (age 34 in 1542),
succ 1542, also called 18th Baron Howth,
died 1549.




Richard St.Lawrence, 6th Baron Howth,
succ 1549, also called 19th Baron Howth,
died 1558.




Christopher St.Lawrence, 7th Baron Howth,
"the blind Lord".




Entry for 4th Baron in
[Complete Peerage]
.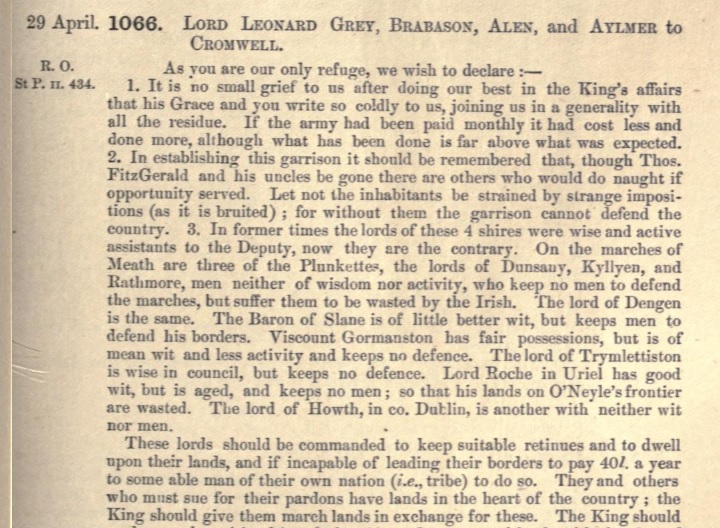 A report of 29 Apr 1537 from the Lord Deputy of Ireland, Leonard Grey, 1st Viscount Grane, and the Irish Council, to Thomas Cromwell in London.
This disparages various Irish nobles, and says about the 4th Baron Howth: "The lord of Howth, in co. Dublin, is another with neither wit nor men."
From p.485 of Vol.XII, Part 1 (pub 1890) of Letters and Papers, Foreign and Domestic, of the Reign of Henry VIII.