Christopher St.Lawrence, 7th Baron Howth
References:

Sources yet to be consulted:
Christopher St.Lawrence, 7th Baron Howth
(see
here
).
Also called the 20th Baron Howth.
Called "the Blind Lord" because of his defective eyesight.
He mar 1stly, 1546, to
Elizabeth Plunkett
[descendant of
Edward I
].
He succ as Baron Howth in 1558.
He rebuilt
Howth Castle
.
Knighted by the Lord Deputy
Sir Henry Sidney
at Drogheda on 9 Feb 1570.
The
Book of Howth
apparently belonged to him, and he may have authored some of the entries.
The Grace O'Malley story
:
There is a
story
(see
account
by
Jonathan Bardon
) that in 1576 the pirate
Grace O'Malley
abducted his grandson, the future
9th Baron
.
The story goes that she put in at Howth to obtain water and provisions after a long voyage. But she was told the 7th Baron's family was at dinner and the Howth Castle gates were closed against her. In retaliation, she abducted his grandson on the beach and took him back to Co.Mayo. He was eventually released when a promise was given to keep Howth Castle gates always open to unexpected visitors, and to set an extra place at every meal, which tradition has been followed since.
In 1577-78, he and other chiefs of the Pale came into conflict with the Lord Deputy (again Sir Henry Sidney) over taxation on Ireland, against which Howth led a campaign. As a result he was for 5 months imprisoned in Dublin Castle.
In 1579 he was convicted of beating his 13 year old daughter Jane so badly that she died within 2 days. He was also convicted of beating and ill-treating his long-suffering wife. The court also heard about his many affairs. He was imprisoned and fined £1,000.
Elizabeth left her husband about 1579.
He mar 2ndly, probably 1580, to Cecilia Cusack.

He died at Howth, 24 Oct 1589.
He was bur in
St.Mary's "Abbey" Church, Howth
.
Page 159
in
[DNB, 1885-1900 edn]
thinks he was bur with his 1st wife Elizabeth (which seems unlikely) and also seems to confuse his tomb with the tomb of the
1st Baron
. It says he was
"buried in the south aisle of the abbey. Over him is a monument in high relief, with the effigies, it is said, of him and his first wife, Elizabeth ... though, as the inscription is now entirely obliterated, it is questionable whether they do not represent some earlier members of the family, conjecturally Christopher, thirteenth baron, and his wife"
. (The
1st Baron
was also called the 13th Baron.)
The 1st Baron is bur in the E end of the church. Does the S aisle refer to the same location?
7th Baron had issue by 1st wife:
Nicholas St.Lawrence, 8th Baron Howth,
born c.1550.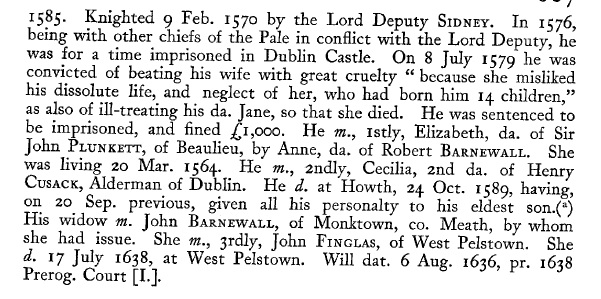 Entry for 7th Baron in
[Complete Peerage]
.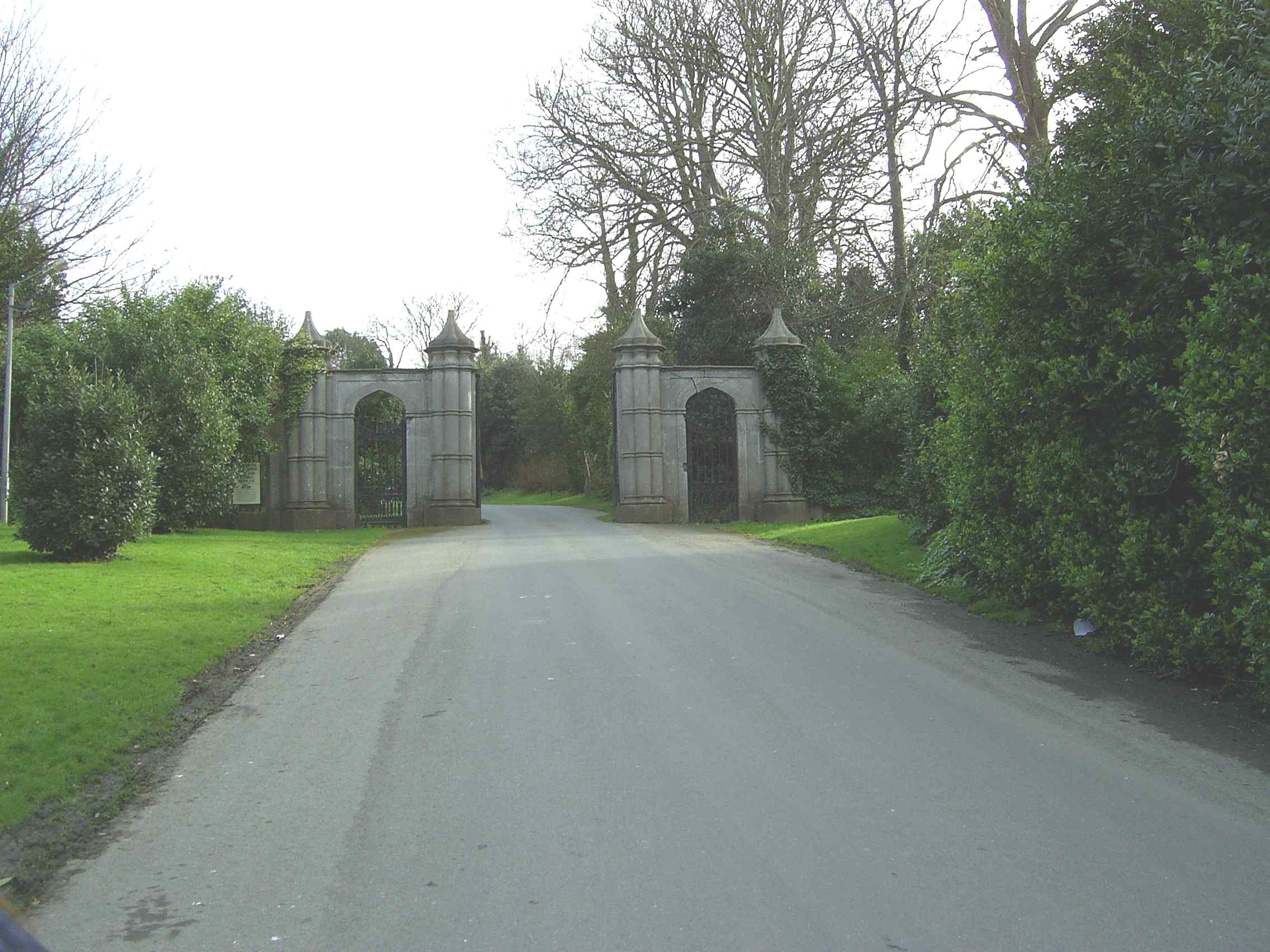 The N gate of Howth Castle.
Always open since the Grace O'Malley incident.
Photo 2007. Light adjusted digitally. See full size and original.
See street view.
---
A painting at Howth Castle depicts the Grace O'Malley incident.