William Stanger
William Stanger
,
bapt 4 Aug 1794,
lived
Gretton
, Northamptonshire,
mar pre-1825 to
Ann ----
[born in 1795 in
Caldecott
, Rutland],
see them
listed
in Gretton in 1841 census, he is labourer,
she died 2 Mar 1854, age 59,
he died 17 Jan 1878, age 83,
had issue:

John Stanger,
born Gretton,
bapt 7 Aug 1825 in Gretton,
mar Elizabeth Cox [born 1826, Cransley Lodge, Cransley [NOT Cransby], near Kettering, Northamptonshire, see map],
they are living Gretton at son's birth 1850, he is "labourer", she was illiterate,
at son's mar 1875 he is listed as "farm labourer",
they are listed in [UK census, 4 Apr 1881] as living Cottage, Rockingham, Northamptonshire, he is listed as an "Ag Lab" (Agricultural Labourer),
he died 18 Aug 1893 in Gretton, age 68 yrs,
she died 20 June 1901, age 75 yrs,
had issue:
George Henry Stanger,
sometimes just George Stanger,
born 18 Oct 1850 (NOT Dec), Gretton, Northamptonshire [GRO.UK],
bapt 1 Dec 1851 in Gretton (perhaps should be 1850).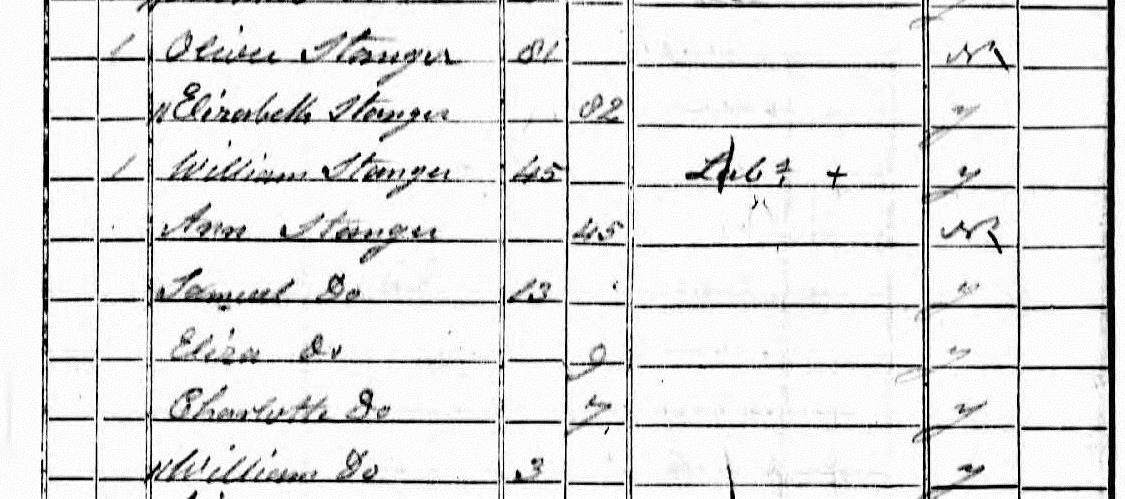 The two Stanger families, William and his father
Oliver
, listed at Gretton, Northamptonshire, in 1841 census.
See
full size
.