Capt. Robert Blennerhassett, of Castle Conway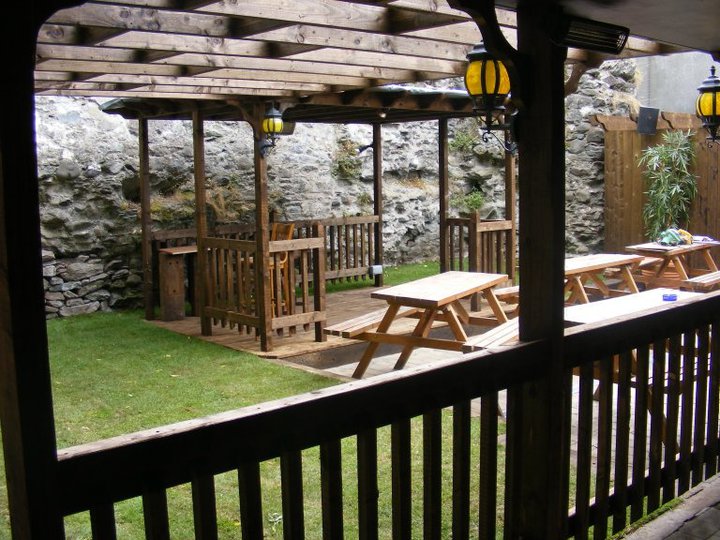 The remaining ruined wall of
Castle Conway
, Killorglin, Co.Kerry.
Now in a beer garden.
Capt. Robert Blennerhassett
, of Castle Conway, born est c.1622,
Captain in
Cromwellian
army in
Irish Confederate Wars
,
mar perhaps around 1660 to
Avice Conway
[descendant of
Edward III
],
she was co-heiress of
Castle Conway, Killorglin
, Co.Kerry, which now passed into the Blennerhassett family,
he was MP for
Tralee
1674 (NOT 1634),
High Sheriff of Co.Kerry 4th Jan - 23rd Nov 1682 [
O'Kief
vol.6],
the old Castle Conway was a ruin as at 1682,
Avice drowned at sea in April 1683 (NOT 1663),
she was bur in the chapel at Castle Conway,
see her now-vanished
tomb at Castle Conway
,
had issue:
John Blennerhassett, "Black Jack", of Castle Conway, born est c.1665.

Conway Blennerhassett.

Thomas Blennerhassett, born est c.1670,
supporter of William of Orange, imprisoned at Galway and Dublin with his brother Black Jack, 1689-90,
will dated 1743,
[Burkes Irish, 1976] says fl c.1773 but this is unlikely, more likely that will proved 1743, age est c.73 yrs,
had issue:

Avice Blennerhassett, mar Rev. Thomas Collis and had issue:

Jane Collis,
mar 1stly to Frederick Mullins,
mar 2ndly to Rev. Arthur Herbert.

Mary Collis, mar John Spring.
Martha Collis, mar John Gun.

Alice Blennerhassett, mar her 1st cousin Thomas Hurly and had issue.

Jane Blennerhassett,
mar 1stly (NOT 2ndly) to her 1st cousin John Hurly,
mar 2ndly, 9th Feb 1731 (think NOT Aug) to Maurice O'Connell and had issue.




Henry Blennerhassett, of Gortmasherry, Co.Kerry, born est c.1675.