Craufurd
Sometimes spelt "Crawford".
References:

Sources yet to be consulted:

CRAUFURD of Auchenames in [Burkes LG, 1937]
CRAUFURD of Auchenames in [Burkes LG, 1952]
History of the Shire of Renfrew, George Crawfurd, Glasgow, 1710.
A History of the House of Loudon and Associated Families, 1993.
Sir Reginald de Craufurd, 1st Sheriff of Ayrshire,
mar Margaret Loudoun [dau and heir of James de Loudoun, of
Loudoun, Ayrshire
],
made hereditary Sheriff of Ayrshire 1203,
had issue:

Hugh Craufurd, of Loudoun, 2nd Sheriff of Ayrshire,
inherited Loudoun,
granted Crosbie, Ayrshire in 1226,
[Burkes Peerage] has established that it was him who was granted Crosbie, NOT his son after the Battle of Largs,
had issue:

Hugh Craufurd, of Loudoun, 3rd Sheriff of Ayrshire,
leader in the Battle of Largs against Norway, 1263,
had issue:
Sir Reginald Craufurd, of Loudoun, 4th Sheriff of Ayrshire,
of Loudoun and Crosbie,
mar Cecilia ----,
supposed to have been a father figure to his nephew William Wallace after Wallace's father died early,
Wallace is supposed to have stayed for a time at his uncle Sir Reginald's house, at Loudoun or Crosbie (or both),
Sir Reginald is portrayed in Blind Harry's 15th cent account of William Wallace as a loyal and supportive uncle to young Wallace,
died 1297,
the story is he was killed by agents of Edward I in the "Barns of Ayr" incident (also called "The Black Parliament"), and it is this that motivated his nephew to begin his rebellion against the English in 1297, but some regard this as legend,
had issue:

Reginald Craufurd, 5th Sheriff of Ayrshire, had issue:

Susanna Craufurd, mar 1318 to Duncan Campbell.
This branch inherited Loudoun,
which later became seat of the Earls of Loudoun.

William Crawford, or Craufurd,
was a leader of his cousin Wallace's rebellion, 1297-98, became his 2nd in command.

Hugh Craufurd, of Crosbie,
died 1319,
had issue:

Sir Reginald Craufurd, 1st Laird of Auchenames, born 1283.




Margaret Crawford, or Craufurd,
mar Alan Wallace,
"Sir Malcolm Wallace" was the traditional name for Wallace's father, but the Lübeck letter is signed "William, son of Alan Wallace",
had issue:

William Wallace, born c.1272,
hero of Wars of Scottish Independence,
led rebellion against the English, 1297-98,
executed by Edward I in London, 1305.




Hugh is also thought to be the ancestor of Craufurd of Ardmillan, including:

James Craufurd, Lord Ardmillan (born 1805).
---
Loudoun
, near
Galston
, Ayrshire.
See
map
. See
street view
of entrance.
The present Loudoun Castle is an early 19th century building on the site of the earlier Craufurd castle. It is thought to incorporate a 15th century keep.
The castle burnt down 1941 and is now a ruin.
The estate is now an amusement park called "Loudoun Castle".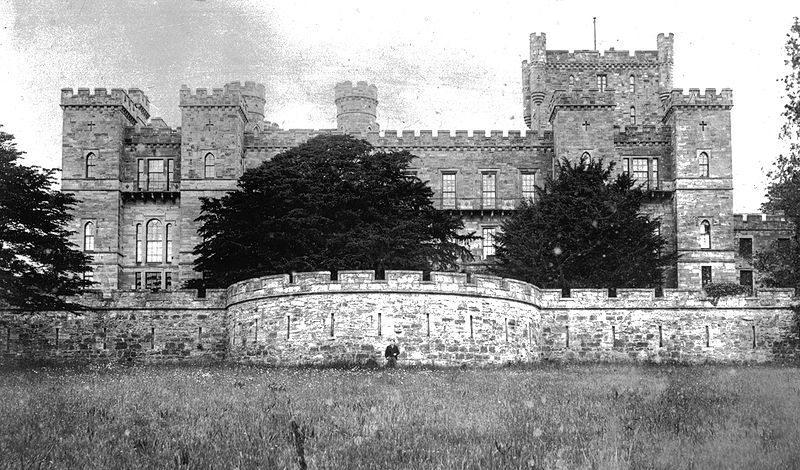 Loudoun Castle.
Photo 1890. See
full size
.
From
here
.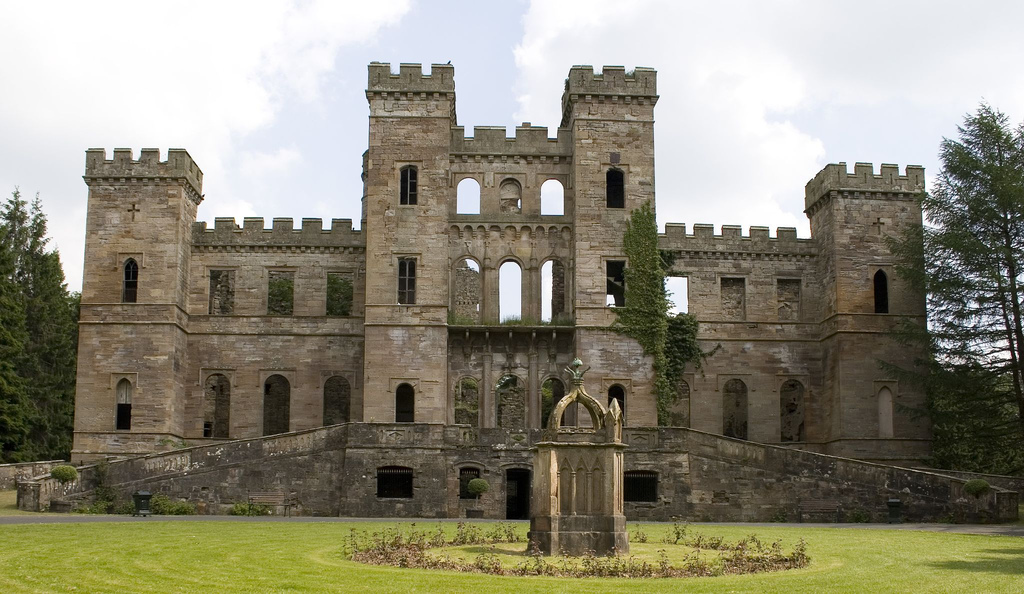 Loudoun Castle.
Photo 2007. See larger and full size.
From here. See terms of use.
Search for more images.
---
Blind Harry's 15th cent account of William Wallace portrays Wallace's uncle Sir Reginald Craufurd hearing about his nephew surviving a confrontation with English soldiers while fishing at the River Irvine (which is near Loudoun, not near Crosbie):
The news did so surprise the ancient knight,
He almost fainted in his nephew's sight:
Then bids keep the secret: "For such fishing sport,
If it be known, you might pay dearly for't."
"Uncle," said Wallace to the good old man,
"I'll push my fortune now where best I can,
Since I no longer may with you abide.
I'll try these English geldings how they ride."
A purse of gold the knight unto him gave.
Wallace kneel'd down, and humbly took his leave.
"When that is done, pray nephew send for more."
Sir Reginald is said to have inspired his young nephew Wallace with the statement:
Dico tibi verum, libertas optima rerum:
Nunquam Sanville sub nexu vivito, fili.

I tell you true, Freedom is best of all things to be
won. Never live under the bonds of slavery, my son.
---