Sister Padua Flanagan
References:

Sister Padua Flanagan (anonymously), The Life and Work of Mary Aikenhead, Foundress of the Congregation of Irish Sisters of Charity, 1787-1858, Longmans, 1924. Her obituary confirms her as the author.

Sources yet to be consulted:

Grave of Sister Padua Flanagan (probably a Sisters of Charity grave), Kilbarrack Cemetery, Howth road.
[NAI], Department of the Taoiseach. Cabinet: s 7645. File: Mr. Peter Shortall, Grant from Dail Special Fund. Letters from "Sister M. Padua, Sisters of Charity, Mount Saint Anne's, Milltown", 1925, requesting financial assistance for Mr. Peter Shortall and his family.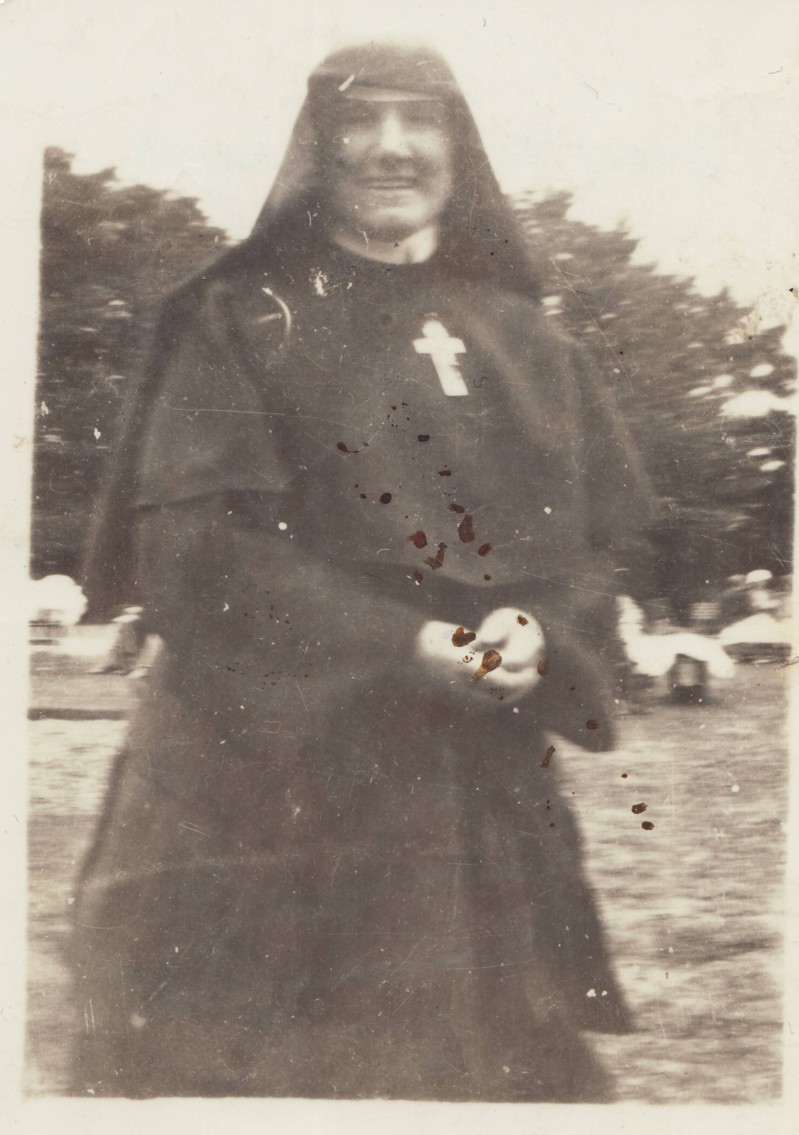 Sister Padua Flanagan.
See
larger
and
full size
.
Sister Padua Flanagan
,
born 26 Nov 1875, Mary Frances Flanagan, Mary, "Polly",
became nun 1895, joined
Sisters of Charity
,
took name "Sister Padua" or "Sister Mary Padua", poss. also "Pauline".
[Frank Flanagan's memoirs]
said:
"she was a beautiful girl, and gave up a luxurious home to serve God"
. He said she was
"the cleverest and liveliest member of the family"
.
"She was the happiest person I ever met and the day before she joined the Charity nuns, she went to a big dance and discarded her worldly garments afterwards."
Can't find her in 1901 census.
She entered Sisters of Charity,
Mt. St. Anne's Convent, Milltown
, Co.Dublin, c.1902.
She is
listed

as "Mary Flanagan" at Mt. St. Anne's in
[Census, 2 April 1911]
.
She was the anonymous author of a biography
[Flanagan, 1924]
of the founder of her order,
Mary Aikenhead
.
She died Mt. St. Anne's, 20 July 1936, age 60 yrs [mass card],
[GROI]
.
See
obituary and funeral report
in newspaper, July 1936.
She was bur
Kilbarrack
cemetery (on the coast road to Howth, see
street view
).
See
cover page
of religious notes prepared by her shortly before death.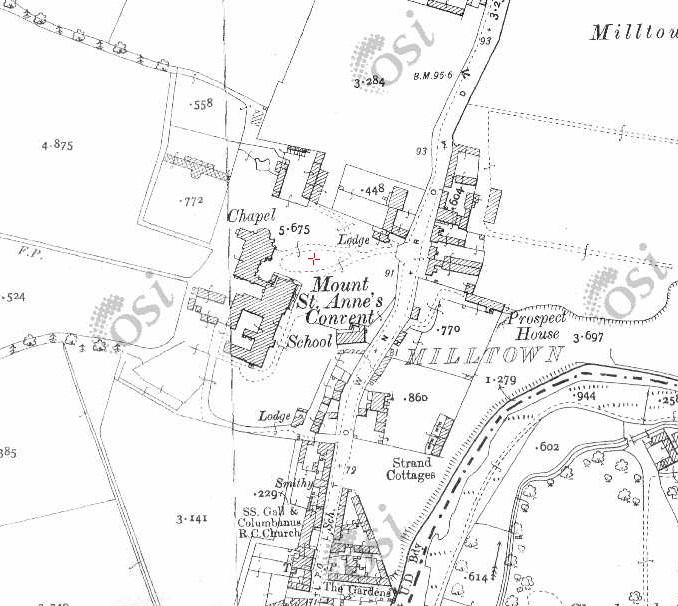 Mt. St. Anne's, Milltown, on
1887 to 1913 map
.
See modern
street view
.
---
From Sister Padua's biography [Flanagan, 1924] of Mary Aikenhead:

A passage describing how Aikenhead decided to become a nun is probably drawn from Sister Padua's own experience: ".. but when she was about 17 God made it clear that she should give her service as a religious. She could hardly tell when or how she first heard that mysterious and elusive call, so like the gentle whisper of the soft summer breeze. Above the noise and the din of the world around her she caught the sound of the mystic words, "Follow me"".
Less comprehensible to the modern mind is the story of Mary Gibbons in the Donnybrook chapter. She is a girl who, tortured by her sexuality and religious guilt, tears out her own eyes so as not to be attractive to men any more, and lives out the rest of her days with the nuns at Donnybrook. (Her grave, dated 1848, is mid-way up on LHS in the cemetery there.)