Thomas Herbert, 8th Earl of Pembroke
References:

Sources yet to be consulted:
8th Earl, as a young man, c.1676.
From
NPG
. See
terms of use
.
Thomas Herbert, 8th Earl of Pembroke
(see
here
and
here
),
5th Earl of Montgomery, K.G.,
born 1656.
He succ 1683.
He mar 1stly, July 1684, to
Margaret Sawyer
.
President
of the
Royal Society
1689-90.
He founded the
Wilton Royal Carpet Factory
(royal charter 1699).
Margaret died 17th Nov 1706.
He had issue by 1st wife:

8th Earl was Lord-Lieutenant of Ireland 1707-08.
He mar 2ndly, 21st Sept 1708, to Barbara Slingsby [dau of Sir Thomas Slingsby, 2nd Baronet]. The 8th Earl was her 3rd husband.
He was Lord High Admiral of Great Britain and Ireland 1708-09.
Barbara died 1st Aug 1722.
He mar 3rdly, 14th June 1725, to Mary Howe [dau of Scrope Howe, 1st Viscount Howe].
His will dated 22 Dec 1732.
He died 22nd Jan 1733 [using [NJ] date format, note that at the time this was regarded as the end of 1732], age 76 yrs.
He was bur Salisbury Cathedral, Wiltshire.
Mary re-married Nov 1735 to John Mordaunt. Settlement about this marriage dated 17 Sept 1735.
There is a private act related to this settlement, and the inheritance of the 9th Earl, in Private Acts of Great Britain, London, 1735, Ch.7.
Mary was Maid of Honour to Queen Caroline (died 1737). Not to be confused with the other Lady Pembroke who attended Queen Caroline, Mary Fitzwilliam.
She appears in a ribald poem and play, both of 1736, in [Memoirs by Lord John Hervey], vol.2. See censored versions of pages 157 and 165.
She died 1749.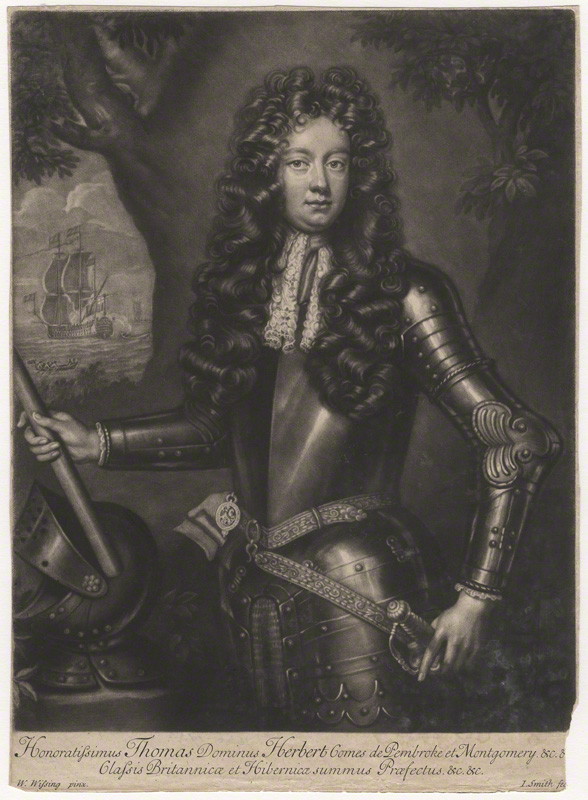 8th Earl, 1708.
Engraving by John Smith, after portrait by William Wissing.
From
NPG
. See
terms of use
.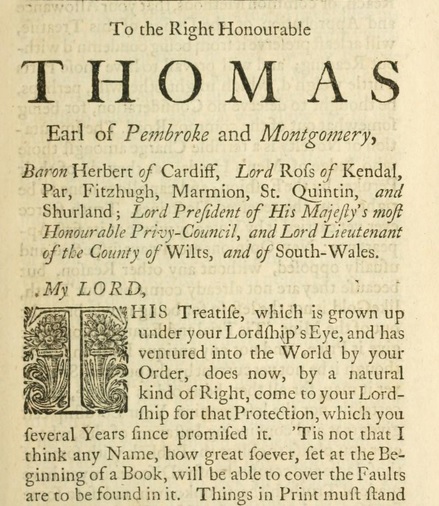 John Locke (founding father of democracy) dedicated An Essay Concerning Human Understanding to the 8th Earl of Pembroke in 1690.
This is the dedication page of the 1735 edn.