Niall O'Rahilly
Sources yet to be consulted:

[NAI], archives of Dept of the Taoiseach, Cabinet: s 11515, File: Internees, Hunger Strike, 1939-1940, Letter to de Valera from Niall O'Rahilly, 8 April 1940.
Niall O'Rahilly
,
pronounced "Neil", born 3 Jan 1907, Philadelphia.
Sighle
said when her Rahilly cousins came to Dublin 1909, they couldn't speak to little Niall, because he spoke only French
[O'Rahilly, 1991]
.
He was a doctor, educ
UCD
(
MB
).
He was a "doctor of
osteopathy
" (alternative medicine).
He practised at family home,
40 Herbert Park
, Dublin, for a time. Listed there in
[Thom's, 1938]
to
[Thom's, 1945]
.
He was
Countess Plunkett's
medical attendant at time of hunger strike of her two IRA sons 1940.
He mar 1stly, July 1940, Dundrum, to
Bridie Clyne
[Bridget, Bride, born 1898, from
Dromod
, Co.Leitrim].
Bridie was involved in Cumann na mBan and republican activities 1919-26.
She was on the republican side in the Civil War 1922-23.
She was with the republican garrison in the Four Courts when it was shelled by the Free State, June 1922 [McCoole, 2003]. See The Battle of the Four Courts, Michael Fewer, 2018.
In the Civil War she worked for the republican underground in Co.Dublin and Co.Wicklow.
She was in a car with De Valera when it was attacked in an assassination attempt.
She was arrested by Free State in 1923 in a raid in Strand Rd, Sandymount, and jailed in Kilmainham Gaol. Probably also jailed in North Dublin Union.
She was in jail with Sighle Humphreys and Elgin Barry. She went on hunger strike in 1923.
Niall also had a practice at 78 Merrion Square.
Bridie worked in advertising, Capel St, Dublin.
They had an apartment in Maud Gonne's house, Roebuck House, Clonskeagh, Co.Dublin.
In c.1947 they moved to Ballinascorney House, Co.Dublin.
Niall was involved in a TV Production Company in early 1970s.
Bridie died Ballinascorney House, 1971, age 73 yrs.
Niall mar 2ndly to Pat Walshe.
He died Ballinascorney House, May 1988, age 81 yrs.
Niall and Bridie had adopted issue:
Aideen O'Rahilly, mar Michael Dunne and had issue:

Niamh Dunne.
Brid Dunne.
---
Ballinascorney House
(also known as Dillon Lodge), Ballinascorney Upper, Tallaght par, Co.Dublin (in Dublin mountains, near Co.Wicklow border, see
map
).
The house was built c.1800.
Robert Emmet
stayed in it while on the run in 1803.
Niall O'Rahilly moved there c.1947.
He died there 1988.
His widow sold it 1988.
It burnt down soon after that.
Now a ruin. It is
listed
(also
here
).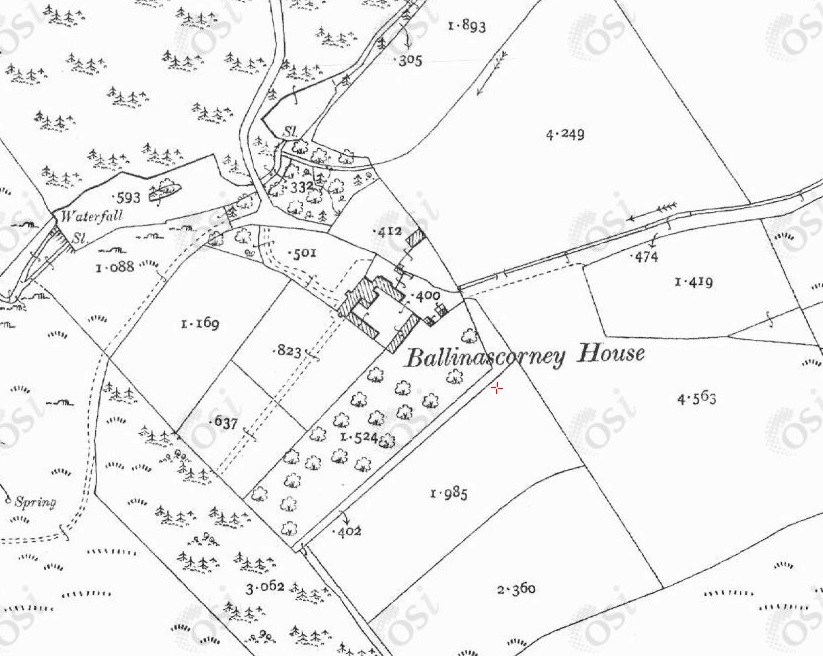 Ballinascorney House on
1887 to 1913 map
.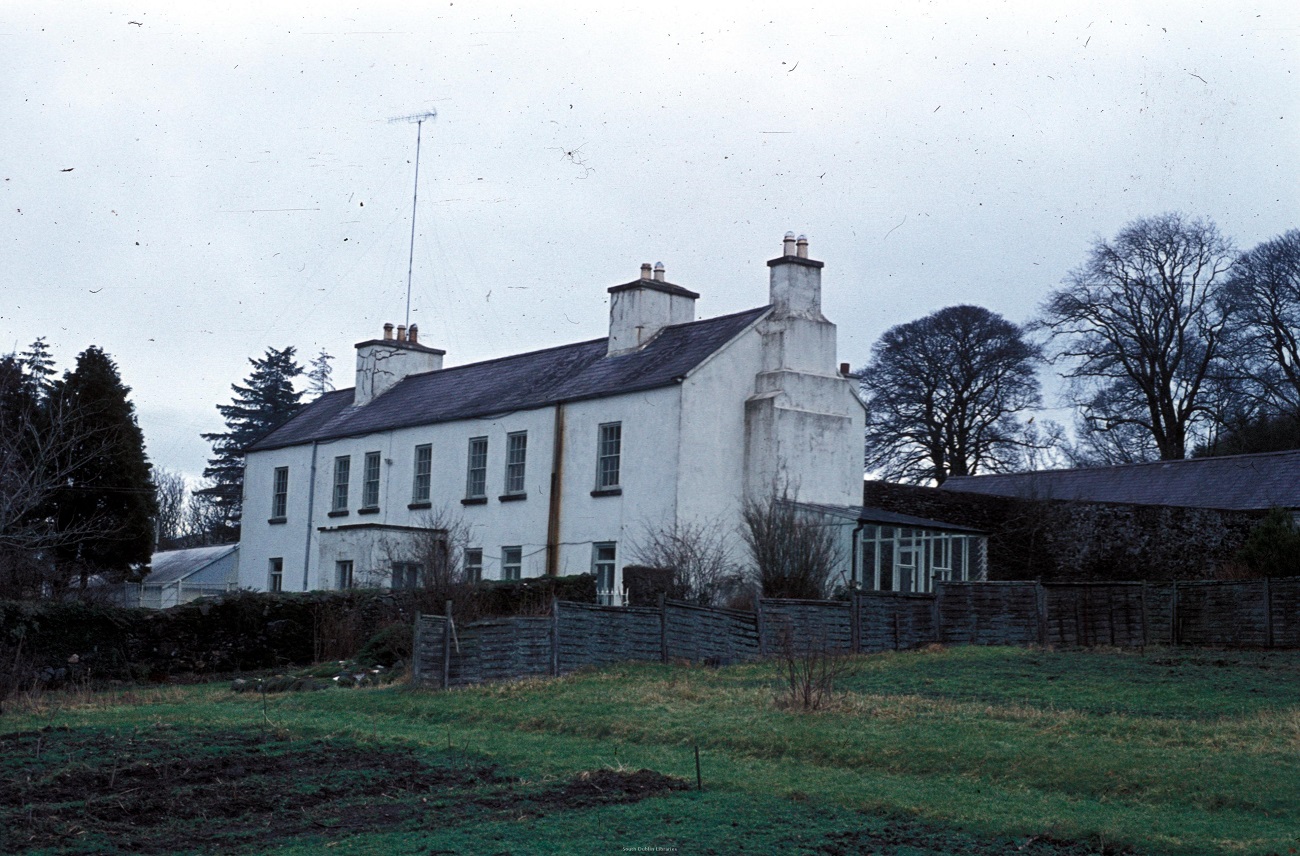 Ballinascorney House, 1977.
See larger and full size.
From South Dublin Libraries. Patrick Healy Collection. Creative Commons.