Sighle Humphreys
References:

Unmanageable Revolutionaries - women and Irish nationalism, Margaret Ward, 1983.

Sinead McCoole

Against the tide, Noël Browne, Dublin, 1986.
The Emergency: Neutral Ireland 1939-45, Brian Girvin, 2006.
British spies and Irish rebels: British intelligence and Ireland, 1916-1945, Paul McMahon, 2008.
"Oh here's to Adolph Hitler"? The IRA and the Nazis, Brian Hanley, History Ireland Vol. 13 No. 3, May/June 2005.

Sources yet to be consulted: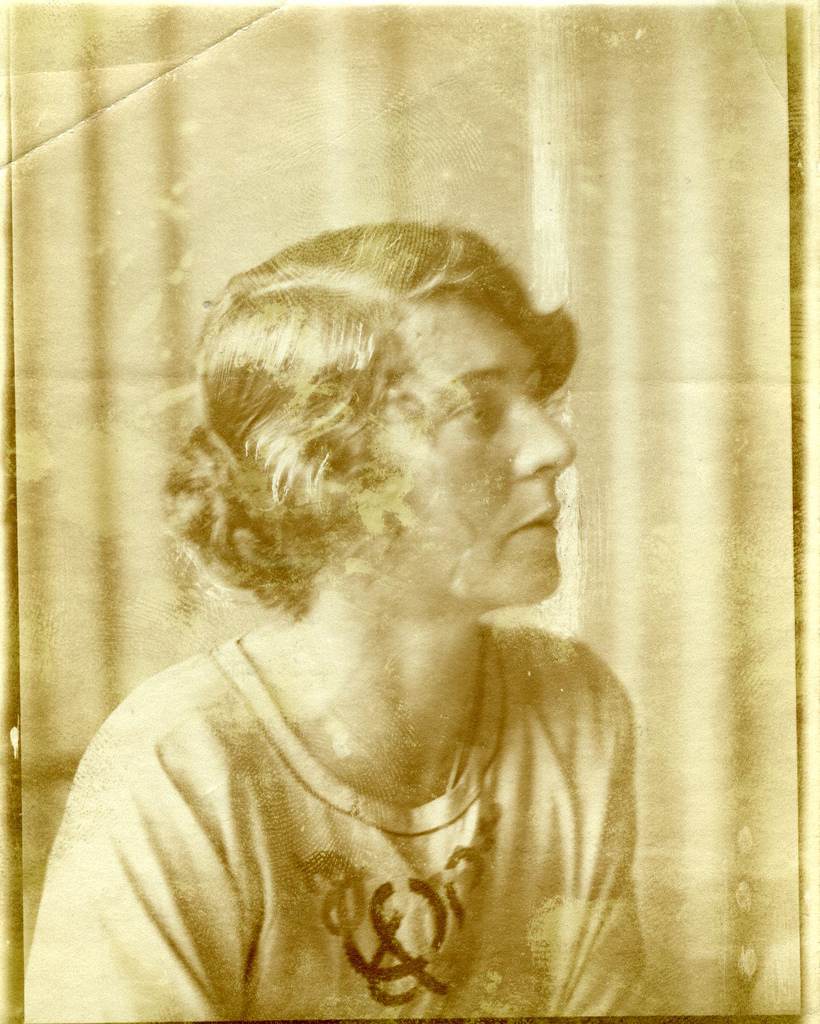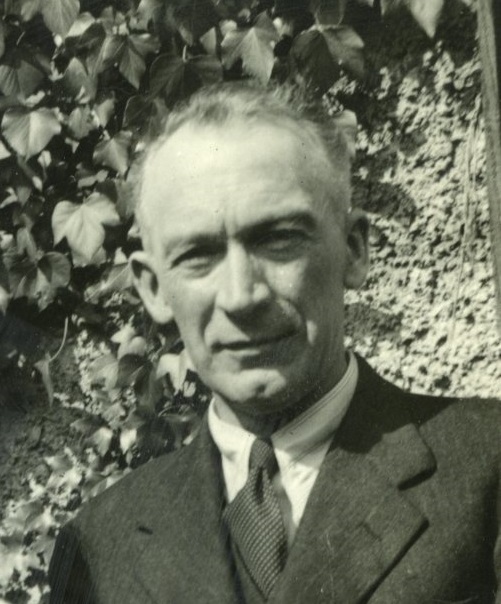 (Left) Sighle Humphreys, in Paris, 1923. See
larger
and
full size
.
(Right) Domhnall O'Donoghue, c.late 1940s. See
full size
.
Sighle Humphreys
(see
here
),
lifelong Irish republican revolutionary,
born 26th Feb 1899, Limerick,
see
Childhood in Quinsborough
,
family moved to Dublin 1909,
educ
Mount Anville
, there in 1912-16,
educ in 1917-18 at
Scoil Bhríde
(the oldest Gaelscoil in Ireland, founded 1917). Scoil Bhríde was then at 70 Stephen's Green, Dublin; also known as St.Brigid's High School; principal
Louise Gavan Duffy
.
Revolutionary in 1916-21:
Sighle, like her mother and all her family, became a revolutionary in the 1916-23 period.
She joined Cumann na mBan (formed 1914).
Her brother Dick fought in the 1916 Rising, in which their uncle The O'Rahilly, one of the leaders, was killed.
Dick went to prison, as did Dick and Sighle's mother Nell.
Sighle was on committee of Irish Volunteer Dependants' Fund after 1916 Rising (support for dependants of those killed or imprisoned) [Ward, 1983].
She and her brother Dick studied in Paris in late 1919 - early 1920.

Anti-Treaty in Civil War 1922-23:
She took Republican side in Civil War 1922-23.
She was involved in the Free State raid on Ailesbury Rd in the Civil War, Nov 1922, in which Ernie O'Malley was captured and a Free State soldier was shot dead. There were always rumours that she shot the soldier, but she always denied it.
She was jailed by the Free State after the raid. She was in Mountjoy prison in 1922 with her mother.
Sighle and Máire Comerford were put into solitary confinement "for what the Staters called our 'defiant attitudes'" [Mac Eoin, 1980]. She went on hunger strike, for a few days.
Civil War ended May 1923, though prisoners not all immediately released.
She was on big hunger strike, Oct-Nov 1923, age 24, lasted 31 days [Ward, 1983]. She observed later that "it did wonders for the skin". Story that when on hunger strike she used to read cookery book to other inmates.
She was released Nov or Dec 1923. There is a name plate over her cell in Kilmainham Gaol.
Republican diehard, Anti-Free State, in 1920s and 1930s:
After the Civil War, as the Free State under W.T. Cosgrave was established, most republicans gave up, but Sighle stuck with the diehard republicans and the IRA who regarded the Free State as illegitimate.
She was an officer (Secretary, Director of Publicity) of Cumann na mBan, now ever more isolated in its anti-partition Republican policy.
She was Vice-President of Cumann na mBan in 1920s [her death notice].
They staged protests against the play The Plough and the Stars (1926), which they felt belittled the men of 1916.
Sighle arrested 3 Dec 1926, jailed in Mountjoy, freed Apr 1927.
Sighle was behind a campaign of intimidating juries to acquit Republicans brought before the courts. Ailesbury Rd was raided again. Sighle arrested 10th May 1928 on charges of influencing juries. Jailed in Mountjoy until Autumn 1928.
Opposition leader De Valera defended her right to political status, pointing out that the Republican cabinet used meet in her home.

Saor Éire, 1931:
Despite living on ultra-wealthy Ailesbury Rd as a result of Richard Rahilly's capitalism, Sighle and her radical aunt Anno were socialist/communist.
In 1931 Sighle supported the founding of the socialist/communist IRA organisation, Saor Éire (see here and search). The National Executive included Sighle. She was co-treasurer [Ernie O'Malley letters, 1991].
Saor Éire was meant to be an engagement by the IRA in politics, but using revolutionary means rather than parliamentary means. Its program was "to overthrow British imperialism and Irish capitalism" so that "Industry shall be made to serve the community, not to make profit for individuals".
[Irish Independent, 28 September 1931] reports on congress of Saor Éire. Sean MacBride presided, saying he hoped organisation would overthrow Imperialism and Capitalism in Ireland, and lead to the establishment of a Republican Ireland, controlled by the working-class people.
The Catholic bishops in Oct 1931 accused Saor Éire of wanting "to set up a Communist state. That is to impose upon the Catholic soil of Ireland the same materialistic regime, with its fanatical hatred of God, as now dominates Russia". They said it was sinful for any Catholic to be a member of Saor Éire or the IRA.

Saor Éire, the IRA and Cumann na mBan were all made illegal in a crackdown by the Free State under W.T. Cosgrave Oct 1931.
Ailesbury Rd was raided again, Sighle arrested 2 Nov 1931 or 16 Dec 1931. Sentence 29 days imprisonment, back-dated to arrest, released [Ward, 1983].
Dublin Evening Mail, 15 Jan 1932, reports she was charged with membership of Cumann na mBan, refused to recognise the court. See [P106/1102].
At her trial she said: "I am charged with being a member of Cumann na mBan and I admit it. You are very foolish to try and suppress that organisation, for we thrive on suppression".
Campaign to boycott British goods resumed 1932.
In 1934 she initially supported the socialist Republican Congress, and was on its Organising Bureau, but quickly broke with the movement [Ernie O'Malley letters, 1991].
Still living Ailesbury Rd at marriage. Sighle said that Nell and Anno were very protective of her when young, thought no one was good enough for her. They finally eased off, thought better allow her get married!
Sighle mar 28 Feb 1935 [her age 36, him age 38], Donnybrook Church, Dublin [GROI], NOT 1937, to Domhnall O'Donoghue.
He is listed as "Daniel O'Connell O'Donohoe" on mar cert [GROI].
Often written by others as "Donal" but he always used "Domhnall", or in Irish, "Domhnall O Donnchadha".
Sighle after marriage went as "Sighle Bean Domhnaill O Donnchadha" or "Sighle Bean Uí Dhonnchadha".
Domhnall was a member of IRA Army Council and editor of An Phoblacht:
Domhnall was born "Daniel O'Connell O'Donohue" on 2 May 1897, see birth cert in [P106/1664], though baptism says born 12 May.
He was son of Patrick O'Donohue, farmer, of "Croft House", Portlongfield, Killashandra par, Co.Cavan (see old map and modern map) and his wife Jane Duffy. Domhnall was born at Croft House.
He was bapt 13 May 1897, St.Brigid's church, Killashandra, see [P106/1665].
Can't find them in 1901 census or 1911 census.
He fought on Republican side in Civil War 1922-23.
When Four Courts attacked June 1922, he was involved in a week of fighting. Arrested, jailed for over a year.
He was on the big hunger strike, Oct-Nov 1923. The men were on hunger strike for 41 days, wrecked his health.
He remained in IRA after Civil War.
Arrested Oct 1926. Jailed in Mountjoy.
He was director of campaign to boycott British goods, started end 1930, resumed 1932 [Ward, 1983].
When De Valera's Fianna Fáil elected 1932, the IRA became legal again for a short time.
Domhnall was leading member of the IRA in the 1930s. Officer of 4th Battalion, Dublin Brigade IRA.
He became a member of the IRA Army Council.
He was editor of An Phoblacht 1934-35, succeeding Frank Ryan as editor. Occupation listed as "journalist" at marriage.
Sighle and Domhnall were only back from honeymoon two days when he was arrested, jailed for 6 months, Apr-Oct 1935, for seditious speech.
They moved 1935 to 18 Eglinton Park, Donnybrook [the former home of her brother Dick, who had now moved to Kingswood].
They are listed at 18 Eglinton Park in [Thoms] from 1936 edn on.
In 1936 De Valera again made the IRA illegal.
Domhnall was Quarter-Master General to Sean MacBride (who was Chief of Staff of the IRA in 1936).
Domhnall arrested in Co.Kerry, July 1936. Jailed in Arbour Hill. Went on hunger strike. Freed Aug 1936.
On 11th May 1937 [NOT 1938] there was an Anti-coronation meeting, scuffles with police. Sighle and other Cumann na mBan girls brought wounded republicans up to Parnell Square [Mac Eoin, 1980].
Domhnall was accountant at Solus Teoranta (Ireland's first and largest light bulb manufacturer, founded 1935, factory in Bray, Co.Wicklow, see modern site).
Pro-Germany in WW2:
In World War 2, like her cousin Mac O'Rahilly and other diehard republicans, Sighle and Domhnall supported Nazi Germany against the British.
Ireland was neutral, and De Valera introduced internment of large numbers of Republicans.
Under every Chief-of-Staff of the IRA from Sean Russell in 1938 to Charlie Kerins in 1944, the IRA supported Nazi Germany, collaborated with them, assisted Nazi spies, and even proposed a Nazi invasion of Northern Ireland. They even threatened to attack the American troops coming to liberate Europe.
Cumann na mBan said Nazi Germany was "fighting Ireland's battle and the battle of all oppressed nations within the empire" (see below).
Sighle was President of Cumann na mBan in 1941,
Sighle and Domhnall supported Nazi Germany, but whether they did any actual work for them is not known. It would not be that strange for people like them, e.g. Cathal Brugha's widow ran a safe house for Nazi spies.
Seán McCool, who did do work for the Nazis, wrote to Sighle from internment, 28 Mar 1944. See [P106/893(1)]. He is disappointed that the war is apparently not going to finish off Britain.
Contrary to earlier reports, [Irish military files] do not seem to have a file on Sighle, and their file on Domhnall only hints at possible German links.
Domhnall worked at Solus Teoranta, which was set up in 1935 by Nazi Party member Heinrich Greiner.
Sighle and Domhnall were friends during or after the war of the Nazi spy Hermann Görtz (died 1947), the Nazi spy Helmut Clissmann (died 1997), and Gwion Hernot (died 1950) of the pro-Nazi Breton National Party.
Domhnall's close comrade Sean MacBride was a Nazi collaborator [McMahon, 2008], [Girvin, 2006].
Eibhlín's diary recorded that Sighle spent the day in tears when Hitler died in 1945.
Dan Breen also wept when Hitler died [Girvin, 2006]. It was the end of their dream that Britain would be defeated.
Even after the war ended, there was a desire not to see the Germans as all bad. [P106/1638(9)] is letter from Sighle, 16 Aug 1945, after Hiroshima. She wrote: "I'm glad that it wasn't the Germans used the Atomic Bomb. That certainly is not war."
Clann na Poblachta:
After the war, Domhnall followed Sean MacBride to the new radical Republican (but constitutional) party Clann na Poblachta. Domhnall was a founder member of this in 1946. Sighle's 1st cousin Mac O'Rahilly was a prominent member.
Domhnall stood for Clann na Poblachta in Dublin South East in Feb 1948 general election, not elected.
His running mate, Noël Browne, on his first election, took all the Clann na Poblachta vote in that constituency. Noël Browne said: "Though we did not know this at the time the innocents in Clann na Poblachta were to be used as political mounting blocks for others, to ease the real "republicans", the ex-IRA, into Leinster House. My function in Dublin South-East was to elect a long-standing member of the IRA, Donal O'Donoghue" [Browne, 1986].
However O'Donoghue only got 559 votes. Browne got 4,917 votes and was unexpectedly elected. "Most certainly I was not elected as a republican; Donal O'Donoghue got the miniscule republican vote".
Domhnall is listed as "accountant" at death.
He died 6 Aug 1957, at his home 18 Eglinton Park, Donnybrook, of stomach cancer, age 60 yrs [GROI],
bur Glasnevin Cemetery.
Sighle remained a diehard republican all her life, even into the modern era of the Provisional IRA, which she strongly supported in the 1970s and 1980s. She visited IRA prisoners in Long Kesh. [P106] has her correspondence with republican prisoners from 1940s to 1980s.
She was a life-long supporter of the Irish language.
She was also a life-long worker for the Society of Saint Vincent de Paul.
She lived 18 Eglinton Park, Donnybrook, until 1980-81.
Her papers were given to [UCD Archives] 1991, indexed 1994.
She died early morning, Mon 14 Mar 1994, Our Lady's Hospice, Harold's Cross, age 95 yrs,
funeral Sat 19th Mar, bur Glasnevin Cemetery.
Sighle and Domhnall had issue:
Darach O'Donoghue.

Cróine O'Donoghue, mar Michael Magan and had issue:

Ríoch Magan, mar Jana Polláková and had issue:

Lianka Magan.
Ríal Magan.
Siân Magan.

Dáiríosa Magan.
Ruán Magan, mar Kerry --- and had issue:

Ríon Magan.
Orán Magan.
Aobh Magan.
Saileóg Magan.

Manchán Magan.
Líadaín Magan, mar Bernd von der Decken and had issue:

Finnia von der Decken.
Ruán von der Decken.
Cian von der Decken.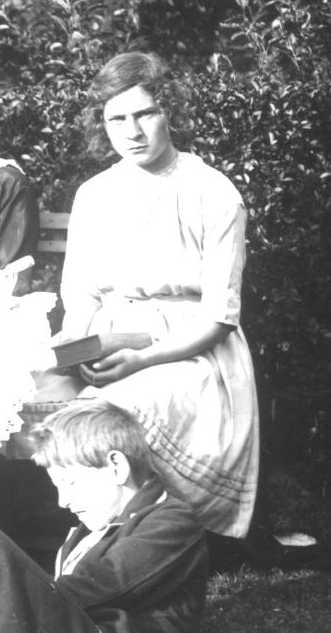 Sighle, pre-1916. From
here
.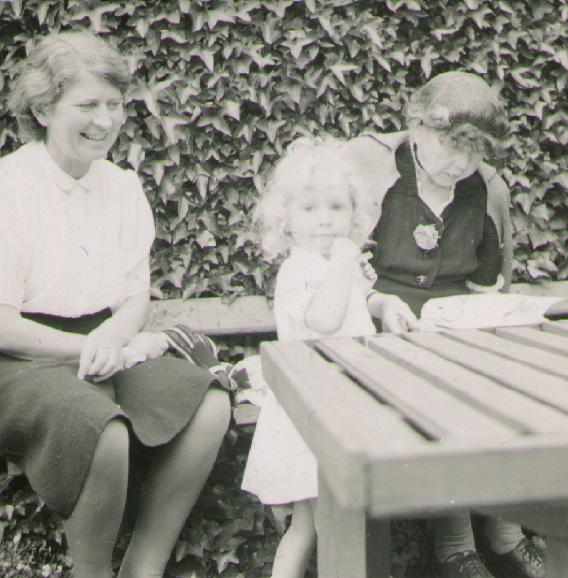 (Left to Right): Sighle, Cróine, Anno, c.1945.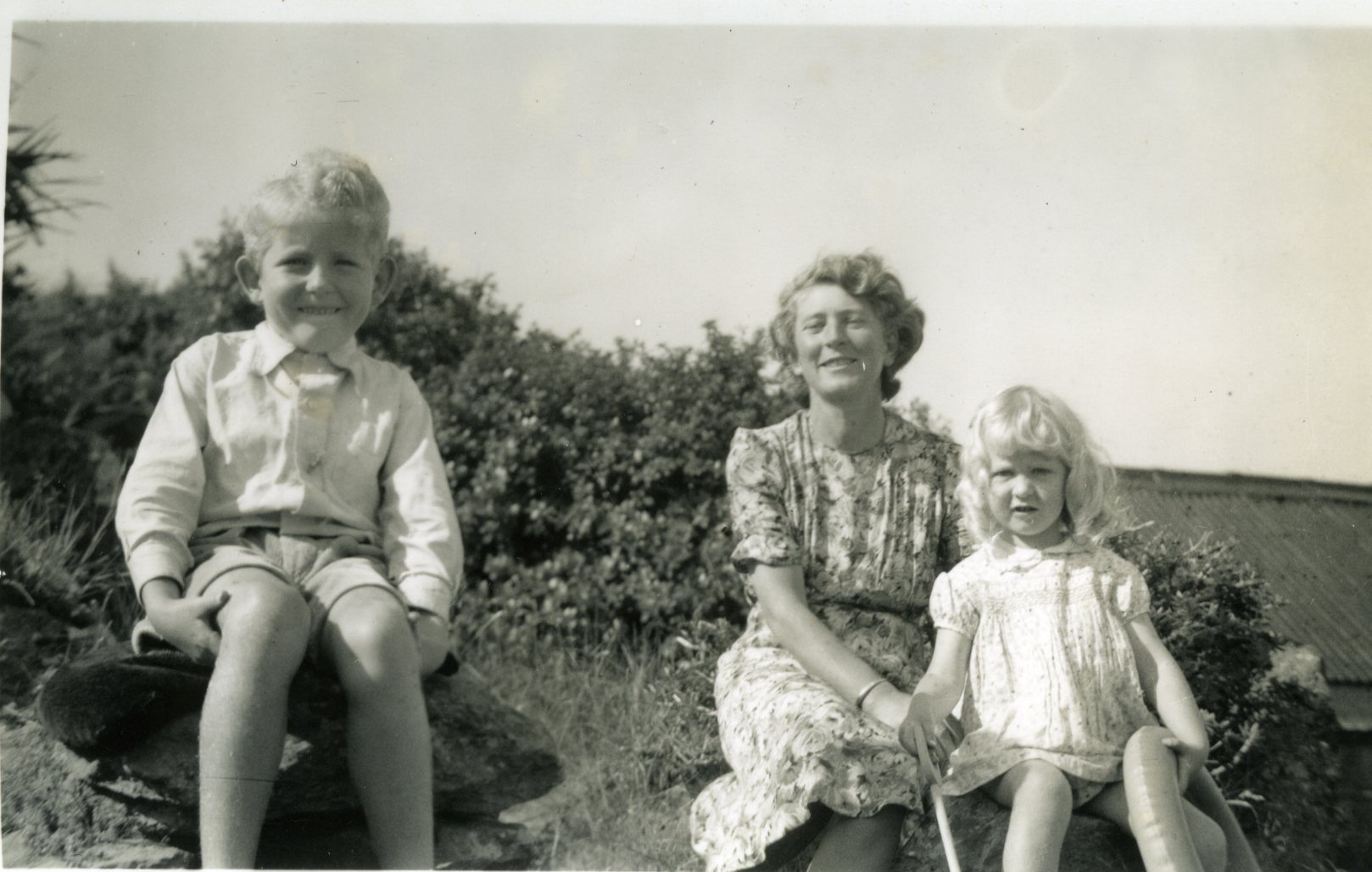 Sighle, c.1945.
See full size.
---
Kilmainham Gaol
The museum has a couple of items which Sighle made in jail.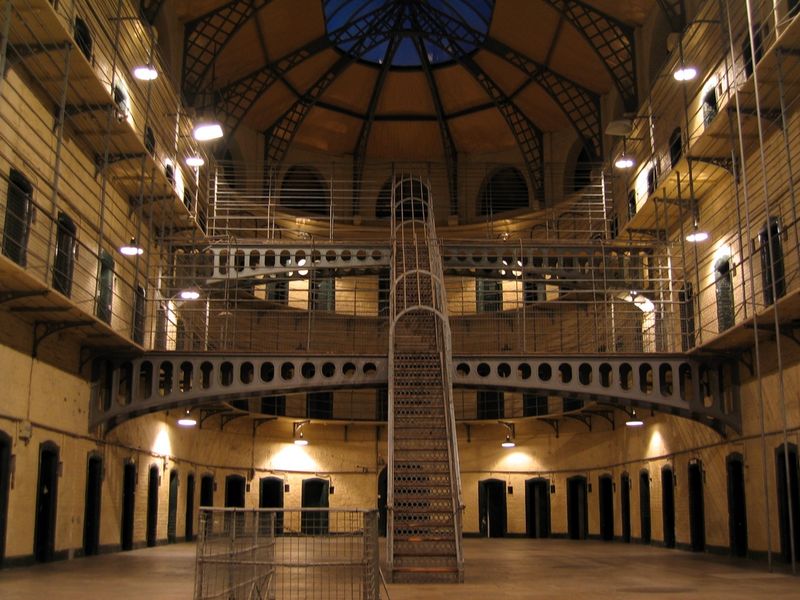 Kilmainham Gaol.
Public domain image from
Wikimedia Commons
. See
full size
.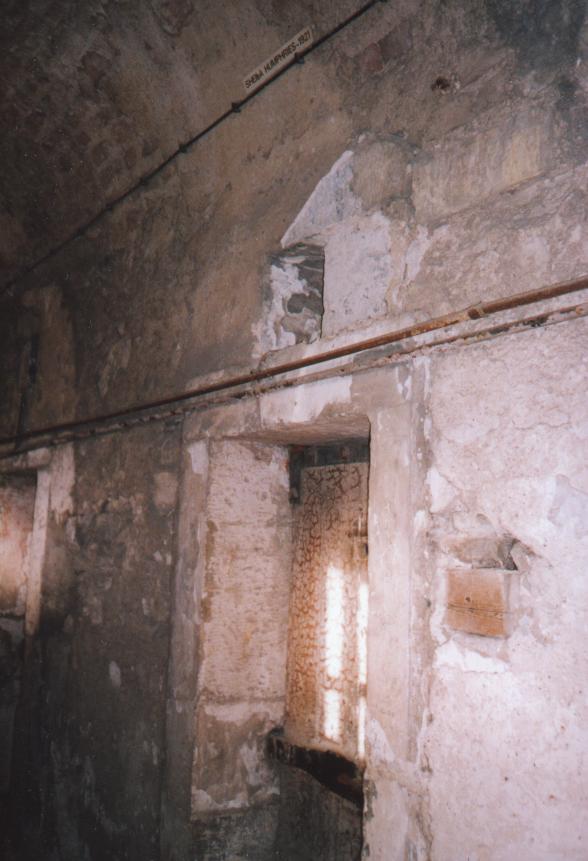 Sighle's cell in Kilmainham Gaol. Photo 2000.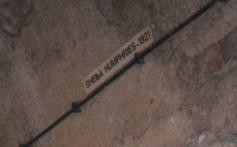 Detail from the above.
The sign says "1921" but not sure if this is correct. Think she was not imprisoned before Independence.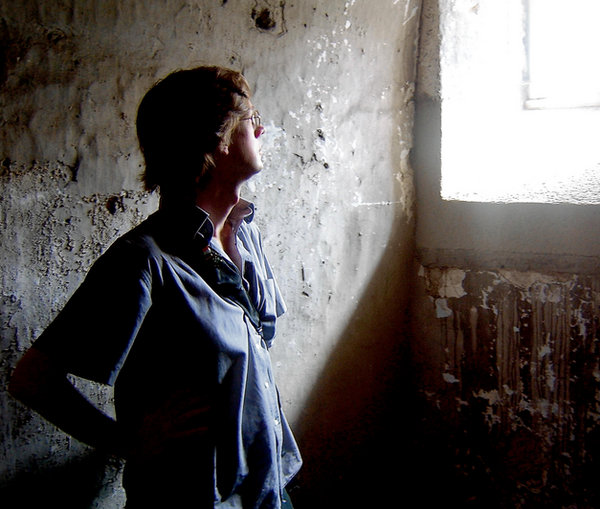 Manchán Magan in his grandmother Sighle's cell in Kilmainham Gaol, think 2011.
From here.
---
Sighle Humphreys grave,
Glasnevin Cemetery
, Dublin.
Location
: yA 120 ½. Go in gate, go to RHS, down to end, turn right, against wall, at end of graves.
See
street view
.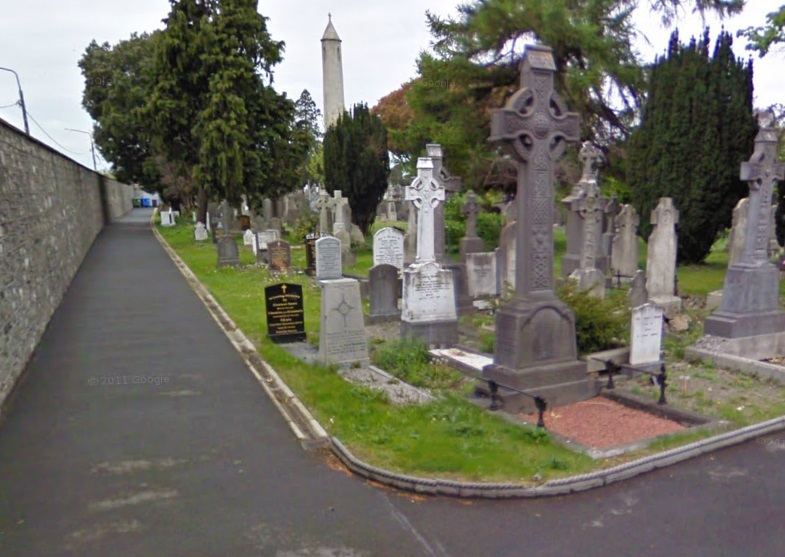 Location of Sighle's grave, Glasnevin.
Screenshot 2011. From
street view
. Click through to rotate.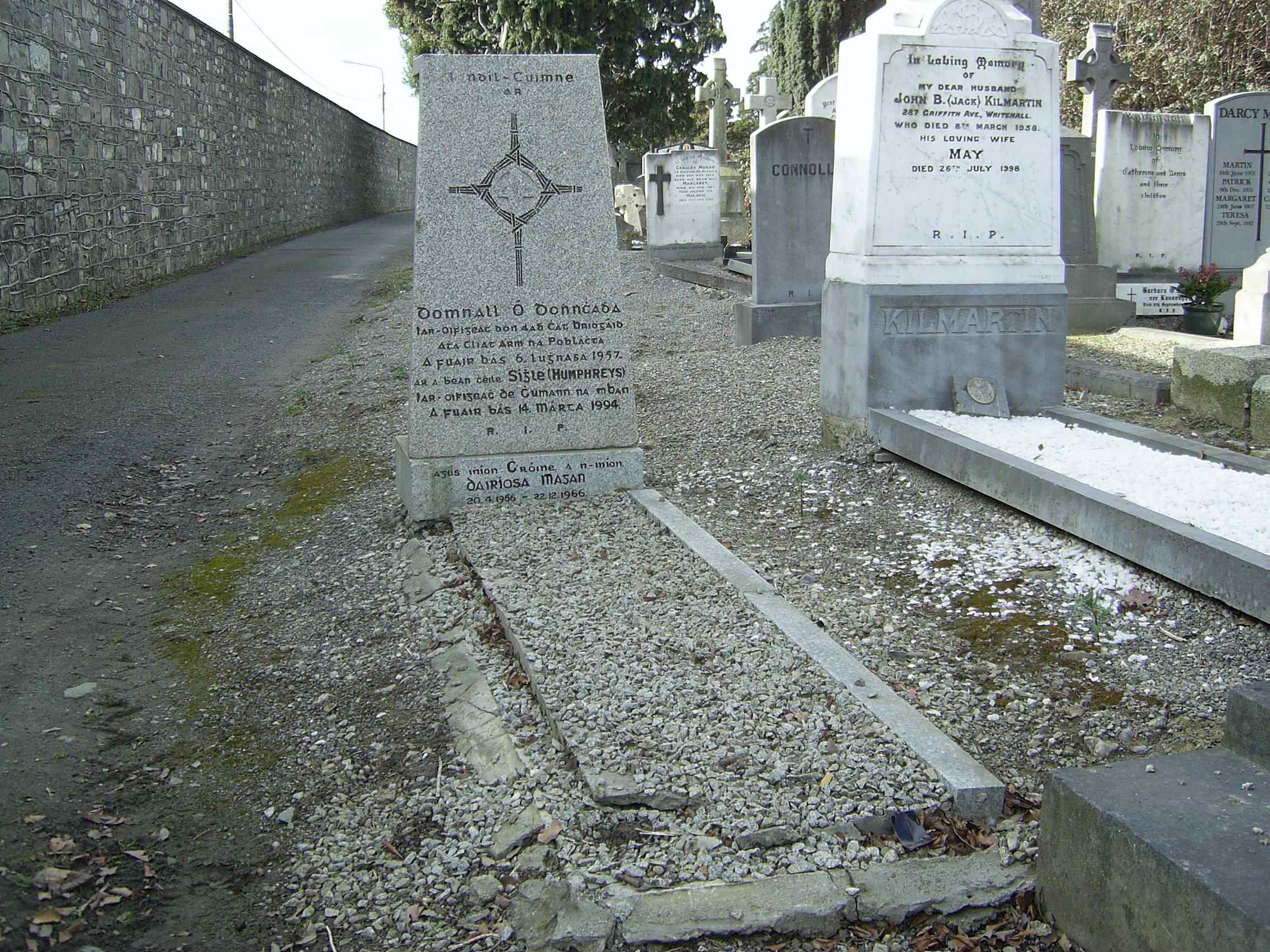 Sighle's grave, Glasnevin.
Photo 2006. See full size and alternative.
See close-up.
---
Papers of Sighle Humphreys
, dates 1845-1989, 30 boxes,
[UCD Archives]
UCDA P106.
Donated by Cróine Magan 1991.
Indexed by Teresa O'Donnell 1994.
Sighle's diaries and memoirs are in index p.138-149.
Sighle's account of 1916, mostly in Irish, 1916-17, P106/968.
Sighle's account of 1916, c.1960s, P106/974.
P106/321 is a very early sketch family tree by me, which is replaced entirely by this site and should be disregarded.
---
I have yet to go through these files.
---
---
---