St.Lawrence, Baron Howth
References:

Sources yet to be consulted: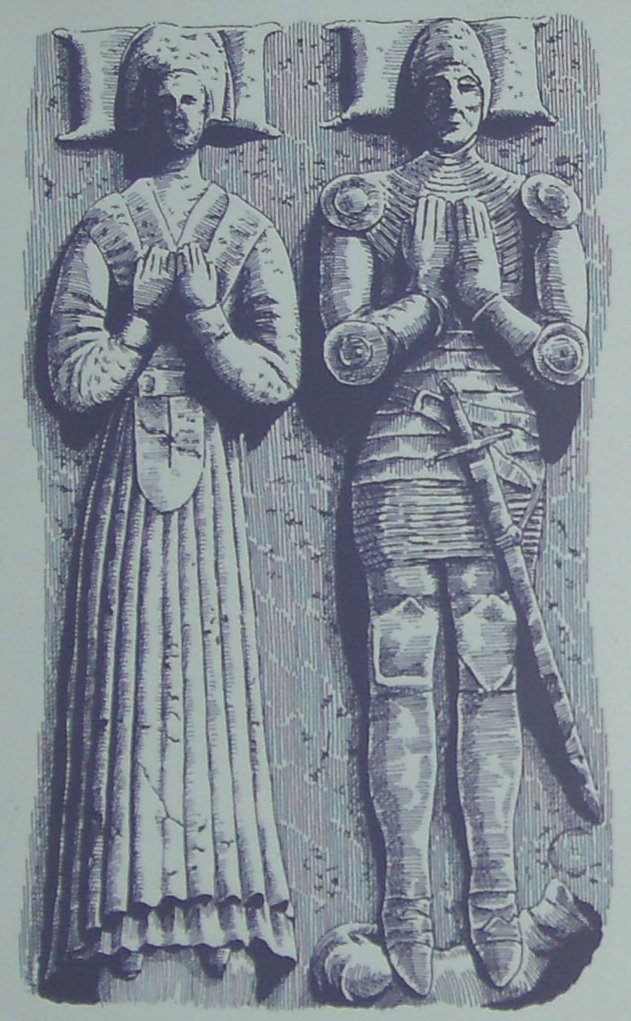 Tomb of Christopher St.Lawrence, 1st Baron Howth (died 1462) and his wife Anne Plunkett.
Photo of plaque at
Howth Abbey
.
See
larger
and
full size
and
original
.
See also
drawing
and
inscription
from
[Ball, vol.5, 1917]
.
The origin of the title Baron Howth is obscure, and different numbering systems are used.

Sir Armoricus Tristram,
of Normandy,
it was said that on the eve of the feast day of St.Lawrence, 10th Aug 1177, he won a famous victory for the new Anglo-Norman invaders of Ireland over the remnant Vikings at Howth (near the present site of Howth Castle),
adopted the name "St.Lawrence" as a result,
killed in battle by the Irish 1189,
however [Complete Peerage] says this is mythical,
had issue:

Sir Nicholas Fitz Amorey, of Howth,
had issue:
Almericus de St.Lawrence, Lord of Howth,
granted a charter of confirmation of the lands of Howth by John,
had issue:
Sir Nicholas St.Lawrence, Lord of Howth,
had issue:
Adam St.Lawrence, Lord of Howth,
mar Isabella ----,
had issue:
Adam St.Lawrence, Lord of Howth,
mar Scholastica ----,
died 1334, had issue:

Nicholas St.Lawrence, Lord of Howth,
his father died 1334,
he was a minor in 1337, when he was made a ward of John Plunkett, of Bewley, Co.Louth,
mar his guardian's dau Alice Plunkett,
died 29 Sept 1404,
had issue:
Stephen St.Lawrence, Lord of Howth,
mar Elinor Holywood,
died 1435,
had issue:




Christopher St.Lawrence, 1st (13th) Baron Howth,
the Barony was recognised later by the Crown in 1489, and he was recognised in retrospect as the 1st Baron, but the Lordship of Howth was considered to be much older,
mar pre-1435 to Anne Plunkett,
she is on the tomb with him,
[DNB] seems to be wrong to list his wife as "Elizabeth Bermingham of Athenry",
succ 1435,
he died 1462 [according to tomb],
he died between Sept 1462 and Jan 1464 [the latter is the date using [NJ] date format, this was regarded at the time as the end of 1463],
both bur St.Mary's "Abbey" Church, Howth,
HOWTH in [Lewis, 1837] says: "Among the monuments is one of marble to Christopher, 13th baron of Howth, and his lady, whose effigies are still entire, ... decorated with sculptured emblems of the crucifixion, and coats of arms",
tomb inscription says in Latin that here lies Lord "Cristoferus de Sancto Laurent" and his wife Lady "Anna" daughter of "Plunket" of "Ratoath", his Lordship died in "MCCCC Sexto II" (1462), God have mercy on their souls,
had issue:




Robert St.Lawrence, 2nd (15th) Baron Howth,
born c.1435 (age 28 at father's death),
also styled the "15th Lord of Howth",
sheriff of the county of Dublin in 1456,
mar 1stly, pre-1459, to Alice White [dau of Nicholas White, of Killester, Co.Dublin],
through his wife he acquired the manor of Killester,
succ 1462-64,
Howth Castle was originally built 1464,
Alice died pre-1478,
mar 2ndly, 1478, to Joan Beaufort [descendant of Edward III],
appointed Lord Chancellor of Ireland 1483, but this appointment was obstructed by 8th Earl of Kildare,
died 1486, London, age c.51 yrs,
bur Blackfriars, London,
had issue by 1st wife:

Nicholas St.Lawrence, 3rd (16th) Baron Howth,
[Complete Peerage] says he is child of 1st mar, not 2nd mar,
and proof is that he informs the King of a plot in 1487, which he would hardly do if he was 9 years old.
---