John Eagar
John Eagar
,
mar Dorothea Tallis,
had issue:
James Eagar,
mar Margaret Day,
had issue:

Tallis Eagar,
bapt 1 June 1729 [Dingle CoI par records].




Philip Eagar,
of Ballinvoher, Co.Kerry.
Ballinvoher is a large parish at the SE end of the Dingle peninsula.
He mar Elizabeth Blennerhassett.
They had issue:

Geoffrey Eagar.
"Jeffery" at mar and children's baptisms.




Francis Eagar,
mar Honoria Hickson,
he died 1772,
had issue:

Thomas Eagar,
of Rathpoge, Kilcolman par, Co.Kerry,
mar 1stly to Eliza Eagar and had issue.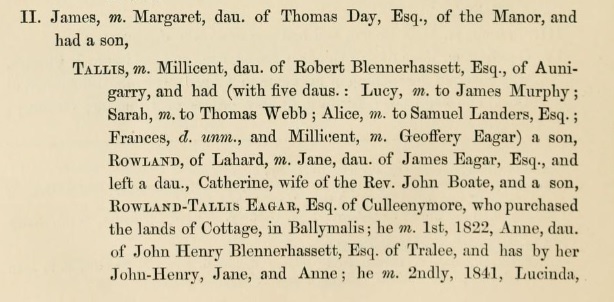 Families of James and Philip.
From EAGAR in
[Burke's Arms, 1860]
. From
pp.214-215
.