Wallace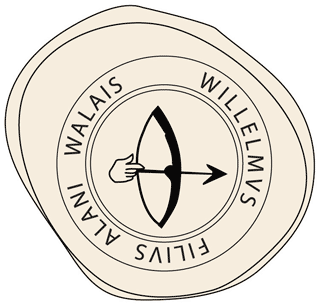 Seal of William Wallace on the
Lubeck letter
of 1297.
"Sir Malcolm Wallace" was the traditional name for Wallace's father.
But this is signed
"William, son of Alan Wallace"
.
Alan Wallace,
of Ayrshire.
He mar
Margaret Crawford
[dau of Sheriff of Ayrshire].
They had issue:
William Wallace, born c.1270.
Hero of Scottish independence.
His father died early.
His uncle Sir Reginald Craufurd, 4th Sheriff of Ayrshire was supposed to have been a father figure to him.

First War of Scottish Independence:
In 1296, after a lengthy dispute over the Scottish succession, England under Edward I invaded Scotland, and claimed dominion over Scotland.
This began what is now called the First War of Scottish Independence (first phase 1296-1314).
Wallace emerged as one of the Scottish leaders in 1297.
He achieved a major victory at the Battle of Stirling Bridge in 1297.
But he suffered a major defeat at the Battle of Falkirk in 1298.
The Scottish-English war continued for years.

Wallace was captured in 1305.
He was executed by Edward I in London, 23 Aug 1305.
---
The movie Braveheart
The hugely popular movie Braveheart (1995) is a Hollywood version of the life of William Wallace.
This has so many historical inaccuracies that it is basically a work of fiction. It is often considered one of the most inaccurate films ever made.

In the love story, Isabella could not have been a lover of William Wallace. She was only 13 years old (or younger) and living in France when Wallace was executed in 1305. She only married and came to England in 1308, and did not give birth until 1312. The whole story is nonsense.
There are many other problems, such as why Edward I is referred to as a "pagan", the date of his death (1307), and the date of Gaveston's murder (1312).

Lists of errors in Braveheart:
One of the most inaccurate movies ever made.
At the start of
Braveheart
, the narrator speaks.
After 20 seconds he claims Edward I was a "pagan".