James Fitzgerald, 6th Earl of Desmond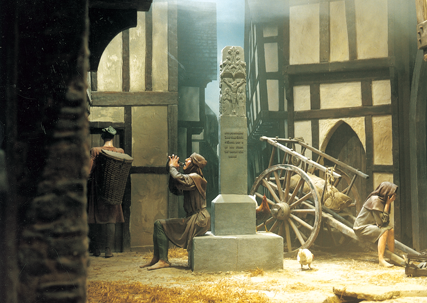 Kerry County Museum
has a
reconstruction of Tralee in 1450
. See
2016 photo
.
The
Geraldine arms
are shown above the town gates. See
2020 photo
.
James Fitzgerald, 6th Earl of Desmond
.
See
wikipedia
and
genealogics
.
He mar
Mary Burk
[dau of Ulick mac Rickard Burk].
He became Earl in 1418 when he dispossessed his nephew
Thomas Fitzgerald, 5th Earl of Desmond
.
James was called "the Usurper", but he kept the Earldom for decades, and passed it to his line.
In 1420 he was appointed
Seneschal of Imokilly
(sheriff of Imokilly).
Imokilly
is a barony in Co.Cork, whose chief town is Youghal.
He sent
Richard Fitzgerald
to take up the position.
He re-built
Dominican Priory, Limerick
.
Mary died 1435.
6th Earl died at Mocollop, Co.Waterford, in 1462 or 1463.
[Complete Peerage]
says he was bur Youghal.
6th Earl and Mary had issue:
Joan Fitzgerald,
mar Thomas Fitzgerald, 7th Earl of Kildare and had issue.