Míceál Cosgrave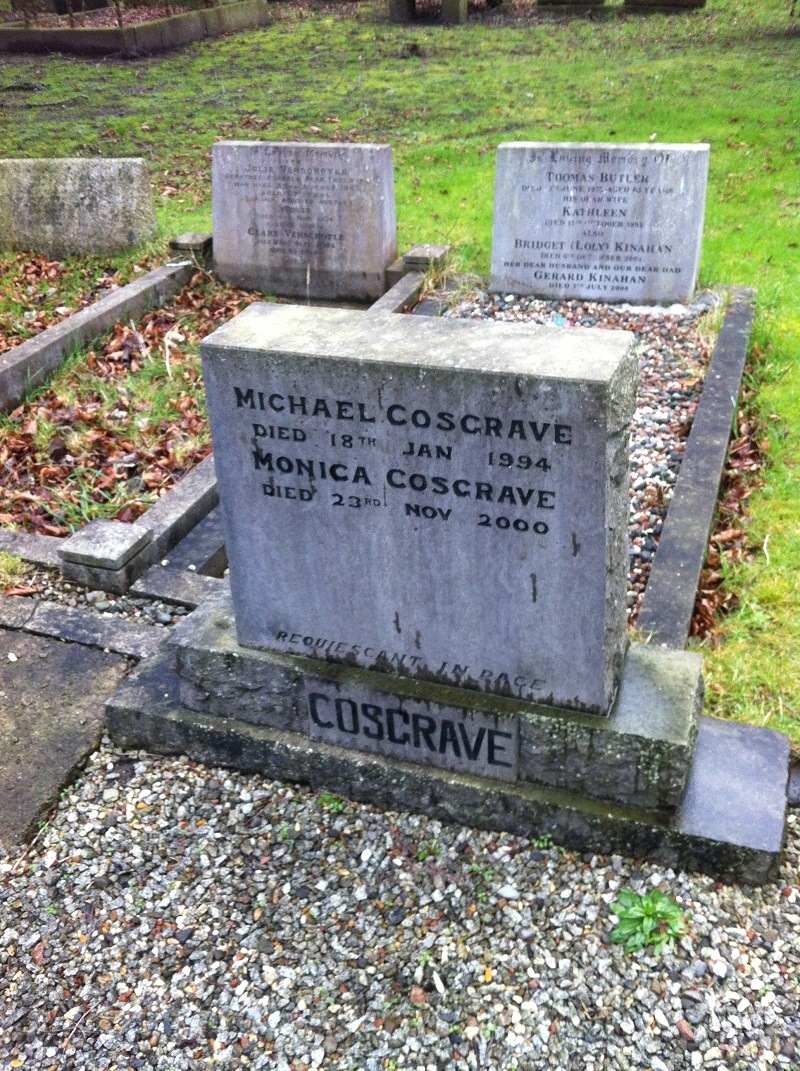 Grave of Míceál Cosgrave at
Goldenbridge cemetery
.
Photo 2016. See
full size
.
From John O'Grady.
Míceál Cosgrave
,
Michael, born 13th Apr 1922.
Member of
South County Dublin Harriers
.
He mar
Monica Barton
[born c.1932].
Lived
Headford
, Co.Galway.
He died Tue 18 Jan 1994, University Hospital, Galway, age 71 yrs.
See death notice in Irish Times, 19 Jan 1994, p.26.
Funeral Thur 20 Jan 1994, bur family grave, Goldenbridge cemetery, Inchicore, Co.Dublin.
At funeral his son Michael said: "Dad was a simple man of great generosity who loved to see people happy. His great interest was horse-racing and now that he has crossed the finishing line, let us hope he is now in the winner's enclosure".
Monica left Galway 1994.
She moved to Donabate, N Co.Dublin.
Later in retirement complex, Mount Anville, Co.Dublin.
She died 23 Nov 2000, age c.68 yrs.
She was bur Goldenbridge cemetery, Inchicore, Co.Dublin.
Míceál and Monica had issue:
Ronnie Cosgrave,
had issue:

Ro Cosgrave.

Louise Cosgrave.
Marita Cosgrave.

Michael Cosgrave,
mar Maria Austin and had issue:

Mia Cosgrave.
T.J. Cosgrave.

Rod Cosgrave.