Hilligan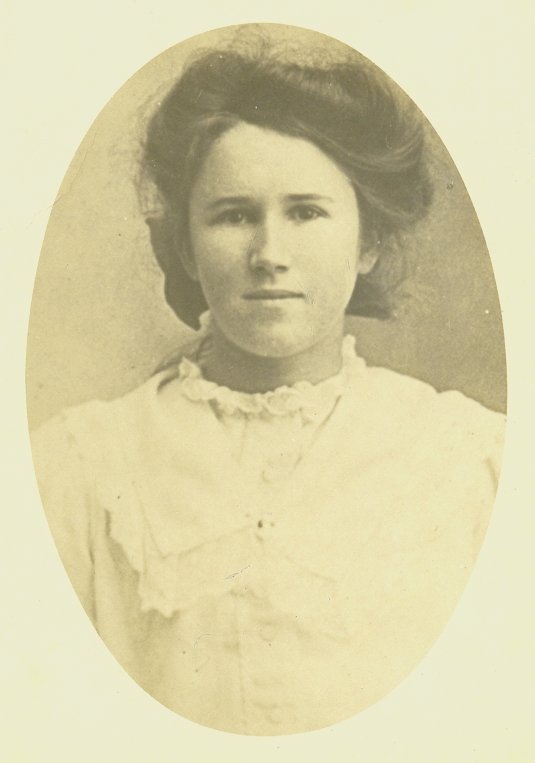 Robina Gibbon, 1918.
Image courtesy of
Mike Hilligan
.
Augustus Hilligan,
had issue:

Charles E. Hilligan,
Charles Edward, born "Kingwilliamstown", South Africa, 25 Dec 1889,
mar 1 Mar 1920 to Robina Gibbon [born 4th Nov 1888],
they lived Bathurst, Eastern Cape, South Africa,
he wrote Historic and descriptive review of Bathurst, pub South Africa, 1952, a booklet published on 300th anniversary of the landing of Jan van Riebeeck in South Africa in 1652,
Robina died 10 Dec 1963, Grahamstown, Eastern Cape, South Africa, age 75 yrs,
he died Bathurst, 4 Sept 1964, age 74 yrs,
had issue:
Rex Hilligan,
Rex Montgomery Hilligan, born Bathurst, 16 Nov 1920,
fought in South African Air Force (SAAF) for the allies in WW2,
he was Lieutenant, 5 Squadron, SAAF,
killed near Gabes (see map), E coast of Tunisia, North Africa, 27 Mar 1943, age 22 yrs,
killed in the allied re-capture of Tunisia from the Germans (see map of campaign),
he is buried with other allied dead in Sfax War Cemetery, Sfax, N of Gabes, Tunisia, grave/memorial VI.E.24,
family correspondence says his plane went down near the road between Gabes and El Hamma (W of Gabes, see map), the wreckage of his plane and a marked grave were found a few days later (presumably locals had buried him), the allies moved his body to Sfax cemetery,
see entry at [CWGC].




Brian Hilligan,
mar 1stly to Anna Marthina Francina Pienaar and had issue:

Rex Hilligan, mar Magda Magdalena Prinsloo and had issue:

Ryan Hilligan, mar Inge-Marie Hough.
Natalie Hilligan, mar Ibrahim Zeid and had issue:

Gabriel Zeid.

Johnathan Hilligan.

Michael Hilligan,
mar 1stly to Charlotte Elizabeth Maria Rossouw and had issue:

Michelle Hilligan, had issue:

Kirsty Hilligan.

mar Shawn Vermaak and had issue:

Kayla Vermaak.
Kyle Vermaak.

mar 2ndly to Lesley Merrill Spinas and had issue:

Cara Hilligan.

Garth Hilligan, mar Annetjie Stolz and had issue:

Craig Hilligan.
Eric Hilligan.

Brian mar 2ndly to Julie Knight.




(child) Hilligan,
died at birth, Bathurst, 11 Dec 1928.