Dr. Nicholas Gibbon
References:

Research on Nicholas Gibbon by Christine Gibbins.
"Nicholas Gibbon, D.D.", C.J. Robinson, Notes and Queries, Vol 11, 2nd S. (264), 19 Jan 1861, p.50.
Rev. John Walker, The Sufferings of the Clergy during the Great Rebellion, 1714, part ii, 251-52 (see entry on Nicholas Gibbon, D.D.).

Sources yet to be consulted:

Nicholas Gibbon in [DNB]. Has list of his works.
Wood's Athenae (Bliss), iv, 788. Has list of his works.
Hutchins Dorsetshire, I, 295, 297.
Dr. Nicholas Gibbon
,
Church of England clergyman and writer,
born
Poole
, Dorset, 1605.
He was educ
Queen's College
, Oxford (entered 1622). [
Oxford Alumni
] says
matric
12 Dec 1623.
BA 1626, MA 1629.
Rector of
Sevenoaks
, Kent, 1632 (or 1631) until turned out in English Civil War.
He mar Mary ----.
He was further educ at
St Edmund Hall
, Oxford (entered 1632).
BD
1639.
D.D. (Doctor of Divinity)
1639.
Civil War and Commonwealth:
During the English Civil War (1642-51), his support for Charles I led to him being "sequestered" (turned out of Sevenoaks) 1643. (New Rector appointed 1645.)
He was "turned out of Sevenoaks, with 11 children, and obliged to rent a piece of land of £4 per annum, and drive the plough himself ... He subsequently lived with a farmer as his servant" [Robinson, 1861].
"when, being seized, and brought before the committee in Kent" [think 1645] "they asked him how he spent his time. He answered, that by day he wrought for his master, and ... part of his night he spent in study; and showed them his hands, callous and hard by labour." [Robinson, 1861]. When mocked for this he replied: "Mallem callum in manu quam in conscientia" ("I should prefer a callous on the hand than on the conscience").
He was then offered restoration of his living if he would take the covenant, but he refused to do so.
In exile he produced political and religious writings that were widely read.
A committee of the House of Lords voted to restore him 1647, but no action was taken.
"In 1648 Gibbon was called upon by Charles I on the Isle of Wight to discuss with him and his council the contested issue of church government. Gibbon also spoke to a commission of ministers sent by parliament to confer with the king." [DNB].
Charles I was executed 1649. Commonwealth 1649-60.
At the Restoration 1660, Gibbon regained the rectory of Sevenoaks.
He was also given a position as Rector of the village of Corfe Castle (and images and here), near Wareham, in Dorset.
NOT to be confused with Corse Castle, Aberdeenshire.
Corfe Castle, Dorset, was owned by the Royalist Bankes family. The castle itself had just been destroyed by the Parliamentarians in the civil war. The Bankes family moved to a new seat elsewhere in Dorset, but they still owned Corfe Castle village (also just called Corfe) and lands.
Gibbon would have been Rector of Corfe Castle village, rather than at the castle itself, which was now an uninhabited ruin.
He published a number of popular works, many devoted to finding ways to resolve religious differences peacefully.
He is mentioned in the Gibbon grant of arms 1681.
He wrote to College of Arms, 4th Apr 1681, from Corfe Castle, Dorset.
He died Corfe Castle, 12 Feb 1697 [using [NJ] date format, note that at the time this was regarded as the end of 1696], age 92 yrs.
He was bur Corfe Castle, 17 Feb 1697 [Corfe Castle burials].
Nicholas and Mary had issue:
10 other children, Gibbon.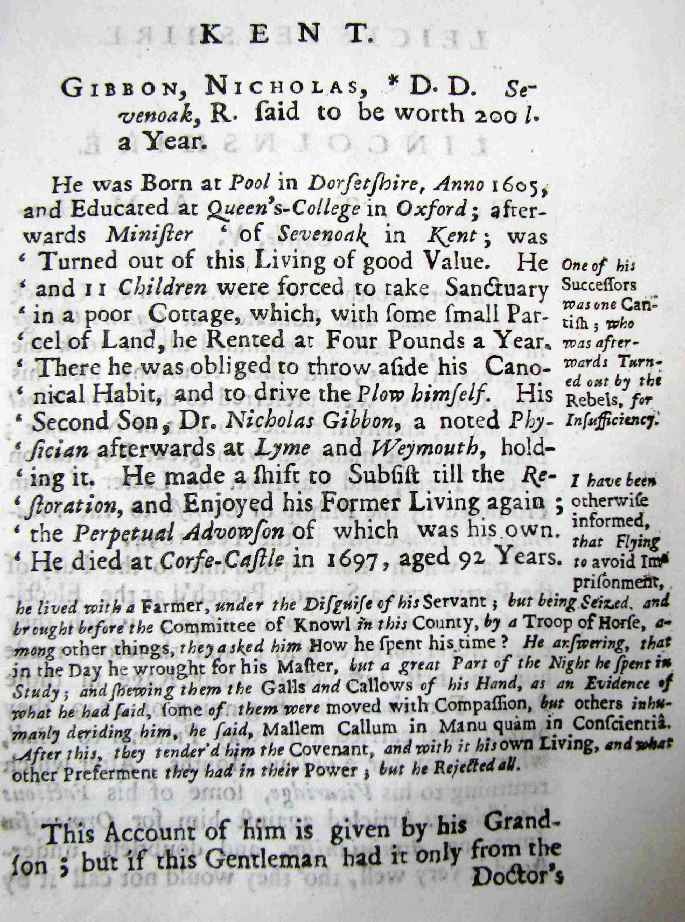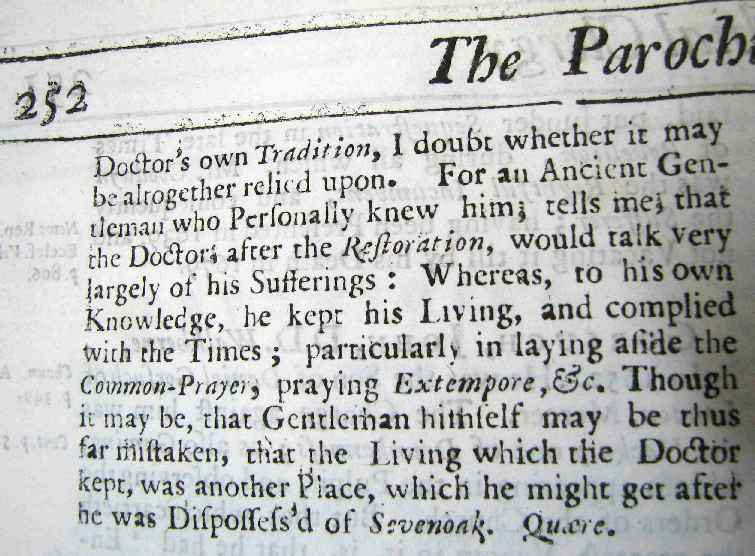 Entry on Nicholas Gibbon, D.D., in
[Walker, 1714]
.
Courtesy of Christine Gibbins.
(Left) See
full size
.
(Right) See
full size
.