Manning
Jeffrey Manning
,
bapt 17 March 1639 (new style year),
Hawstead
, Suffolk,
went to America,
mar in Massachusetts to
Hepzibah Andrews
,
had issue:

Mary Manning,
mar 1677, Piscataway, New Jersey, to Samuel Hull,
had issue:
Mary Hull, born 1681,
mar Jacob Piatt [born 1678] and had issue.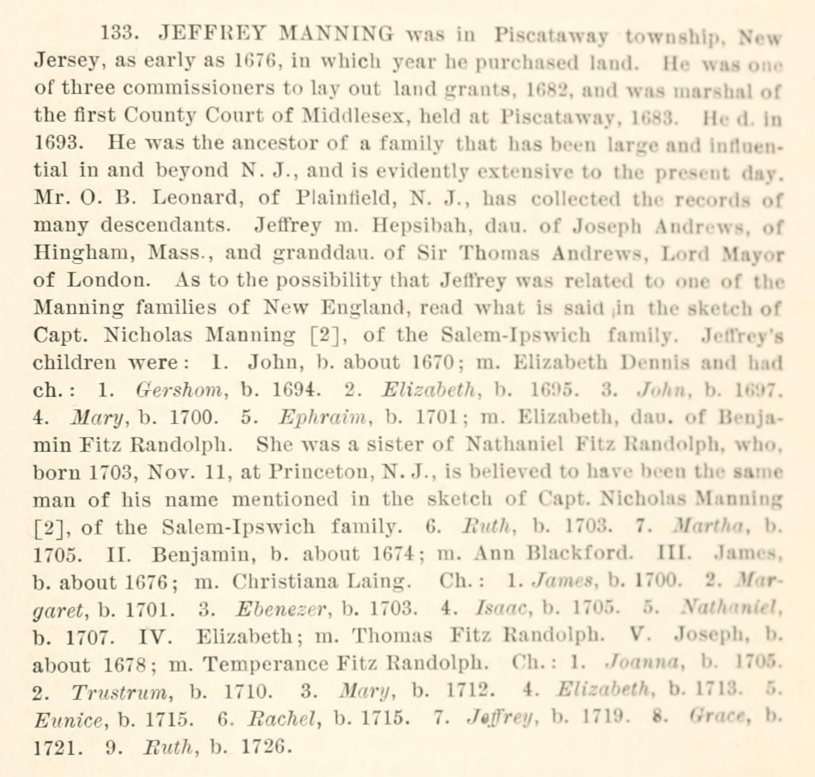 From
p.805
of
The Manning families of New England
(1902).
Shows Jeffrey Manning marrying "Hepsibah Andrews".
Does not show dau Mary.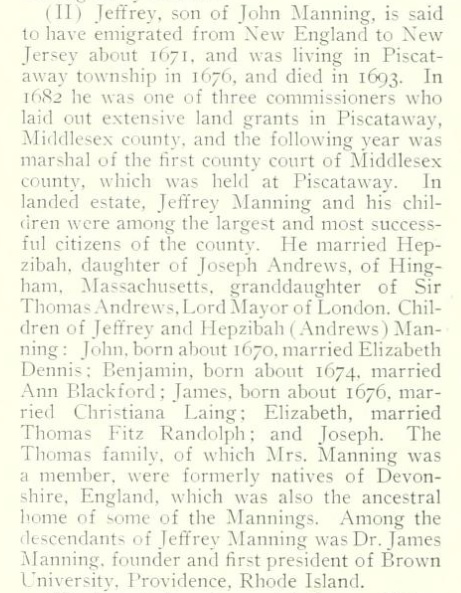 From p.1034 of Genealogical and memorial history of the state of New Jersey (1910, vol.3).
Shows Jeffrey Manning marrying "Hepzibah Andrews".
Does not show dau Mary.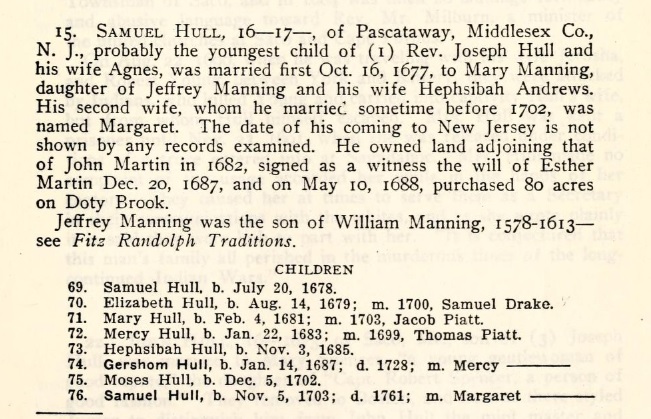 From p.257 of The Hull family in America (1913).
Shows Samuel Hull marrying 1677 to Mary Manning, dau of Jeffrey Manning and "Hephsibah Andrews".
Note there is a 15 year gap in the children's births, which indicates Mary died soon after 1687 and the later children are of Samuel's 2nd marriage.
Eibhlín Humphreys (nee Sigerson Piatt)
was my grand-aunt. I knew her, and talked to her about the family tree before she died in 1986.
Many years later, I discovered her ancestry went back to 17th century America. In 2010, I realised from [Roberts, 2008] that this could lead to a Royal Descent. Unfortunately, two attempts to construct a Royal Descent for her have failed.
Descent from Henry III (disproved)
In 2010, I discovered an apparent descent of Eibhlín from Henry III.
See attempted descent through Mary Gye and then Prowse and Baynton and Echyngham and Fitzalan. See [Roberts, 2008, p.377].

Baynton line is disputed. Gye line is wrong:

In 2014, I discovered that the connection of Baynton to Fitzalan is disputed. See discussion "Echingham/Baynton Line not supported" on soc.genealogy.medieval. See counter-arguments at Wikitree.
This later turned out to be academic since the connection to Mary Gye is wrong. See below.
Descent from Henry II (disproved)
In 2014, abandoning the above descent, I discovered another apparent Royal Descent of Eibhlín, from Henry II.
See attempted descent through Mary Gye and then Dowrish and Farringdon and Stukeley.

Gye line is wrong:
---