Jacques Icard
Jacques Icard
,
of
La Ciotat
, near Marseille, France.
Catholic family.
Possibly born 1683.
He was a
"tailleur d'habits"
(a tailor).
He went probably pre-1725, certainly pre-1737, to
Smyrna
in W Turkey.
In Smyrna there developed a population of western European merchants and traders. See
historical background
.
He mar pre-1725 to
Anne Vassal
[of
Syros
, a Greek island in the Aegean Sea].
Both fl 1748.
Jacques and Anne had issue:
François Icard,
born 1725, tailor.
He mar 1753, Smyrna, to Marianne Raimondi.
Listed as age 56 in [1781 document].
He died 1812.




Jacques Icard,
born 1729, tailor.
He mar 1757, Smyrna, to Anne Glicofridi.
[1776 document] lists the French in Smyrna in 1776 as including: "Artisans ... Icard père et fils tailleur". This seems too late to refer to Jacques the elder. It may refer to Jacques the younger and his son Joseph.
Jacques is listed as age 52 in [1781 document].
Jacques and Anne had issue:




Joseph Icard.
He was a tailor.




Fr. Joseph Icard,
Monsignor,
died 1789.




Jeanne Icard.




Marguerite Icard,
or Margaret.
[Goulburn, 1892] has her as "Margoton Ickhard, or Icard".
"Margoton" is a French version of "Marguerite".
She was born in Smyrna, 30 Dec 1737 [register of French Consular Chapel at Smyrna].
Some writers thought Icard might be "Greek", but this may be just because all the Europeans in Smyrna (the Greek part of Turkey) were sometimes called "Greeks".
[1748 document] says she and her sisters are "filles qui gagnent leur vie en travaillant à la cantine" ("daughters who make their living working in the canteen").
She mar at Smyrna, pre-1763, to William Maltass and had issue.




Marie Icard.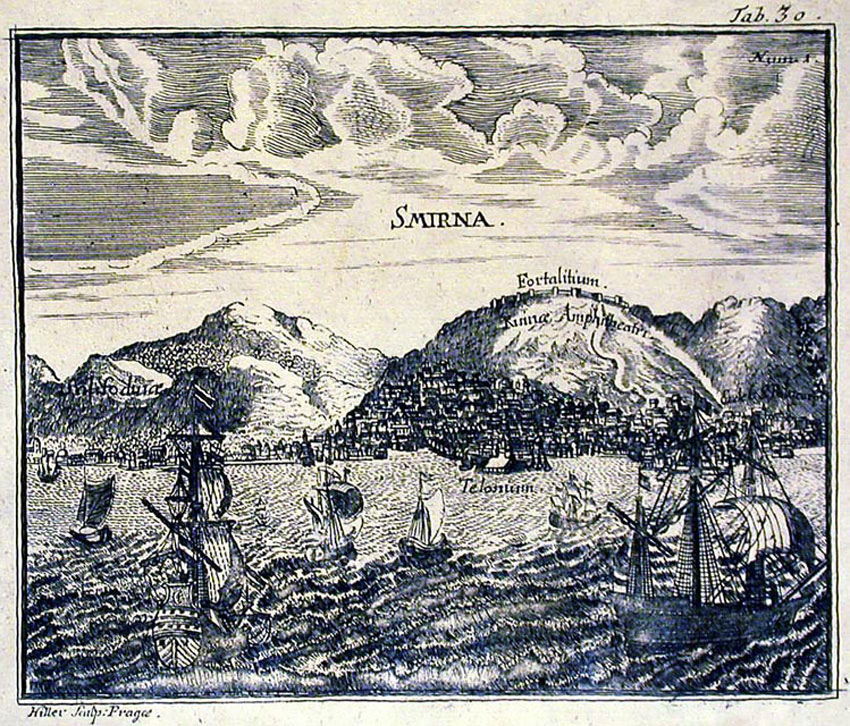 Smyrna in a book of 1735.
From
Levantine Heritage
. Used with permission.


Extract from [Maltass letter, 1892].
---
Sources yet to be consulted