William Maltass of Smyrna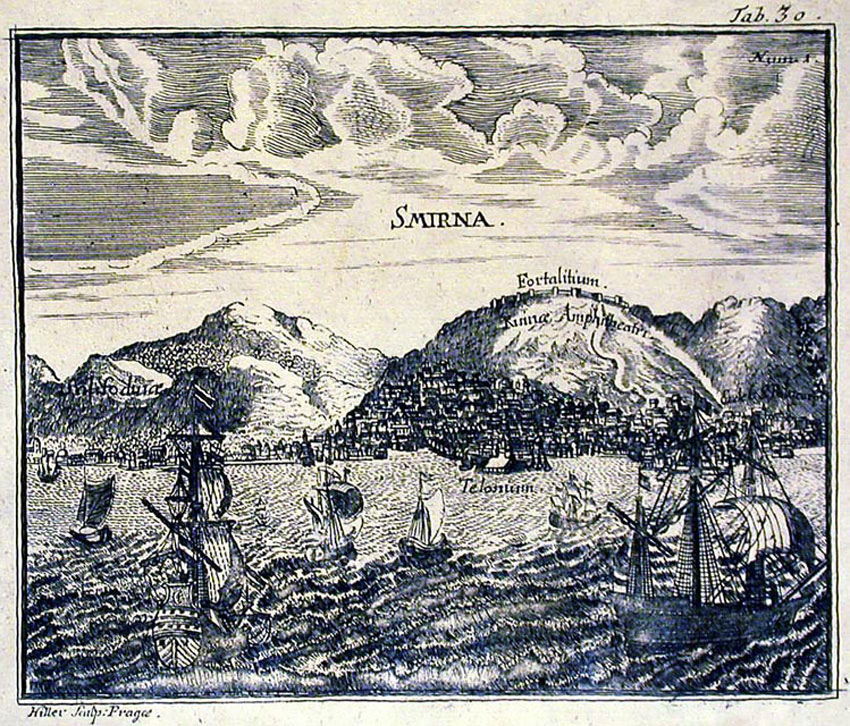 Smyrna in a book of 1735.
From
Levantine Heritage
. Used with permission.
William Maltass
,
born
Ripon
, N Yorkshire.
See
entry
on Wikitree.
He went in mid-18th century (pre-1763) to
Smyrna
, an important port in the western (Greek) part of what is now Turkey.
Many European merchants lived in Smyrna. See
historical background
.
He was a merchant in Smyrna.
Member of the
Levant Company
.
Perhaps it was the wool trade that brought him to Smyrna. The Levant was a major source of wool for the wool trade in Yorkshire (where Maltass came from).
He mar at Smyrna, pre-1763, to Marguerite Icard [born 30 Dec 1737].
He is described as "agent" for George Baldwin, who controlled the trade route to the East through Suez. Baldwin married his daughter.
William and Marguerite had issue:
Sarah Maltass,
[Goulburn, 1892] says she was elder sister of Jane,
mar pre-1790 to Chevalier Ambroise de Cramer [born 10 Feb 1757] and had issue.




Jane Maltass,
born 26th June 1763, Smyrna,
[Starkey, 2001] says she was age 16 at marriage,
mar 1779 to George Baldwin and had issue.
She was famously painted by Sir Joshua Reynolds in 1782.




Susan Maltass, born est c.1770.
She mar 1791 to Augustus Montgomery (formerly Reebkomp) and had issue.
Augustus was a Royal Navy Captain.
He served in the Mediterranean in 1790-91, and that is probably how they met.
See Turkey - Historical background.
He met her by Feb 1791. "Miss Smyrna" is mentioned in a letter by Reebkomp's father on 12 Feb 1791 [Pembroke Papers, vol.2, p.461].




Mary Maltass, Maria,
mar 4th Sept 1797, Smyrna [LDS IGI]
to John Lee [who resided at Boudjah, nr Smyrna] and had issue:

John Lee, married.
George Lee.

Mary Lee.
Susan Lee.
Sophia Lee.
Emma Lee.
Emilie Lee.




Margaret Maltass,
mar --- van der Schoeff [or poss. "Vanderrchieff", who resided at Smyrna],
she fl 1844,
had issue:

3 sons, van der Schoeff, all died pre-1844.
John Maltass,
prob. married in 1805,
built what is now called The Steinbuchel House in Bornova, near Smyrna.




William Maltass,
married in 1806.




Benjamin Maltass,
born 1778.
He was educ at school in London.
He returned to Smyrna 1800.
He mar 1812 to ---- [probably Rosina ----, see below].
Merchant in Smyrna.
He wrote 1844 letter from Smyrna to his niece Elizabeth Montgomery.
He died 6 Feb 1862, age 84 yrs.
He was bur Anglican cemetery, Buca.
Benjamin and his wife had issue:




Richard Maltass,
"who has the misfortune to be dumb" [1844 letter].

Amilea Maltass,
mar and had a son and dau, as at 1844.

Stephen Maltass,
due to be mar winter 1844-45.
The [Rees family papers] refer to Benjamin as "ancestor of the Stephen Maltass family".

William James Maltass.

John Frederick Maltass,
must be "John F. Maltass" who mar Helene --- and had issue:

Oscar Alfred John Maltass, born 24th Nov 1863, Turkey [LDS IGI].

Caroline Maltass.
3 others, Maltass, who died young.

One of these must be:

"Eliza Ann Maltass",
dau of Benjamin Maltass and "Rosina",
born 2 Sept 1814,
bapt 21 Oct 1815 [British Chaplaincy, Smyrna].




George Peter Maltass,
fl 1796 (mentioned in Reebkomp's will).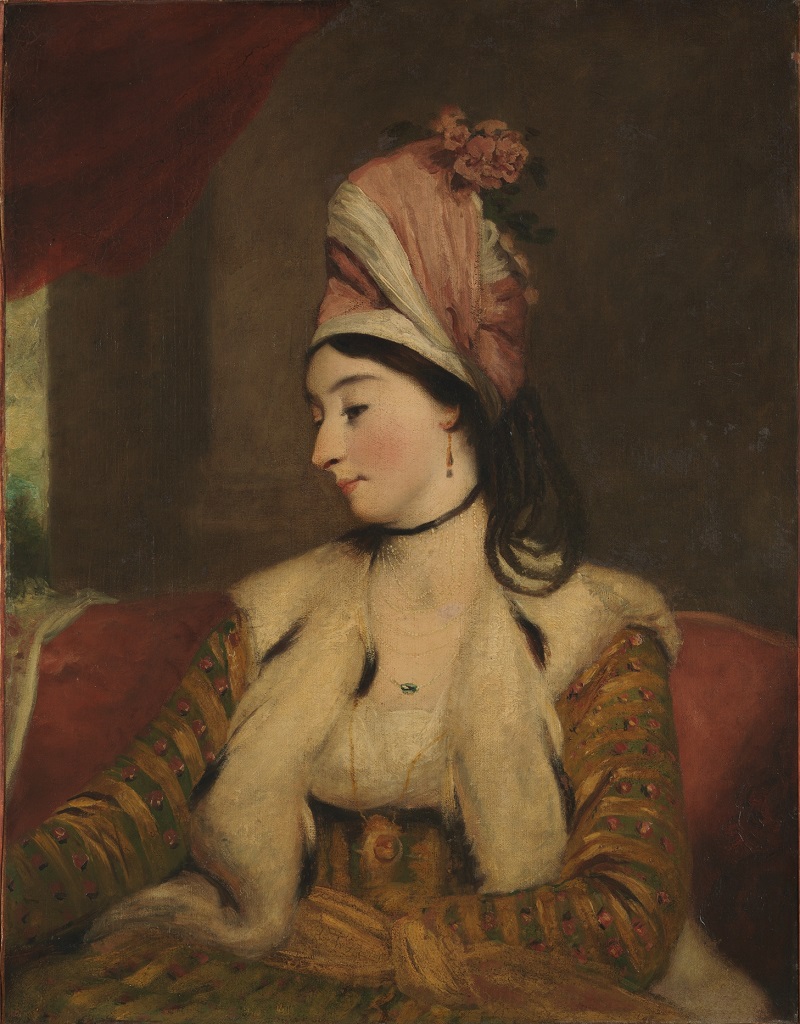 Portrait of Jane Maltass
by Joshua Reynolds, 1782.
See
full size
.
From
Metropolitan Museum of Art
.


[Steel's List, Jan 1790] shows Augustus Montgomery as Captain of the Mercury, then in the Mediterranean.
Montgomery served in the Mediterranean in 1790-91.
Presumably in the Eastern Mediterranean, and that is how he met his wife, Susan Maltass of Smyrna, who he married in 1791.
See full size.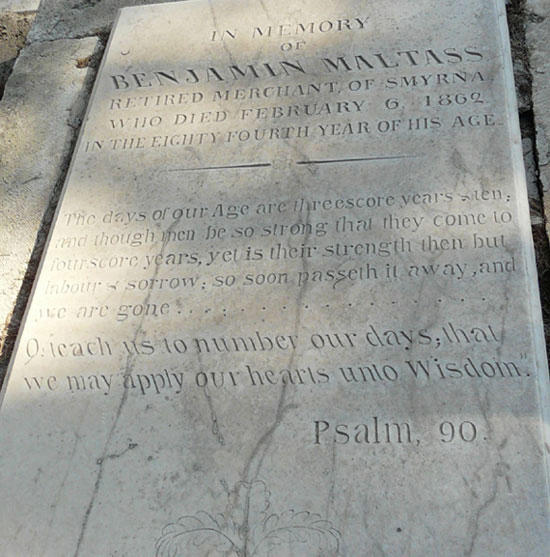 Grave of Benjamin Maltass (born 1778).
Anglican cemetery, Buca.
From Levantine Heritage. Used with permission.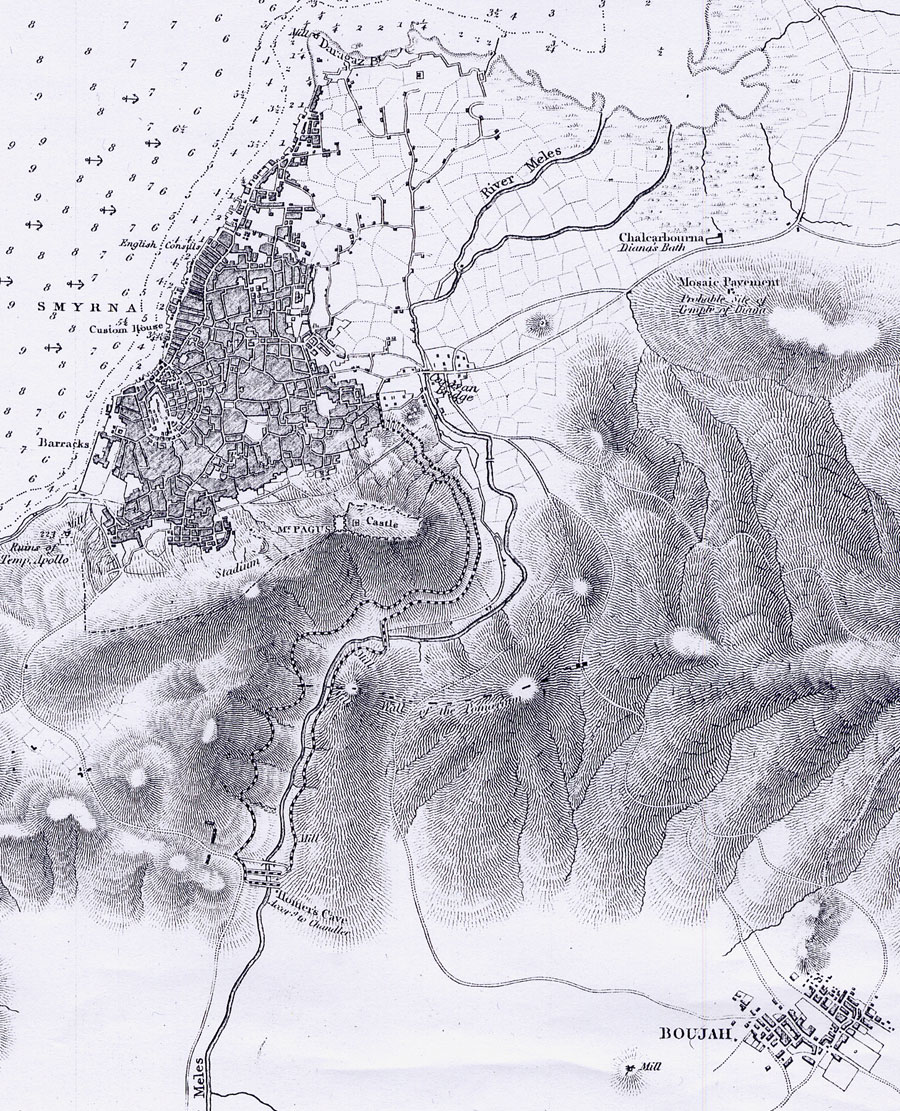 Map of Smyrna in 1834.
From Levantine Heritage. Used with permission.
Shows Boudjah to the S.