Parry
References:

Sources yet to be consulted:

Will of Major John Parry. Dated 15 Oct 1818. Probate 30 Dec 1822.

Will of Elizabeth Williams (nee Lloyd, mother of Elizabeth Williams who died 1815), will dated 13th June 1817, proved 1819, [NLW] B/1819/9/w(i).
Will of Jane Hughes (nee Lloyd, aunt of Elizabeth Williams who died 1815), will dated 3rd March 1826, proved 1830, [NLW] B/1830/9/W.

Major Parry's 2nd mar, The Cambrian newspaper, 22nd July 1820.
Major Parry's death, The Cambrian newspaper, 25th May 1822.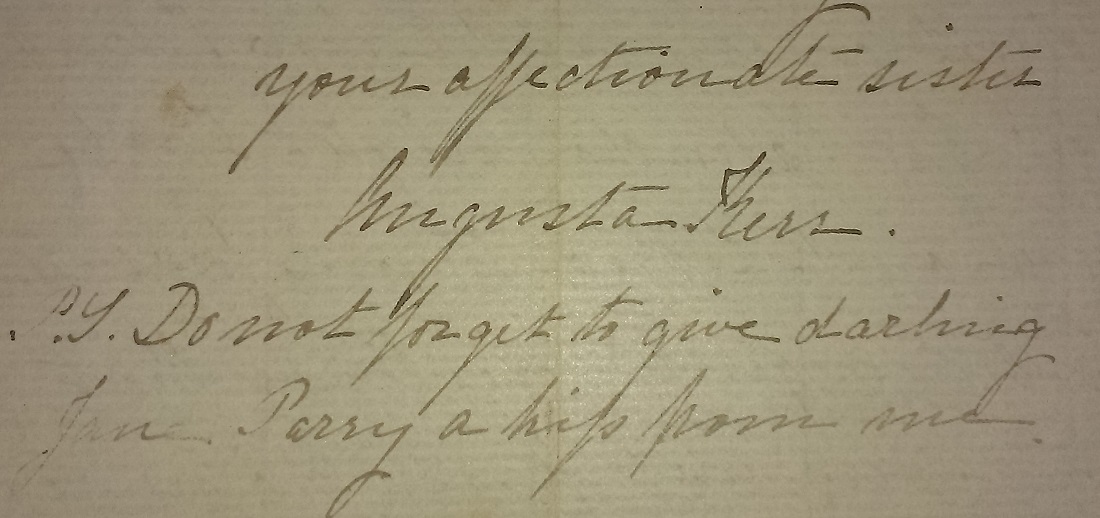 A note of
Augusta Kerr
refers to
"darling Jane Parry"
.
See
larger
and
full size
.
Major John Lewis Parry,
John Parry,
of Pendref,
Llanerchymedd
, Anglesey,
born 7 Aug 1775, Pendref.
See
entry
in
Maesmor tree
by Lavinia Phillips.
He was an officer in the
Royal Marines
.
He mar 1stly, 11 July 1811, to Elizabeth Williams [born 1786].
She was dau of William Williams and Elizabeth Lloyd, of Tower Hill, Beaumaris, Anglesey, N Wales.
Elizabeth Lloyd must be relation of Edward Lloyd. In 1861 census, Jane Parry is listed as "2nd Cousin and StepDaughter" of her step-aunt Emma Lloyd.
John Parry and Elizabeth Williams mar at Llandegfan, Anglesey.
He is listed as Captain at children's bapts 1812-13.
Elizabeth died 18 or 19 Dec 1815, age 29 yrs.
See his will dated 15 Oct 1818.
He mar 2ndly, 14 July 1820, to Catherine Lloyd [bapt 2 Dec 1776, descendant of Edward the Elder].
As noted above, she was apparently a relation of his 1st wife through Lloyd.
Catherine was co-heiress of Maesmor and Trefnant.
He rose to become a Major.
He is listed as "of Maesmor" at death 1822.
He died 8 May 1822, age 46 yrs.
His children were orphaned (though they had a stepmother).
He was bur 14 May 1822, at St Chad's Church, Shrewsbury.
Probate of will 30 Dec 1822.
Catherine remarried in 1829 to John Manners Kerr.
Major Parry had issue by 1st wife:
Elizabeth Parry,
Elizabeth Mary Parry,
born Beaumaris, according to all census entries,
think NOT born Rhiw, Lleyn peninsula,
bapt 7 July 1812 [Beaumaris parish records].
Her mother died in 1815. Her father remarried in 1820 to Catherine Lloyd.
Her father died in May 1822. She was an orphan age 9. Though she had a stepmother Catherine Lloyd.
Catherine Lloyd remarried in Jan 1829 (when Elizabeth was age 16) to John Manners Kerr.
Much later, in Mar 1852, age 39, Elizabeth would marry John Manners Kerr's grandson (no blood relation).
She is listed as "gentlewoman", living Maesmor, at mar.
She mar 27 Mar 1852 to William Kerr [born 5 Apr 1830] and had issue.
He was age 21. She was age 39.
She married at age 39 and then had 4 children.
She was Catherine Lloyd's step-daughter. He was Catherine Lloyd's step-grandson.




Jane Parry,
born 1813, Beaumaris,
bapt 3 Nov 1813, Beaumaris.


She was orphaned with her sister in May 1822 at age 8. Though she had a stepmother Catherine Lloyd.


She didn't marry.
She suffered from mental illness.
In 1861 census she is living at Maesmor Hall with her Lloyd step-aunts.
She was admitted to Coton Hill Asylum in Stafford in 1870.
Inherits estate 1872, but is mentally incapable:
In 1872, on the death of her step-aunt Grace Lloyd, Jane inherited Trefnant Hall farm, Trefnant mill and lands, and other properties.
She is described as "a Stranger in blood to the said Grace Lewis Loyd" (because Catherine Lloyd was not her mother).
A committee was set up, including William Kerr, to run her estate, since she was incapable.
She was still in Coton Hill Asylum as at 1885.
She died 19th Mar 1889, age 75 yrs.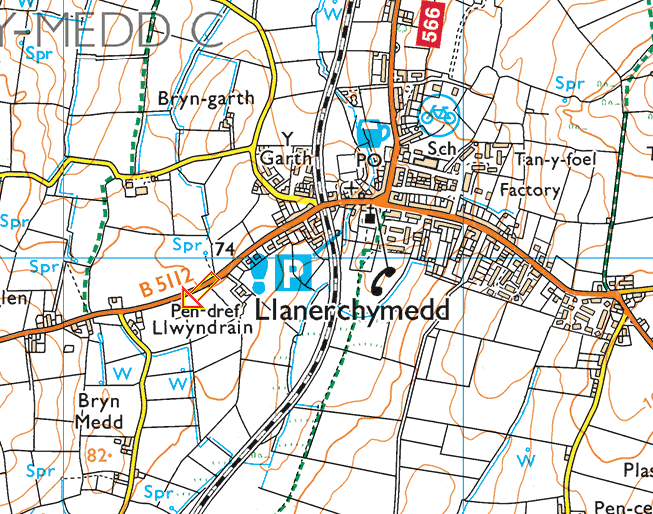 Pendref, Llanerchymedd, Anglesey.
From
Streetmap.co.uk
.