Michael Heffernan
Sources yet to be consulted: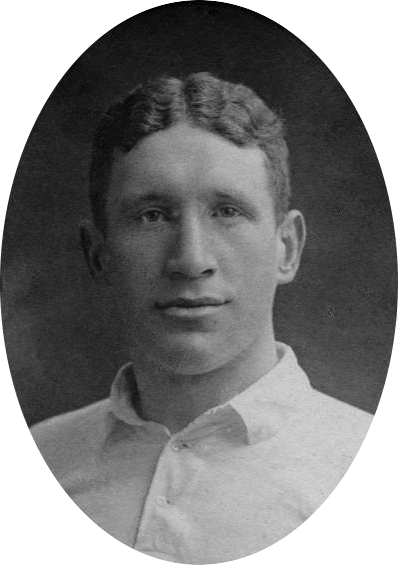 Michael Heffernan as a young sportsman.
From
here
.
Michael Heffernan
, T.D. (see
here
),
born 3 Apr 1885, Cuckoo Hill, Co.Tipperary.
Leader of the Farmers' Party.
Not at home in 1901 census. Probably at school.
When young he was a fine sportsman. Competed in national athletics (sprinting) under the name Richard Heffernan.
He played rugby for Cork Constitution rugby club. (Though he was from Co.Tipperary not Cork.)
Played rugby for Munster and Ireland. Played 4 times for Ireland.
[Kickham family tree] says after an Ireland-England rugby match one English press report said: "Heffernan was about the best forward on the Irish team, but what a coarse Christian that Cork man is".
He studied Agriculture at Glasnevin.
He is probably "Michael Heffernan" listed in 1911 census as a lodger in Skibbereen, Co.Cork. This person is "bank official", age 25, born Co.Tipperary. Cannot find anyone else who looks like him in 1911 census.
He emigrated to Canada shortly before 1914 to take up an offer in banking.
When WWI broke out in 1914, he joined the Canadian Army. He was posted to Europe. He didn't see much service because of illness.
He was invalided out. Returned to Ireland.
Farmers' Party political career:
He joined the
Farmers' Party
(or Farmers' Union) in 1922 or 1923.
The Farmers' Party was founded 1922 and led by
Denis Gorey
. The party first won seats in
June 1922 election
.
TD for Co.Tipperary, 1923-1932:
Michael was elected TD for the Farmers' Party in
1923 election
.
Leader of Farmers' Party, 1927-1932:
Michael became leader of the Farmers' Party in 1927. He was leader at the
9 June 1927 election
. He was re-elected a TD.
He is "farmer", living Cuckoo Hill, at mar.
He mar 28 June 1927 [him age 42] to Stastia Morrissey [Anastasia, dau of Edward Morrissey, farmer]. No issue.
At mar she is living 1 Herbert Ave, Merrion, Co.Dublin.
They mar at Booterstown RC church, Co.Dublin. See mar cert from here.
At some point he settled at Kilmurry Lodge, Ballyneale, Co.Tipperary.
He was said to have purchased Kilmurry from the estate of Laurence Kickham (died 1917).
But Michael is still listed at Cuckoo Hill at marriage in 1927.
He was re-elected a TD again in Sept 1927 election. After this election, the Farmers' Party joined Cumann na nGaedhael in a coalition government.
Junior Minister, 1930-1932:
From 3 Apr 1930 to 29 Jan 1932 he was Parliamentary Secretary (junior minister) to Ernest Blythe, the Minister for Posts and Telegraphs.
He was still leader of the Farmers' Party at the 1932 election, but lost his seat.
The Farmers' Party re-formed with others as the National Centre Party.
Michael retired from politics.
He played no further role in Irish politics, but remained a regular contributor to the letters page of the Irish Times.
He became the first manager of Arklow Pottery,
He farmed at Kilmurry Lodge for many years.
Eventually sold Kilmurry and moved to Blackrock, Co.Dublin.
He organised the plaque to honour his relative Charles Kickham at the house where he died, Montpelier Place, Dun Laoghaire.
He died 21 Nov 1970, age 85 yrs, NOT 1973.
See oireachtas.ie and electionsireland.org.