James Patrick Ryan

Zella Harvey, must be high school graduation photo 1895.
From
Bangor Historical Society
, Bangor, Michigan.
See
full size
.
James Patrick Ryan
,
born 27th Feb 1873, Ireland.
Family went to America 1880.
He grew up
Muskegon
, Michigan.
He worked for Rosen's Department Store, Muskegon.
He was a great admirer of
Richard Rahilly
.
He served in Michigan
National Guard
.
Saw service in Cuba in
Spanish-American War
1898.
Sergeant Major
. Later commissioned as officer.
2nd Lieutenant
.
Contracted malaria in Cuba and eventually received service pension.
Returned to Muskegon. Remained prominent in National Guard circles in Muskegon.
In c.1903 he bought a department store in
Bangor
, Michigan, ran it until 1919.
Returned to Ireland on vacation 1907 [honeymoon?] and met the "Rahilly girls" (Anno and widowed
Nell
, then living Quinsborough) and the
Barretts
.
He mar 14th Aug 1907, Bangor, to Zella Harvey [Zella May Harvey, born 29th Nov 1877, Bangor, Michigan]. She was dau of Thomas Miller Harvey, Recorder of Deeds for Van Buren County, by his wife Caroline Matilda Hurlbut.
She became a member of the Daughters of the American Revolution (for women who can prove descent from ancestor who aided in achieving US independence).
She was bapt in Christian Church (Disciples of Christ), Bangor. Later she may have joined another Protestant church in Bangor. On mar she became a Catholic.
She was educ Paw Paw High School (Paw Paw, nr Bangor, Michigan).
She was educ Bangor High School, graduated 1895.
She was educ NWU, Illinois, in the School of Speech under Robert McLean Cumnock.
She was speech and P.E. teacher at third level.
She taught at Moores Hill College, Moores Hill, Indiana (or Moore's Hill College, NOT "Morse Hill" or "Morris Hill"). This is now the University of Evansville.
She acted as Deputy to her father as Recorder of Deeds for Van Buren County. She managed the County Recorder's Office.
She worked for Michigan Department of Public Instruction (now Michigan Department of Education), Lansing. Worked on publications of the Department.
James and Zella lived Bangor, Michigan.
He was Vice-President and a Director of the West Michigan Savings Bank in Bangor.
He was active in politics, served as Mayor of Bangor c.1917.
In WWI he was stationed at Camp Kearny, near San Diego, CA (est 1917, now Marine Corps Air Station Miramar), as was his brother.
In 1919 he moved his family to Long Beach, CA.
He ran his own property management business in Long Beach, very successful.
Invested in the Rubidoux Theatre, Rubidoux, CA.
Invested in the Lanier Hotel, San Diego, c.1935-38 (on 3rd Ave and Ash St, built 1907, now gone).
Lived 3040 E 2nd St, Long Beach, CA.
He was active in Catholic church. Zella worked in the Catholic Welfare Society.
He died 14th Aug 1950, age 77 yrs, St.Mary's Hospital, 10th and Linden Ave, Long Beach.
He was bur Calvary Mausoleum, Long Beach.
Zella died 24th Sept 1958, Long Beach, age 80 yrs.
She was bur Calvary Mausoleum, Long Beach.
James and Zella had issue:
James Harvey Ryan, born 1908, Bangor,
died 1908, age c.2 weeks,
they said "he was a blue baby".

Richard Emmet Ryan,
researched family tree,
mar Arline Taxis Ennis and had issue:

Kate Ennis Ryan.
Sheilah Catherine Ryan, mar James Patrick Gilfether and had issue:

Kevin Gilfether.
Karin Jane Gilfether.

Kathleen Ryan, mar William Samuel Randall and had issue:

Erin Kristine Randall.
Cameron Elaine Randall.

Richard Ryan, mar Gloria Kury.

Eileen Ryan, mar John Vosper Cooper.

Patricia Ryan, mar Gelino Repucci and had issue:

James Repucci.
Joseph Francis Repucci.
Angela Marie Repucci, mar Robert Caldwell.
Peter John Repucci, mar Linda ----.
Paul Thomas Repucci.
Eileen Joan Repucci.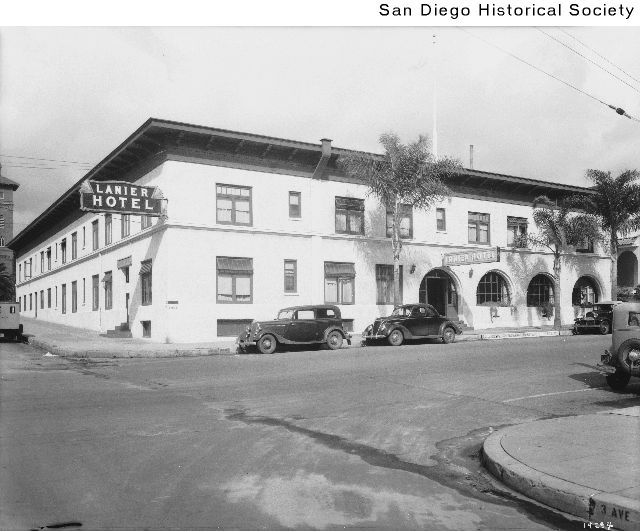 Lanier Hotel, San Diego, 1937.
From
San Diego Historical Society
.