Orpen of Co.Kerry
References:

Sources yet to be consulted:
Francis Orpen,
mar Agnes Edwards,
had issue:

Sir John Orpen, born 1520,
of Farleigh, Somerset,
had issue:

Robert Orpen, born c.1553,
mar a dau of Col. Stevenson,
had issue:

Robert Orpen,
of Shaston, Dorset,
"merchant taylor",
mar Mary Ley,
he died of the plague in 1645,
had issue:
Robert Orpen,
of Killorglin, Co.Kerry.
He was living Killorglin c.1661.
He mar Lucy Chichester.


She was said to be "of the Donegal family".

She may be related to

Arthur Chichester, 1st Earl of Donegall

(born 1606, cr 1647) and his 1st wife Dorcas Hill. This would explain the origin of the unusual name "Dorcas" for Lucy's daughter.

Dates would make sense if Lucy was dau of Dorcas Hill. However,

Dorcas Hill's grave

mentions only a dau Mary. And Chichester genealogies mention no dau Lucy, or any Chichester marrying an Orpen.

See discussion on pp.24-25 of

[Orpen, 1930]

.


Robert died in London, 1686.
Robert and Lucy had issue:




Dorcas Orpen,
mar Thomas Crumpe and had issue.




Richard Orpen, born 1652,
of The White House, Killowen townland, just outside Kenmare, Co.Kerry.
See THE WHITE HOUSE in [Houses of Kerry].
He mar before 1688 to Isabella Palmer [dau of Rev. Thomas Palmer].
See Palmer in pp.257-262 of [MGH] 2nd series, vol.1.
They were ancestors of Sir William Orpen, the painter (born 1878).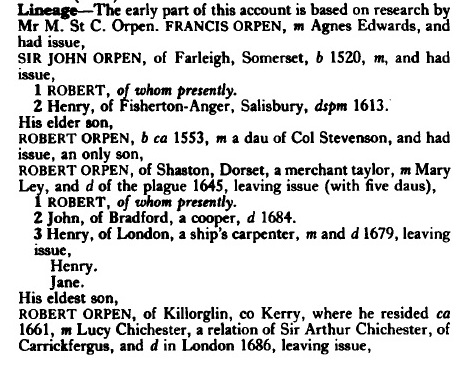 The start of the entry in
[Burkes Irish, 1976]
.
---
The White House, near Kenmare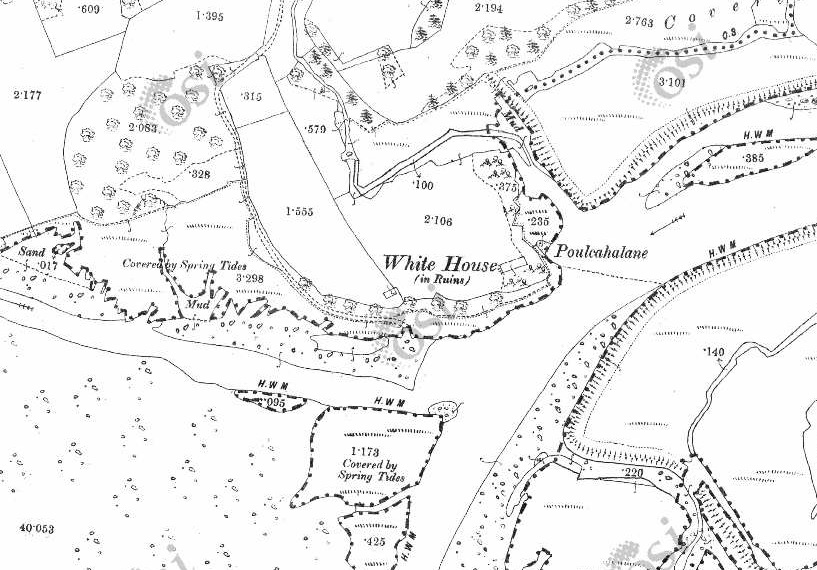 The White House (in ruins) near Kenmare on
1887 to 1913 map
.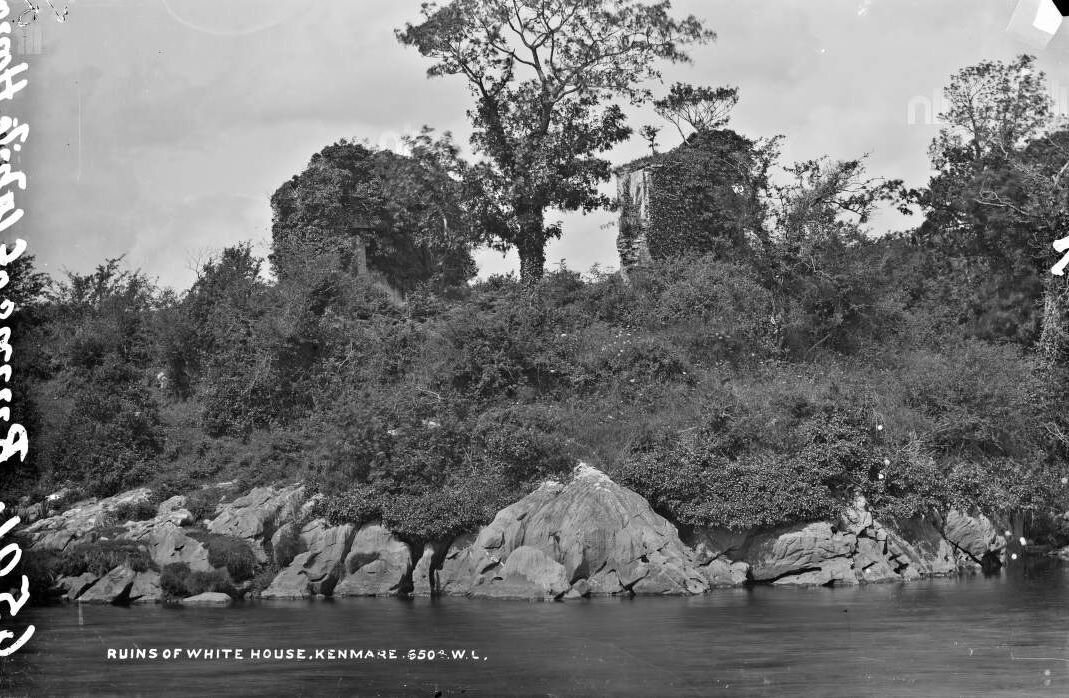 Ruin of The White House, near Kenmare.
From The Lawrence Photograph Collection. From here.
See other shot. From here.
Some ruin seems to survive today. See modern satellite view.