Oliver Plunkett, 4th Baron Louth
Sources yet to be consulted:

Louth papers in [NLI]

Pardon of alienation to 4th Baron and others, lands of the late Priory of Louth, 1580. Ms 40032/1.
Marriage settlement of 4th Baron and his 2nd wife, 1605. Ms 40093/1.

Pedigree of Plunkett, Barons Louth, of Carstown, Co.Louth, c.1600 - 1761. [NLI] Ms.162, pp.156-157
Oliver Plunkett, 4th Baron Louth
(see
here
),
succ as Baron in 1578,
seat of Barons Louth was at
Louth Hall
, Co.Louth,
mar 1stly to
Frances Bagenal
,
he died 5 Mar 1607,
bur
Tallanstown
, Co.Louth (near Louth Hall),
had issue by 1st wife:
Margaret Plunkett,
mar 1605 to Sir Thomas Fitzwilliam, 1st Viscount Fitzwilliam and had issue.




Matthew Plunkett, 5th Baron Louth,
mar Mary Fitzwilliam,
he died 19th July 1629, having had issue.
Ancestors of Barons Louth of Louth Hall, Co.Louth.
The Barons Louth were, like the Fitzwilliams, a prominent 17th century Roman Catholic family.
They were Royalist in English Civil War, and supporters of King James against William.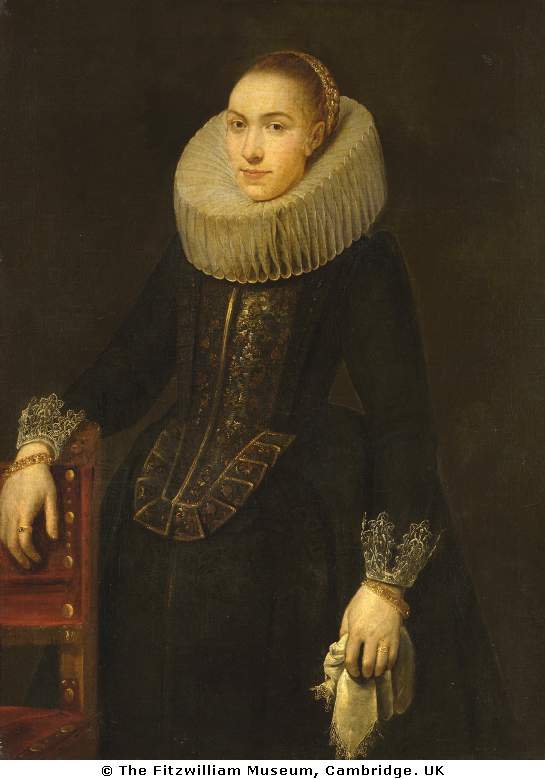 Identified in
[Ball, vol.2, 1903]
as Margaret Plunkett, by
Cornelius Johnson
.
But Fitzwilliam Museum now says "Portrait of a woman" by unknown.
Portrait c.1625.
Used here with the kind permission of the
Fitzwilliam Museum, Cambridge
.