Ruffles of Suffolk
Our family starts with:
John Ruffles,
born 1792 (according to age given at death) or 1794 (according to age given in 1851 and 1861 census) or 1796 (1841 census),
born Shotley, Suffolk (see map),
married pre-1828 to Susannah Sandle [sister of James Sandle].
John Ruffles above is probably identical with John Ruffles below.
(The two Sandle siblings probably married two Ruffles siblings.)
There is a DNA match between descendants of the two marriages. Note this could happen even if there are two different Johns.
Robert Ruffles, born 1745,
of Shotley, Suffolk,
mar Alice Flude [born 1763, dau of James Flude and Mary Parker],
had issue:




John Ruffles,
born 1792, Shotley,
bapt 13 Jan 1792, Shotley.




Rachel Ruffles,
born 1801, Shotley,
bapt 13 Apr 1801, Shotley,
she is listed as of Shotley at mar,
mar at Shotley, 12 May 1828, to James Sandle [brother of Susannah Sandle] and had issue,
see image from [Pallot's Marriage Index, 1780-1837],
poss. mar 5 Dec 1828.
---
James Ruffles
Could be related: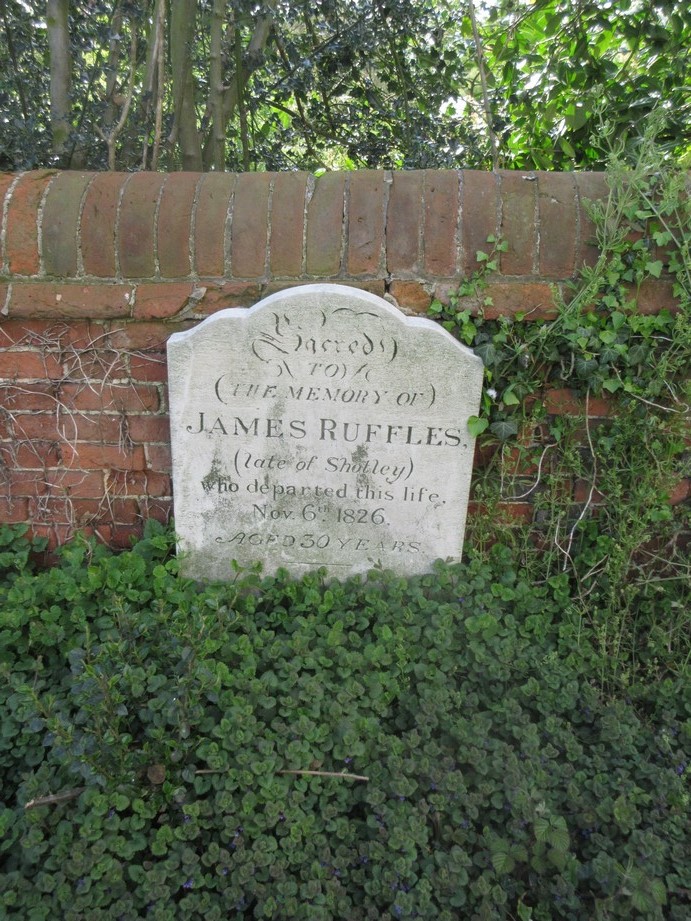 Grave of James Ruffles, Assington.
Photo by John Moore. From
Gravestone Photographic Resource
. See
raw link
. Non-commercial use
allowed
.
See
other shot
. Courtesy of June Byng.
---