Sawyer
References:

Sources yet to be consulted:
Edmund Sawyer,
of
Cawston
, Norfolk,
mar Jane Fiske [of
Halesworth
],
had issue:

George Sawyer,
mar Anne Hill [dau of Elezins Hill, of Blofield, Norfolk],
had issue:

Sir Edmund Sawyer, born 1579.
He mar 1stly to Elizabeth Parkhurst [dau of Robert Parkhurst of London, alderman]. No issue.
She died.
He mar 2ndly to Anne Whitmore.
She was dau of Sir William Whitmore, of London, or of Apley, Shropshire, by Margaret Moseley, dau of Rowland Moseley, of the Hough, Lancashire.
In 1627 Sir Edmund purchased the manor of Heywood, NE side of White Waltham, Berkshire.
MP for Berwick-upon-Tweed 1628.
Anne died 1651.
Sir Edmund died 1670, age 91 yrs.
He had issue by 2nd wife:
George Sawyer,
died 1655,
had issue:

Edmund Sawyer,
of Heywood, Berkshire,
succ his grandfather in 1670.




Sir Robert Sawyer,
4th or 6th son, born 1633.
Speaker of the House of Commons.
Attorney General for England and Wales.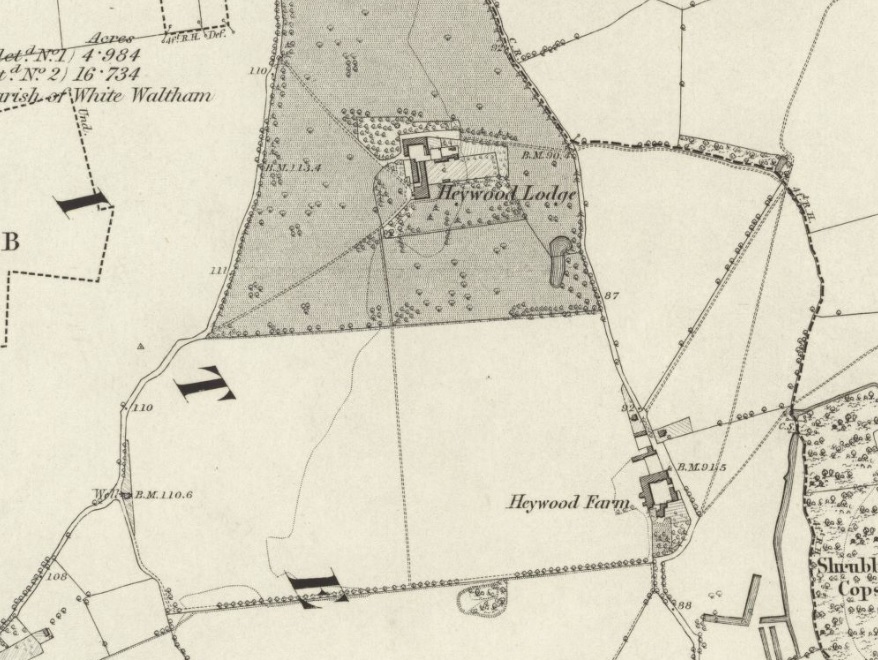 Heywood, White Waltham, Berkshire.
From
map
. Surveyed: 1870 to 1875. Published: 1881.
See
modern map
. Heywood Farm still there. But Heywood Lodge seems gone and replaced by a housing estate.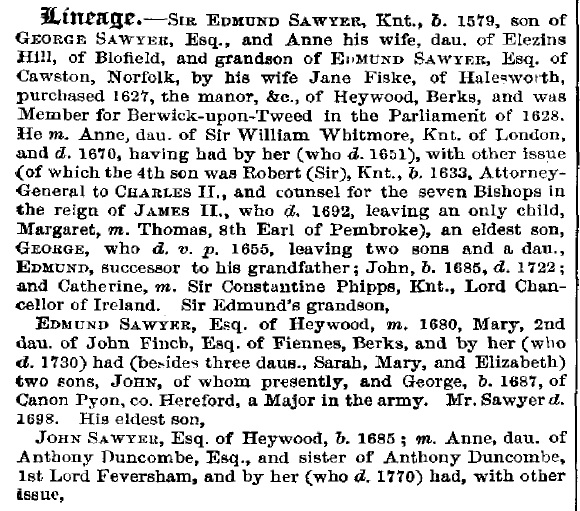 Start of entry for Sawyer of Heywood in [Burkes LG, 1886].