Sir Robert Sawyer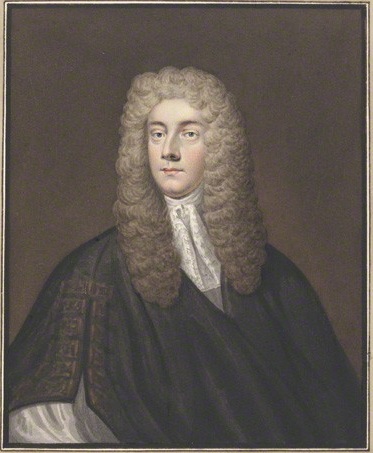 Sir Robert Sawyer.
19th century copy of 17th century portrait at
Barbers' Hall
, London.
See
full size
. From
NPG
. Creative Commons.
Sir Robert Sawyer
(see
here
),
born 1633.
He was educ
Magdalene College
, Cambridge. Admitted June 1648.
BA 1651/52. Fellow 1652.
Admitted at the
Inner Temple
, 1653.
MA 1655.
Called to the Bar, 1661.
He mar 1 July 1665 to Margaret Suckley.
She was dau of Ralph Suckley, or Ralf, or Suckeley, or Suckling, of
Canonbury house
, Islington, London.
See Suckley mentioned in
history
of Islington.
Sir Robert was MP for Chipping Wycombe 1673-1679.
He was knighted 17 Oct 1677.
In 1677 he acquired Highclere and Burghclere, Hampshire. Once the property of Sir William Fitzwilliam (died 1559).
He settled at Highclere. The house was originally a bishop's palace.
Speaker of the House of Commons 1678.
He rebuilt the old palace at Highclere as Highclere Place House in 1679.
Attorney General for England and Wales 1681-1687.
He built a new church at Highclere in 1687-1689. (Since replaced and fallen into ruin.)
MP for Cambridge University 1689-1692. It was a 2 seat constituency. His fellow MP in 1689-90 was Isaac Newton.
He died at his seat at Highclere, 28 July 1692, age 59 yrs [Funeral Certificate], [parish records]. Monument says age 60 yrs.
He did NOT died 10 July [monument] or 30 July [other sources].
He was buried at the old church, Highclere on 6 Aug 1692 [Funeral Certificate], [parish records].
Monument erected in old church. Monument since moved to the new church.
See Funeral Certificate dated 6 May 1693.
Margaret was bur 26 Sept 1708 at Highclere with her husband.
Sir Robert and Margaret had issue:
Margaret Sawyer,
born 1665-67.
Her father is described as married with a child in Pepys' diary 6 December 1667. Probably born 1667.
She mar 26 July 1684 to Thomas Herbert, 8th Earl of Pembroke [born 1656] and had issue.

The Sawyer house at Highclere, Hampshire, was inherited by Margaret's descendants, the Earls of Carnarvon.
In the 19th century they built a huge new seat there, Highclere Castle.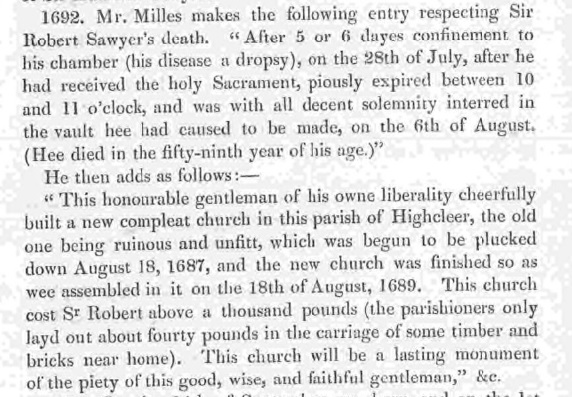 The death of Sir Robert Sawyer in 1692, as written in Highclere parish records.
From
[Nichols, 1858]
.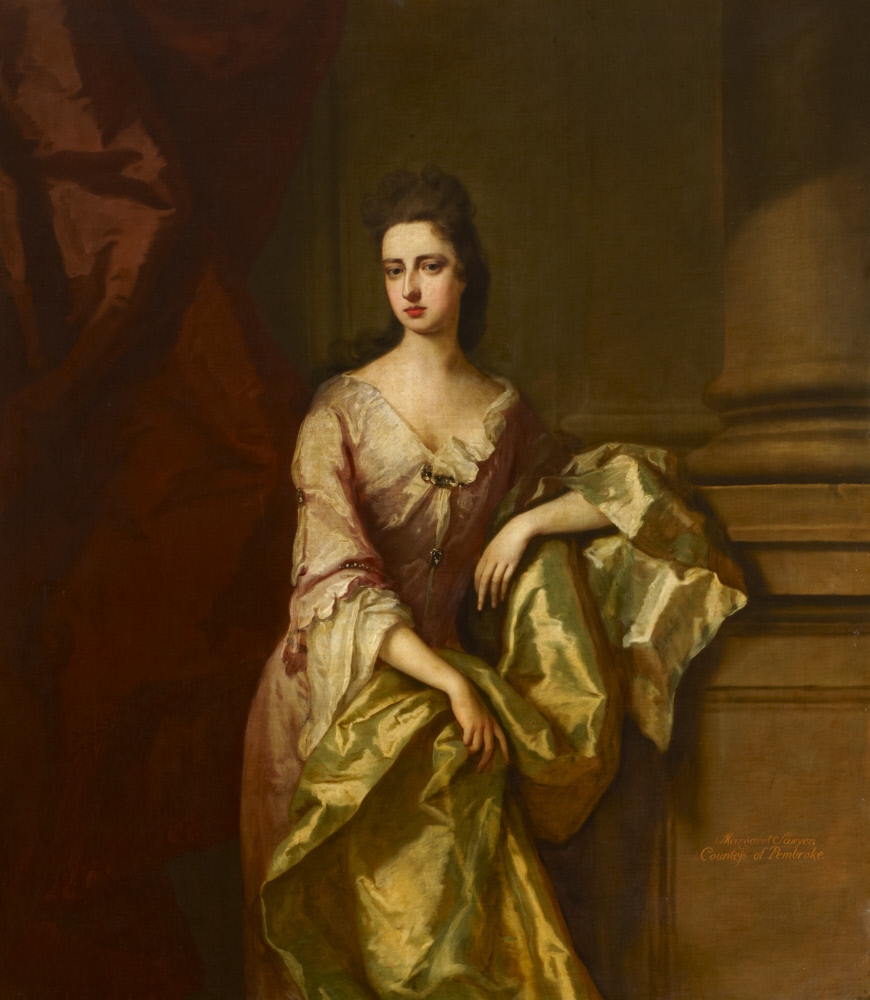 Margaret Sawyer, when Countess of Pembroke, in the late 1690s.
See full size. See wider shot.
From National Trust. From collection at Petworth House, West Sussex.
---
Sir Robert Sawyer was educated at
Magdalene College
, Cambridge.
There he was a contemporary of
Samuel Pepys
.
He later appears in Pepys' diary.
See his
biography
in
hyperlinked diary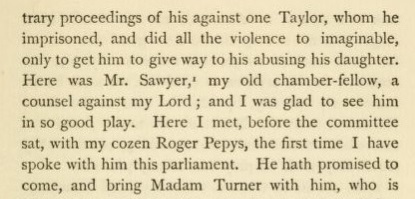 Entry of 26 November 1666.
John Mordaunt, 1st Viscount Mordaunt
was charged with having imprisoned William Taylor, surveyor of Windsor Castle, and raped Taylor's daughter.
Sawyer was counsel for the prosecution.
From
p.297
of
vol.6
of Diary of Samuel Pepys, 1885 edn.
See
hyperlinked entry
.


Entry of 6 December 1667.
From p.735 of vol.2 of Diary of Samuel Pepys, 1951 edn.
See hyperlinked entry.


Entry of 27 May 1668.
From p.882 of same vol.2.
See hyperlinked entry.
---
References
---
Sources yet to be consulted