Stephen of Aberdeenshire



Extract from birth cert of Elspet Stephen, 1855.
Says she is Jane Imray's 2nd child.
See full size.
John Stephen.
NOT Stephens.
He mar
Margaret Smith
.
They must be the
John Stephen and Margaret Smith
who had children baptised in 1821 and 1823 and 1826 in Inverurie parish, and in 1834 in Skene parish.
John is listed as farm labourer, deceased, at son's mar 1855.
John and Margaret had issue:
John Stephen,
born 14 Apr 1833, Cluny [mar cert]. Cannot find bapt.


He got Jane Imray pregnant around Dec 1854 and married her in May 1855. Their dau was born in Sept.

At time of marriage he is "farm labourer" and his address is the Imray farm,

West Park

, Kinnernie, Aberdeenshire.

It seems he went to work on the Imray farm and got the daughter pregnant, and then married her. He was 22. She was 29. Her father had died in 1845.

Even more complex, the birth cert of their dau Elspet says it is Jane's 2nd child.

He mar 18 May 1855 to

Jane Imray

[bapt 18 Nov 1825].


John and Jane appear to have lived at her family farm, West Park, from at least 1855 to 1861.
John is "agricultural labourer" at dau's birth 1855 and death 1857.
Their daughter died at West Park in 1857.
They are listed in 1861 census at West Park. John is agricultural labourer. Jane is "domestic servant". Living with Jane's brother James Imray who is the farmer.
James Imray left West Park by 1869.
John and Jane moved around.
At dau's birth 1870 he is a crofter, and they are living Burnhead, Cluny parish, Aberdeenshire. Burnhead was a location beside Upper Sauchen, to the SE of Ordhead. See 1869 map.
They are listed in 1881 census at Burnhead. He is described as "Forester's labourer".
At dau's marriage 1897, he is a crofter, and they are living at Tirrygowan (or Terrygowan), Cluny parish, Aberdeenshire. This is NE of Ordhead. See 1866 map and 1869 map and modern map.
John is described as "Forester's labourer" at wife's death.
Jane died 23 June 1902, age 76 yrs, at Knockfullertree, Midmar, Aberdeenshire (SW of Ordhead, see map). See death cert.
He is listed at death as "retired crofter".
He died 23 Nov 1907, Knockfullertree, age 74 yrs. See death cert.
John and Jane had issue:




(dau) Stephen.
Elspet's birth cert says Elspet is Jane's 2nd child and they already had a daughter.
Can't find birth cert (Imray or Stephen). Though birth certs only start in 1855.
Can't find baptism (Imray or Stephen).
Not listed in 1861 census. Either died young or did not exist.

Elspet Stephen (dau),
born 12 Sept 1855, West Park, see birth cert,
she died 3 June 1857 at West Park, aged 21 months, of pulmonary consumption,
bur Kinnernie (would be Imray grave).

John Stephen, born 1858, Midmar.
At home in 1861 census.

Hellen Smith Stephen, born 1861.
Margaret Smith Stephen, born 1863.
James Stephen, born 1865.

Alexander Stephen,
Alexander Donald Stephen, born 1867, Cluny parish.
At home in 1881 census.




Isabella Stephen,
or Isabel (seems to have used both), "Bella", NOT Isobel,
Isabel on wedding invite, Isabel and (mainly) Isabella at children's births, Isabella on birth and death cert, Isabel on grave.
She called her daughter Isabel.
She was born 16 May 1870, Burnhead, Cluny parish. See birth cert.
At home in 1881 census.
Isabella was a strong Scottish nationalist. Regarded herself as Highland Scots. She talked about the Battle of Culloden of 1746.
She is listed as "domestic servant" at mar, living Tirrygowan, Cluny parish.
She mar 1897, Aberdeen, to Henry Noltie and had issue.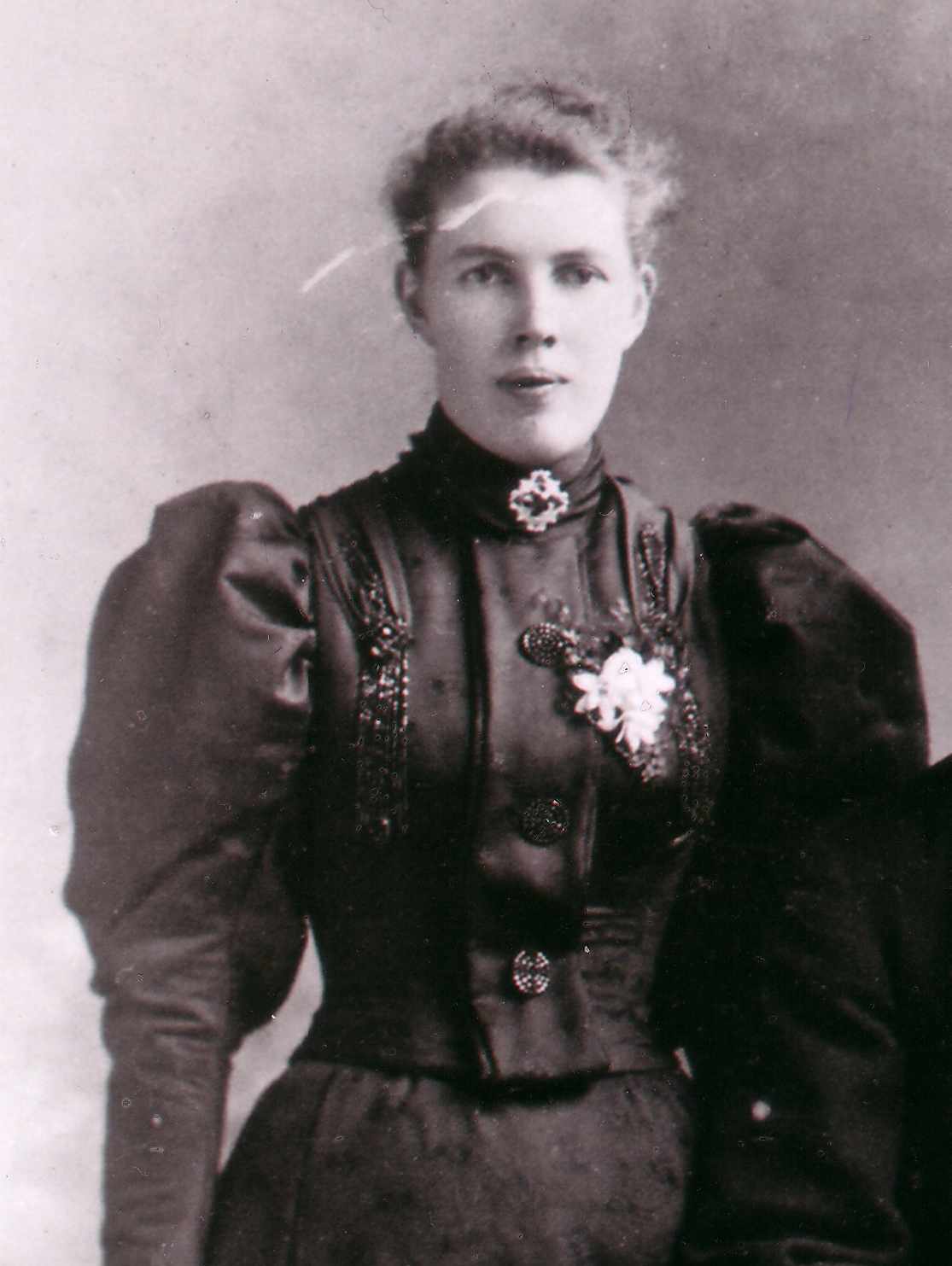 Isabella Stephen.
Detail from
here
. See
full size
.
---
"Helen Smith" witnessed John Stephen's mar 1855. Maybe a relation through his mother.