Belknap
Sources yet to be consulted: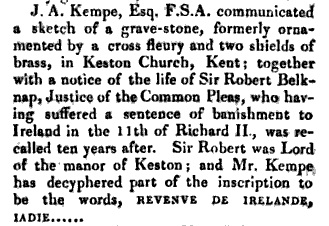 Reference to Sir Robert Belknap in The Gentleman's Magazine, Nov 1830.
Suggesting possible burial at
Keston
, Kent.
From
p.447
of
July-Dec 1830 volume
.
John Belknap,
had issue:

Sir Robert Belknap (also here),
born about or before 1330,
knighted 1374,
Chief Justice of the Common Pleas 1374-1388,
attainted and exiled to Ireland 1388,
attainder and exile revoked 1397,
died 19 January 1401,
[DNB] says he was probably buried in Rochester Cathedral, Kent,
had issue:
Joan Belknap,
mar 2ndly to Sir Edmund Hampden
and had issue:

John Hampden,
mar Elizabeth Whalesborough,
see her descent from Henry I by Ed Mann,
had issue:

Eleanor Hampden,
mar Walter Arden and had issue [ancestors of Shakespeare].




Sir Hamon Belknap,
mar Joan Boteler [descendant of King John, see descent by George Larson],
had issue:

Sir Henry Belknap, born 1435,
mar Margaret Knollys,
died 1488, age 53 yrs,
had issue:

Elizabeth Belknap,
mar Sir Philip Cooke [born 1454] and had issue.

Alice Belknap, born c.1475,
mar Sir William Shelley, Knt. [born 1476] and had issue.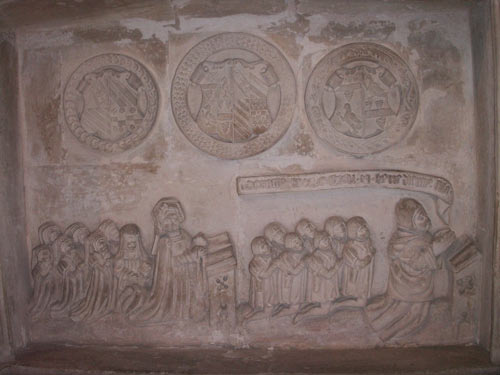 Tomb of
Sir William Shelley and Alice Belknap
, Clapham, Sussex.
Photo courtesy of J. Malcolm-Davies ©
The Tudor Tailor
. Used with permission. From
here
.
---