Sir Rowland Blennerhassett, 1st Baronet
References:

Sources yet to be consulted:

Local history by children at Christian Brothers School, Tralee, 1937-38, SMS 440, Irish language, Schools' Manuscript Collection, [NFC].

Letter from Colonel James Crosbie [MP for County Kerry] to Charles Grant, Chief Secretary, Dublin Castle, recommending Arthur Blennerhassett of Churchtown, County Kerry [future 3rd Baronet] for post of sheriff of County Kerry. 15 Feb 1820. [CSORP, 1820, no.263].
Letter from Daniel O'Connell to his wife, Oct 25, 1827, re: the conversion of Sir Arthur Blennerhassett, 3rd Baronet to Catholicism. The correspondence of Daniel O'Connell. [NLI] Ms 33,565/25(5).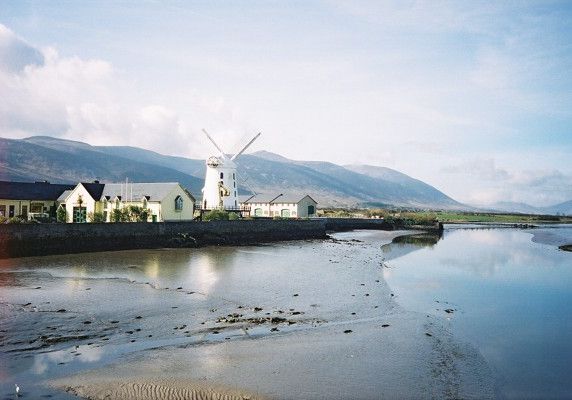 Blennerville Windmill
. Photo 2003. See
full size
.
Sir Rowland Blennerhassett, 1st Baronet
(see
here
and
here
), born 1741.
He mar 31 Oct 1762,
Rathkeale
, Co.Limerick, to
Millicent Agnes Yielding
[dau of
Richard Yielding
, of Belview, Rathkeale, Rathkeale par, Co.Limerick].
Founder of Blennerville, near Tralee, Co.Kerry:
He settled at Cathair Uí Mhóráin near Tralee, re-named it "Blennerville" after his family.
He lived Blennerville House, which he probably built.
Colonel 1779-82 of the "Laune Rangers" regiment of the Kerry Volunteers.
He built Blennerville Windmill 1780 or 1800.
He is listed as living Blennerville House 1783.
He managed his brother Arthur's estate after his death 1790.
Millicent dies:
Millicent was alive as at her son's marriage settlement, 1799.
She was killed in an accident at Blennerville windmill.
[Ms 20621] says she was killed by a blow of the windmill sails 1802.
Alternatively [Blennerhassett and Hollwey, c.1992] says she was killed in 1801, she "went up on the balcony of it. It was working at the time and the wind blew her in and she was ground to pieces". Think their source is [SMS 440, p.140].
Rowland later lived Churchtown House, near Beaufort, W of Killarney, Co.Kerry (see map).
He is described as of Churchtown in deed of 1806.
Arms 1808 and Baronet 1809:
Grant of Arms dated 13 Mar 1808 (NOT 1801).
See [NLI] GO Ms 105, p.53, microfilm POS 8290, no pedigree attached, he is described as of Blennerville.
He was created a Baronet 22 Sept 1809.
See Letters patent in [Collins papers, 4]. Granted to "Rowland Blennerhassett of Blennerville".
[Holden's Directory, 1811] lists "Rowland Blennerhassett, Blennerville".
He established Protestant school at Blennerville 1812 [Heritage Council, 2001].
He died 14th Mar 1821, age 80 yrs.
His will pr 1821, apparently burnt in Four Courts 1922.
See entry in [Boyd's Family Units].
1st Baronet and Millicent had issue: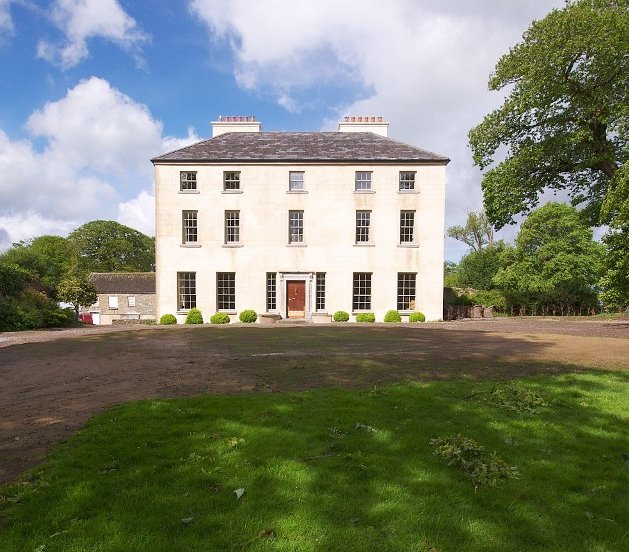 Churchtown House.
From
Mike Sandes
. Used with permission.


Sir Rowland Blennerhassett listed at Blennerville in [Leet's Directory, 1814].


"R.A." Blennerhassett listed at Churchtown in [Leet's Directory, 1814].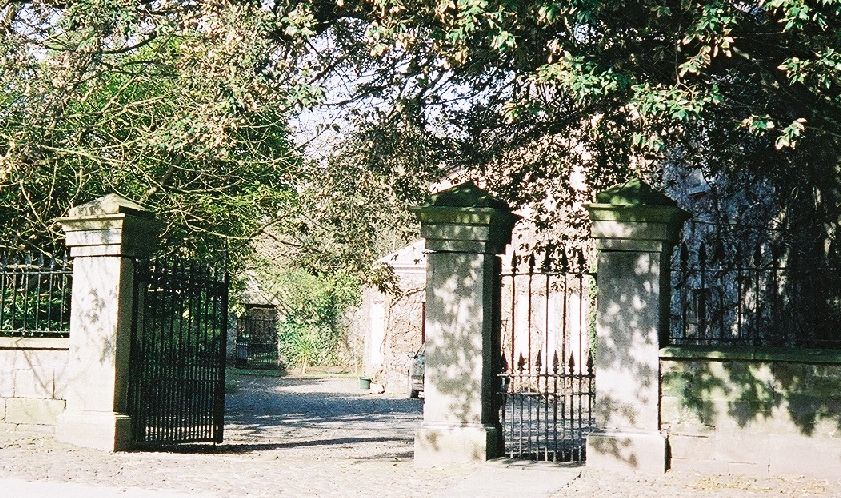 The gates of Blennerville House. Photo 2003. See larger and full size.
---